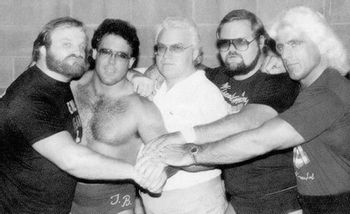 "Being a Horseman isn't something you put on in the morning and take off at night. It's a state of mind. It's excelling to the best of your ability. It's four individuals thinking singularly, acting collectively."
The Four Horsemen were a professional wrestling Power Stable in the National Wrestling Alliance and later World Championship Wrestling. The original group featured Ric Flair, Arn Anderson, Ole Anderson and Tully Blanchard. Flair and Arn Anderson have been constant members in each incarnation of the group.
The Four Horsemen formed in November 1985 with Flair and his storyline cousins Ole Anderson and Arn Anderson, and Tully Blanchard, with James J. Dillon as their manager. They feuded with Dusty Rhodes (breaking his ankle and hand), Magnum T.A., Barry Windham, The Rock 'n' Roll Express (breaking Ricky Morton's nose), Nikita Koloff (injuring his neck), and The Road Warriors. Animal, Hawk, Ronnie Garvin and many others fought Ric Flair for the NWA World Heavyweight Championship during that time period. They usually had most of the titles in the NWA, and they often bragged about their success (in the ring and with women) in their interviews.
The Four Horsemen moniker was not planned from the start. Due to time constraints at a television taping, production threw together an impromptu tag team interview of Flair, the Andersons, Tully Blanchard and Dillon; all were now united after Ole Anderson returned and, along with Flair and Arn, tried to break Dusty's leg during a wrestling event at the Omni in Atlanta during the fall of 1985. It was during this interview that Arn said something to the effect of "The only time this much havoc had been wreaked by this few a number of people, you need to go all the way back to the Four Horsemen of the Apocalypse!" The comparison and the name stuck. Nevertheless, Arn has said in an RF Video shoot interview that he, Flair and Blanchard were as close as anybody could be away from the ring while they were together. They lived the gimmick outside of the arena, as they took limos and jets to the cities in which they wrestled.
The Trope Codifier for the Power Stable.
---
"The most elite fighting tropes in the world today!":