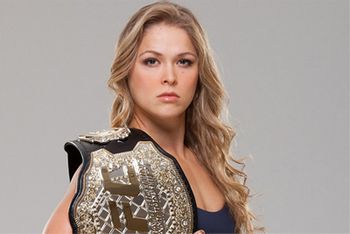 Stephanie McMahon:
Get the hell out of my ring!
Ronda Rousey:
Any ring I step into is MINE!
Ronda Jean Rousey (born February 1, 1987 in Riverside, California) is an American professional wrestler, mixed martial artist, former Olympic judoka and actress. She was the first UFC Women's Bantamweight Champion, as well as the last Strikeforce Women's Bantamweight Champion.
Rousey is the first American woman to earn an Olympic medal in Judo, which she did at the Summer Olympics in Beijing in 2008. She is perhaps the most well-known female fighter in the world (eclipsing former MMA fighter Gina Carano), notably the only woman in history to win a championship in both the UFC and WWE and headline a PPV event for both companies. She became a household name for her incredible performance in MMA, where she amassed a 12-0 record with all but one of her matches ending in the first round, and 7 of them via her signature armbar.
On November 15, 2015, her undefeated UFC streak came to an end at the hands (or, rather, the foot) of Holly Holm in what's been called the biggest upset in sports since Buster Douglas knocked out Mike Tyson in 1990. She took a 13-month hiatus from the sport afterwards, returning on December 30, 2016 to face then-current champion Amanda Nunes. She lost the fight via TKO in just 48 seconds, all but confirming the end of her MMA career.
In 2018, Rousey signed with WWE, making her first appearance at that year's Royal Rumble event, though she previously appeared in WrestleMania 31 in 2015 as a Guest Fighter as a hint of her future entrance to WWE. Her official in-ring debut came at WrestleMania 34, and she went on to a smash-success rookie year, winning the Raw Women's Championship at SummerSlam, and going undefeated all the way until WrestleMania 35, where she lost the title to Becky Lynch in the first ever main-event women's match at 'Mania. She then went on hiatus from WWE from several years, and made a surprise return in the 2022 Royal Rumble, ultimately winning the women's match of the PPV by eliminating Charlotte Flair.
Rousey currently streams on Facebook Gaming
and has a YouTube channel
where she uploads content including judo tutorials, vlogs, and skits. She got engaged and married to UFC fighter Travis Browne in 2017; their first child, a daughter named La'akea Makalapuaokalanipõ, was born on September 27, 2021.
She also dabbles in acting, mainly appearing in action-oriented media for obvious reasons.
---
She appeared in:
---
Tropes commonly used in her roles:
---