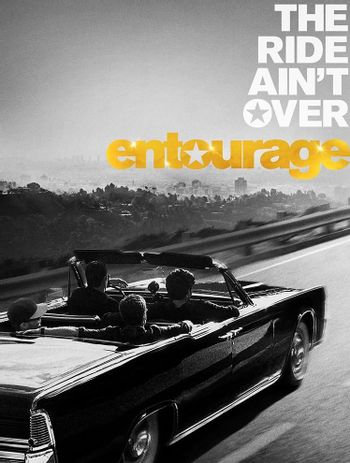 "The boys are back."
Entourage is a 2015 comedy film that is a continuation of the TV series of the same name.
The film picks up where the series left off, chronicling the continuing career of movie star Vincent Chase and his entourage of friends: manager Eric "E" Murphy, older brother and fellow actor Johnny "Drama" Chase and driver/gofer Sal "Turtle" Assante. New studio head Ari Gold bankrolls Vince's directorial debut with a $100 million budget, but when it goes $15 million over, Ari must secure financing from Texas billionaire Larsen McCredle and his son Travis
All of the main cast members from the series return, along with several of the recurring and guest cast members. Additionally, the film features cameos from several actors, musicians, athletes and other celebrities portraying fictional versions of themselves.
Warning: unmarked spoilers for the series below this point.
---
This movie provides examples of:
---