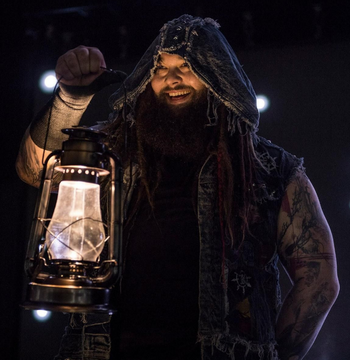 Windham Lawrence Rotunda (May 23, 1987 – August 24, 2023) was an American professional wrestler. He was best known for his tenures in WWE from 2010 to 2021, and then from 2022 until his death in 2023, where he most famously performed under the ring name Bray Wyatt.
He debuted in WWE in 2010 under the ring name Husky Harris on the second season of NXT and later as a part of The Nexus. After a punt kick from Randy Orton and a trip back down to developmental, he re-debuted in 2013 as Bray Wyatt, a creepy backwoods cult leader and the "patriarch" of The Wyatt Family along with Luke Harper, Erick Rowan, and Braun Strowman. He became known for his creepy, enigmatic promos and terrorizing other wrestlers like The New Day. Unfortunately, he never truly got that signature win that would put him over the top, which began to affect his ability to remain a credible threat, and he went on hiatus for much of 2018.
Wyatt returned in April 2019, repackaged as the unsettling host of the Subverted Kids' Show Firefly Fun House, where he'd help talk to eerily sedate children about issues like bottled-up emotions and psychopathy through his lovable cast of characters like Abby the Witch, Mercy the Buzzard, Ramblin' Rabbit, and Huskus the Pig. He revealed to the world in subtle ways that he had found a way to suppress the darkness within him, and it only manifested as a way to protect the Funhouse from danger. Said manifestation was The Fiend, a masked alter-ego who was much more aggressive than the original Wyatt ever was. He made his pay-per-view debut at SummerSlam 2019, where he beat Finn Balor in decisive fashion.
On July 31, 2021, Wyatt was released from his WWE contract. This was one of the more surprising releases that year among fans due to his high profile, and it was speculated to be part of a massive cost-cutting measure. Most of his time away from the ring would be spent teasing a transition to film work, which never materialized. He instead returned at Extreme Rules on October 8, 2022, nearly three months after Vince McMahon stepped down as CEO and retired from the industry temporarily.
He was the son of Mike Rotunda and the older brother of Taylor Rotunda, who is best known to wrestle for WWE as Bo Dallas. Other notable wrestling members of his family include Kendall and Barry Windham (maternal uncles) and Blackjack Mulligan (maternal grandfather). He was a one-time SmackDown Tag Team Champion, a one-time Raw Tag Team Champion, a one-time WWE Champion, and a two-time Universal Champion.
Rotunda unexpectedly passed away on August 24, 2023 at the age of 36 following a heart attack. He had fallen ill with what was initially reported as a "life-threatening illness", later revealed to be COVID-19, in February of that year, which left him with a heart condition that would take him off television for the remainder of 2023 and, ultimately, claim his life.
---
Follow the White Rabbit down the rabbit hole of tropes!
---
He's got the whole world in his hands.