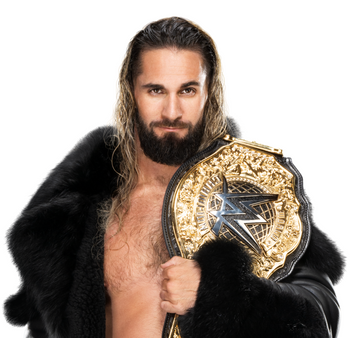 Colby Daniels Lopez (born May 28, 1986), is an American professional wrestler currently working for WWE under the name Seth Rollins since 2010.
He debuted in 2003 for Scott County Wrestling as Gixx. He has previously worked in Ring of Honor (where he was a one-time World Heavyweight Champion and a two-time World Tag Team Champion with Jimmy Jacobs), Full Impact Pro (World Heavyweight Champion), Pro Wrestling Guerilla (World Tag Team Champion with Jimmy Jacobs), NWA Midwest (Tag Team Champion with Marek Brave), IWA Mid-South (Light Heavyweight Champion), Mr. Chainsaw Productions Wrestling (World Heavyweight Champion), Absolute Intense Wrestling (Intense Division Champion), All American Wrestling (Heavyweight Champion and Tag Team Champion with Brave and Jacobs, again) and various other independent promotions as Tyler Black.
He began work as Rollins on the developmental grounds at FCW, where he was an FCW World Heavyweight Champion, a Tag Team Champion (with Richie Steamboat), and the inaugural and longest reigning FCW 15 Champion. After FCW became NXT, he became the inaugural NXT Champion. He was promoted to the WWE main roster as one-third of The Shield in late 2012. In June 2014, he betrayed the Shield to align with The Authority. In the fall of 2016, he turned face after being betrayed by Triple H. He returned to form as a heel in late 2019, portraying himself as a savior and Messiah for WWE, and gradually became a crowd favorite again in late 2022.
In WWE, he is a two-time WWE Champion, a two-time Universal Champion, the inaugural World Heavyweight Champion, a six-time (Raw) Tag Team Champion (once with Roman Reigns, once with Jason Jordan, twice with Dean Ambrose, once with Braun Strowman, and once with Buddy Murphy), a two-time Intercontinental Champion, a two-time United States Champion, and a two-time Grand Slam Champion. He also won the Money in the Bank contract in 2014, Superstar of the Year Slammy Award in 2015, and the 2019 Men's Royal Rumble. He topped the Pro Wrestling Illustrated (PWI) 500 in 2015, 2019, and 2023, becoming only the second wrestler to ever do so three times, after John Cena.
In real life, he is married to Becky Lynch. The two confirmed a relationship in May 2019 after months of speculation, and their first child, a daughter named Roux, was born on December 4, 2020.
---
"TROPE IT DOWN!"
open/close all folders
General
As Seth ("Freakin'") Rollins
As Tyler Black
---