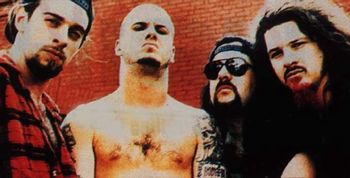 Influences:
Anthrax, Black Sabbath, Black Flag, Darkthrone, Exodus, Hellhammer, Iron Maiden, Judas Priest, Kiss, Megadeth, Metallica, Motörhead, Saint Vitus, Saxon, Slayer, Ted Nugent, Van Halen, Venom, ZZ Top
Related Acts:
Rebel Meets Rebel (Dime, Rex, and Vinnie)
Damageplan (Dime and Vinnie)
Down (Phil and Rex)
Hellyeah (Vinnie)
Superjoint Ritual (Phil)
Arson Anthem (Phil)
Necrophagia (Phil)
Kill Devil Hill (Rex)
Child Bite (Phil)
Scour (Phil)
Phil Anselmo and The Illegals (Phil)
Down (Phil)
"Can't you see I'm easily bothered by persistence?
One step from lashing out at you...
You want in to get under my skin and call yourself a friend?
I've got more friends like you, what do I do?"
— "Walk"
Pantera was one of the most popular and influential Heavy Metal bands of The '90snote although this is the period where they made their definitive sound and essence., from Texas. Starting as a Hair Metal band, they changed their style after replacing original singer Terry Glaze with Phil Anselmo in 1987. They disbanded in 2003 after a long period of infighting, and any hope of a reunion was dashed after the murder of guitarist "Dimebag" Darrell Abbott in December 2004. In the years afterward, Anselmo and Brown occasionly floated the idea of a "tribute" tour where they and Vinnie would play with various metal guitar luminaries standing in for Darrell, but a combination of Vinnie not wanting to play Pantera songs without his brother and his holding one of the strongest grudges in heavy music squashed those plans, which were then permanently dismissed when Vinnie died in June 2018.
However in 2022, Anselmo and Brown announced that they would be reuniting to perform a tour in 2023, with Zakk Wylde and Charlie Benante taking the roles of guitarist and drummer respectively.
Discography:
Note that up to Cowboys from Hell are considered, in general consensus, Canon Discontinuity (even by the band).
1983: Metal Magic
1984: Projects in the Jungle
1985: I Am the Night
1988: Power Metal
Albums after the change in style:
1990: Cowboys from Hell
1992: Vulgar Display of Power
1994: Far Beyond Driven
1996: The Great Southern Trendkill
1997: Official Live: 101 Proof [Live Album]
2000: Reinventing the Steel
Band members: (All former)
Phil Anselmo: lead vocals (1986-2003)
"Diamond" (pre-1992)/"Dimebag" (post-1992) Darrell Abbott: guitars, backing vocals (1981-2003; died 2004)
Rex Brown: bass, backing vocals (1982-2003)
Vincent "Vinnie" Paul Abbott: drums, percussion (1981-2003; died 2018)
Terry Glaze: lead vocals (1982-1986); backing vocals (1981-1982); rhythm guitar and keyboards (1981-1986). Credited as "Terrence Lee", starting with Projects in the Jungle.
---
"RE! SPECT! TROPES!":
---