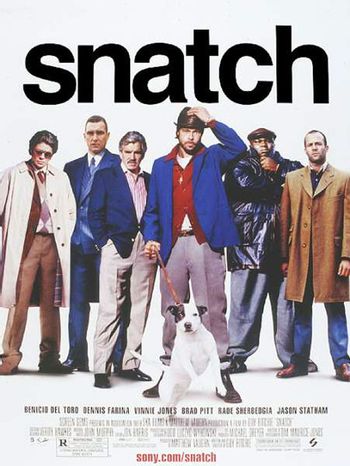 Snatch (stylized as snatch.) is the second film by British director Guy Ritchie; it was released in 2000. Like his first film, Lock, Stock & Two Smoking Barrels, Snatch is a humorous crime caper featuring a trainwreck of villains in a cartoonish London underworld.
The film's plot is essentially broken down into two mostly separate plot threads, both of which feature large ensemble casts.
The film opens with Frankie "Four Fingers" (Benicio del Toro) stealing a huge 86 carat diamond in Antwerp. With the help of a section of the Russian Mob that his boss is working with, Frankie is able to smuggle the diamond onto a plane, but his gun is taken by the Russians so as to not cause problems. Frankie is advised to see Boris (Rade Serbedzija), a local fence in London if he wants a new gun. The Russian Gangster who took Frankie's gun, (who is actually Boris' brother) and Boris immediately begin conspiring on how to steal the diamond from Frankie before Frankie heads back home to America, without the deed leading back to them.
At this point, we're introduced to Turkish (Jason Statham) and Tommy (Stephen Graham), who are the closest thing the film has to main characters. The two are shady but basically decent cockney entrepreneurs who dabble in unlicensed boxing and slot machines. Turkish, who has a reputation for running honest fights, has a bout coming up between his best fighter and one managed by monstrous local gangster Brick Top (Alan Ford). There's just one problem for Turkish: his boxer gets knocked out and seriously injured mere days before the bout by Mickey (Brad Pitt), a bare-knuckle boxing Irish Traveller. Without a fighter, Turkish recruits Mickey to fill the empty spot, but Brick Top forces Turkish to fix the fight as compensation for the change in boxers. Turkish is uncomfortable being in Brick Top's debt and doubtful whether he can trust Mickey to go down as instructed. Both of these fears prove to be well-founded.
Meanwhile, Boris has decided that the best way to go about getting the diamond without seeming to be involved is to prey on Frankie's gambling addiction. Boris gives Frankie a tip about how the upcoming fight with Brick Top's fighter is supposed to be fixed, which sends Frankie off to the bookie to place a bet on it. Boris then hires a pair of pawnbrokers (Sol (Lennie James) and Vincent (Robbie Gee)) to ambush him at Brick Top's bookie. When Frankie disappears, his boss and New York crime kingpin "Cousin Avi" (Dennis Farina) heads to London and recruits the enforcer-for-hire Bullet-Tooth Tony (Vinnie Jones) to find Frankie and the diamond.
The two threads parallel each other and eventually converge in surprising ways before the dust finally settles.
---
Snatch contains examples of:
The same can be said about Bullet-Tooth Tony who survived a clip being unloaded into him in a flashback.
---