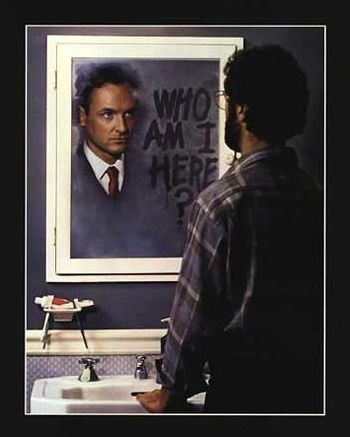 The Stepfather is a 1987 thriller film, written by esteemed crime novelist Donald Westlake and directed by Joseph Ruben. The film tells the story of an unnamed bluebeard Serial Killer (played by Terry O'Quinn) obsessed with being a part of the perfect family, to such an extent that if his current family doesn't live up to expectations, he kills them and moves onto another.
The first film was famous for putting O'Quinn on the map, with even Roger Ebert raving about his acting.
The film was followed by two sequels, the first direct-to-video and the second made for television and replacing O'Quinn with Robert Wightman. A remake of the first film was released in 2009.
---
Provides examples of:
open/close all folders
In General
The Stepfather (1987)
Stepfather II (1989)
Stepfather III (1992)