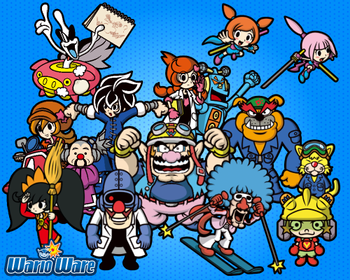 "Best Game to Play In-Between Breaths."
A Spiritual Successor to the "Sound Bomber" mode from the little-known Mario Artist: Polygon Studio, the WarioWare series is essentially a collection of hundreds of mini-games (referring to as microgames in-universe). And the gold-hoarding, gas-cloud-belching Wario is in charge of it all, aided by a cast of wacky friends and neighbors.
There are three important details to these mini-games:
Each mini-game lasts for only about four seconds (normal-length games run eight beats; the BPM starts from 120 (140 in the GBA games) and rises from there).
In each 'level' you have to complete seven to twenty-five of them in a row, with four chances for failure before game over, and without stopping (and much more if you're going for a high score!).
And you receive no instructions on how to play! Your only assistance is a single command that appears on-screen just as the game begins.
That's pretty much the WarioWare games in a nutshell. Each game is a handful of about 200 or so "microgames" that come at you in roughly five-second increments, each time prompting you to do a simple task (POUR! STOMP! etc.). The microgames are shuffled at random, so you'll have to react fast to succeed and impress Wario and his cadre of microgame developers. Once you've unlocked everything, the games basically become quests to beat your high scores at all the games.
The plot of the games usually follow a similar through-line: Wario is strapped for cash in some manner, and happens to see a simple video game or console become successful—think of how Flappy Bird became a hit, only years before Flappy Bird. Wanting a piece of that pie, he grabs his phone and contacts every friend he has to make video games on the cheap for him.
Games in the WarioWare series
WarioWare, Inc.: Mega Microgame$! note (Game Boy Advance, 2003): Wario is watching television when he sees a news report about a popular game making a lot of money, prompting him to create his own game company and convince his friends to develop the games that he's too lazy to make himself. Introduces Jimmy T., Mona, Dribble and Spitz, Dr. Crygor, 9-Volt, Orbulon, and Kat and Ana as microgame hosts alongside Wario. Features 213 microgames that use the directional pad and A-button (retroactively known as "Mash"-style gameplay as of Gold).

WarioWare, Inc.: Mega Party Game$! note (Nintendo GameCube, 2003): An multiplayer-focused remake of the above game containing 12 multiplayer modes.

WarioWare: Twisted! note (GBA, 2004): After breaking his Game Boy Advance, Wario goes to Dr. Crygor to get it fixed, only for the scientist to turn it into a handheld without any buttons. After seeing the others happily playing with the new device, he hatches a scheme to market it. Utilizes a cartridge equipped with a gyroscope and rumblenote and features 223 microgames. Introduces 18-Volt, who shares a microgame set with 9-Volt.
WarioWare: Touched! note (Nintendo DS, 2004): After a run-in with an elderly angel, Wario finds himself with a handheld device with two screens, but no buttons. Upon realizing the second screen is touch-sensitive, he determines he can make twice as much money with dual-screen games as he could with single-screen ones. Features 190 microgames based around the DS's touchscreen and microphone, with microgames no longer having standardized lengths like previous entries. Introduces Ashley (alongside Red) and Mike as new microgame hosts.
WarioWare: Smooth Moves note (Wii, 2006): Features 205 microgames and is themed around holding the Wii Remote note in a variety of different ways. Unlike other entries, it lacks a Framing Device prologue, though Wario's scenario features him discovering the Form Baton, an ancient Wii Remote that can be held and positioned in various "forms". Introduces Penny Crygor, Young Cricket, and Master Mantis (the latter two sharing a set) as new microgame hosts.
WarioWare: Snapped! note (DSiWare, 2008): Wario opens up his own amusement park, using some of his friends as employees. Utilizes the Nintendo DSi camera to take pictures and features 20 microgames.
WarioWare: D.I.Y. note (DS, 2009): Due to never getting paid, the others have quit working for Wario to instead work at rival game company Diamond Software, forcing Wario to hire the player themselves as a developer. This entry allows you to create your own microgames, with 90 pre-made microgames being available from the start.

WarioWare: D.I.Y. Showcase note (WiiWare, 2010): A companion game for the above, featuring 72 unique microgames.

Game & Wario (Wii U, 2013): Wario learns about a new game console that features a controller with a screen and sees it as another money-making opportunity, while the others also show interest in the new device. A Gaiden Game that departs from the franchise's signature microgame style, having individual game modes that function more like the boss stages from previous entries (although microgames do appear in one of the game modes). Features 16 minigames, and properly introduces 5-Volt.
WarioWare Gold note (Nintendo 3DS, 2018): After stealing a golden vase from a small village, Wario starts up another money-making scheme, risking his own fortune by hosting a gaming tournament and seeking to win it himself, with his friends agreeing to help make the games for it. Features an astounding total of 300 microgames both old and new, all built around three base styles of "Mash", "Twist", and "Touch"note . It is the first game in the series to feature fully-voiced cutscenes.
Other releases include multiple WarioWare, Inc. trial versions and selected microgames, downloadable to a Game Boy Advance from Wario World and in one case from the Nintendo GameCube Preview Disc, as well as the DSiWare games Bird & Beans and Paper Airplane Chase (respectively Pyoro and Paper Plane in the British English version), standalone versions of minigames from Mega Microgame$! Wario also appears in the Super Smash Bros. series with his default appearance having him wear his clothes from WarioWare (his Wario Land appearance is available as well), along with a WarioWare-inspired stage and Kat & Ana and Ashley as Assist Trophies. Diamond City also appears as a course in the two Mario Kart arcade games Arcade GP and Arcade GP 2, though it bears little resemblance to its appearance in these games. Ashley has appeared as an unlockable costume in Super Mario Maker and downloadable content for Band Brothers P.
Rhythm Heaven was made by the same team that made this series, and it shows. The fourth installment of the franchise, Rhythm Heaven Megamix, features a full Crossover between the two series, and they cross-reference each other frequently.
Vote for your favorite installment here
!
---
LIST TROPES!
---