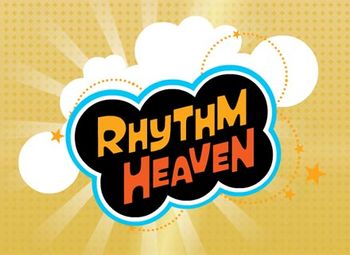 "Go for a Perfect!"
Rhythm Heaven, known in Japanese as Rhythm Tengoku and as Rhythm Paradise in European languages, can best be described as WarioWare meets Elite Beat Agents. The first game in the series was released on the GBA in late 2006, making it the last game that Nintendo developed for the system, and later in arcades as a joint project between Nintendo and SEGA. Naturally this meant that it would be released only in Japan, not unlike the case with Mother 3. Despite this, the DS sequel (known as Rhythm Tengoku Gold in Japanese) would receive an overseas release to a positive reception, with two more sequels following.
The gameplay is fairly simple. The game is divided into sets of four or five music-based mini-games, which are completed by pressing buttons (or flicking and tapping the touch screen) in time with the rhythm. Upon completion of each mini-game, the player's performance is evaluated and given a ranking: Try Again, OK, or Superb. If a player gets a Try Again rating, they can't progress to the next mini-game until they can get one of the higher ratings. A Superb rating awards the player with a medal; collecting these allows bonus features such as endless mini-games to be unlocked. Sometimes the game challenges the player to complete a mini-game flawlessly. Doing so nets a Perfect rating, which unlocks bonus information on the mini-game or adds another song to the sound test. After completing a set of games, the player is challenged to a Remix game that includes each game of the set. Completing the Remix unlocks the next set.
The mini-games themselves are exactly what one would expect from the team responsible for WarioWare: Quirky, bizarre, and generally addictive. Examples include:
Hitting baseballs expelled by a flowerpot while floating in space
Helping a rabbit jump across whales and turtles to reach the moon
Stomping around a garden to pluck beets from the ground
Shaking and tossing flasks to create hearts in a laboratory devoted to studying the science of love
Controlling a member of a quartet of dancing shrimp
Piloting a rocket powered by anthropomorphic tuning forks across a surreal landscape
Translating what's being said by a jellyfish-like alien on live television
Helping a sentient street toss fruit, rolling out of pipes, into basketball hoops
And that's just the tip of the iceberg. Half Rhythm Game, half Minigame Game, Rhythm Heaven is a definite hidden gem in Nintendo's catalog. On an interesting note, it is one of the few rhythm games to actually be about "rhythm" and not just rapid timing. That is most prominently featured in Lockstep in Heaven, where you'll cruise after you get how to switch from the beat to off-beat, but completely flop if you just try to "muscle" your way through.
The third iteration, Rhythm Heaven Fever, also known in Japanese as Minna no Rhythm Tengoku (Everyone's Rhythm Heaven), was released in the States in February 2012. The European version (called Beat the Beat: Rhythm Paradise) was, after an enormous wait, released in July 2012.
Rhythm Heaven/Paradise Megamix, known as Rhythm Tengoku: The Best+ in Japanese, is the fourth installment in the series, released in June 2015 in Japan, June 2016 in North America, and October 2016 in Europe. It contains 108 games — 30 new and 78 returning from the previous three, some with new variations. It has no physical release in North America, though, only digital.
Note: For shorthand, we'll be calling the GBA version Tengoku, the DS version Heaven, the Wii version Fever, and the 3DS version Megamix.
---
This series provides examples of:
open/close all folders
Tropes #-B
Tropes C-D
Tropes E-G
Tropes H-P
Tropes Q-Z
---
The moderators say...
You described the work flawlessly!
You added all the right tropes!
The spoiler tags didn't trip you up!
☆Superb☆
You got a medal!
---