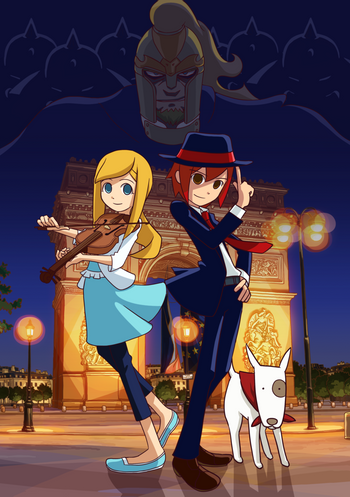 "It's Showtime!"
— Raphael/Phantom R
Rhythm Thief and the Emperors Thief (Rhythm Thief R: Emperor Napoleon's Legacy in Japan) is a rhythm game unlike any other. Released in 2012 for the Nintendo 3DS, this game by Sega CS2 (Sonic Team) and xeen Inc essentially combines the exploration gameplay of the renowned Professor Layton series with Rhythm Heaven-esque minigames.
The game follows the protagonist Raphael in his day-to-day life, as world-renowned art thief Phantom R. He faces off against Inspector Vergier of the Paris Constabulary, meets a mysterious man who claims to be Napoléon Bonaparte and pursues his Disappeared Dad, doing so in style the entire time.
An iOS adaptation titled Rhythm Thief and the Paris Caper was launched in 2014, but its service was terminated mid-2015.
Now has a Character Sheet. Please contribute and put character-specific tropes under that specific character entry.
---
This game contains examples of:
---