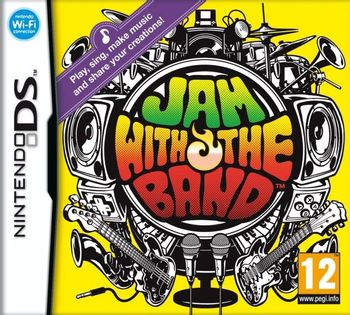 Jam With The Band is a Rhythm Game for the Nintendo DS, released in Japan in 2008 and Europe in 2010. It is the sequel to the 2005 game Daigasso! Band Brothers.
The gameplay is mostly typical Rhythm Game fare, requiring you to hit buttons in time with the displayed notes, but unlike most Rhythm Games, your errors are directly reflected in the sound of the music, because unlike most rhythm games, you aren't just hitting notes, you're literally playing the music. Not to mention being able to play any instrument within the song.
The game includes a song creator, which lets you create your own compositions and renditions of your favorite songs in MIDI format, allowing for a fully customizable soundtrack, supplemented by the 50 pack-in songs and DLC song server, allowing up to 50 songs (100 in the Japanese version) to be downloaded from Wi-Fi.
A 3DS version, titled Daigasso! Band Brothers P, was released in 2013 in Japan only. It added vocal support using Vocaloid technology, the ability to publish creations onto YouTube, and online play. However, songs available in-game require "tomatoes" to download. In December 2019, Nintendo took the game off of the eShop and online services for this game specifically shut down the following May.
---
These games provide examples of:
---