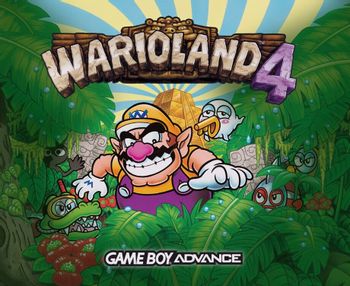 "Hello there!"
—
The beginning of Palm Tree Paradise
Wario Land 4 (Wario Land Advance: The Treasure of the Golden Diva in Japan) is the fourth game in the Wario Land series (not counting Virtual Boy Wario Land), originally released in 2001 for the Game Boy Advance.
Much like the other games in the series, the plot is primarily driven by Wario's greed: he finds out that a golden pyramid has been unearthed, and with the sight of gold in his eyes, he storms off to find it. When he does go into it, he jumps into a large hole and finds himself trapped in the pyramid. Now, the only way out is to conquer the paintings found in the four corridors of the area, with a boss lurking behind each one, before finally fighting the one behind all this. And there's a strange black cat that seems to come and go when you least expect it...
After Wario Land II and Wario Land 3 played fairly similar to each other, this entry features another gameplay shake-up for the series — while Wario still has his unique transformations, he now has a life meter, and thus can die much as he could in Wario Land: Super Mario Land 3. There are no lives, though — you're simply kicked out of the level without any of the money or bonuses you found in it.
Wario Land 4 was given a limited rerelease for Ambassadors on the Nintendo 3DS, and later released publicly on the Wii U Virtual Console and available until its shutdown in March 2023.
The game was the first job for many new Nintendo hires who would go on to create the WarioWare series, carrying over the game's unique style as well as some recycled sound effect and background tracks. The Wario Land 4 engine would later be repurposed for Metroid Fusion and Metroid: Zero Mission, and unused areas in both games feature assets from this game.
---
This game provides examples of
---
---