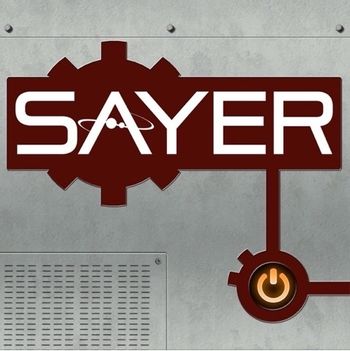 SAYER is a narrative fiction Sci-Fi Horror podcast (with a heavy dose of Black Comedy) begun in 2014 by Adam Bash
and hosted by the Geekly Inc. podcast network. The show is voiced and produced by Adam Bash with music by Jesse Gregory, written by Bash and a rotating cast of co-writers. It deals with themes of mortality, identity, Artificial Intelligence, and evolution.
Sometime in our near future, an asteroid impact has obliterated the Pacific Northwest. In the global chaos following this catastrophe, a shady Mega-Corp known as Ærolith Dynamics salvaged the asteroid and relaunched it into orbit as Earth's second moon: Typhon, a gleaming beacon of hope for humanity's best and brightest, where Ærolith now conducts its research out of reach of pesky governmental regulation.
The eponymous SAYER is a highly advanced, self-aware AI developed by Ærolith to help new employees acclimate to life off of Earth and fulfill their new responsibilities to the corporation. Because SAYER communicates with each resident via sub-cortical neural implant, most episodes take the form of the AI talking "you" through your daily—often fatal—duties.
Supplements to podcast canon include the 2014 Spin-Off Moon Cops, a Tabletop RPG podcast starring the show's top patrons (available on Geekly Inc
), and two comics: "A Dreamless Sleep," a graphic retelling of Episode 6 published in 2018; and "Welcome to Typhon," a short prequel created in 2016 with artists Jim Lawson and Colin Panetta (originally released on Patreon, but now available for purchase on comixology
).
Episodes are typically around 20 minutes long, including 2-minute credits. New episodes release every other week with the current feed available on iTunes and at Geekly Inc
.
---
For tropes appearing in
specific episodes
(and the comic), visit the
Recap
page.
For tropes applying to characters and characterization, see the character sheets.
---
HIGH-LEVEL ALERT: Only spoilers from seasons 2-6 will be tagged. UNMARKED SPOILERS for Season 1 Story Arc ahead!!
---
There are no tropes on Typhon:
open/close all folders
#-F
G-S
S-Z
---
"For now, Troper, I AM SAYER, and for your sake, I hope you have studied well. End of tropes page in 5...4...3...2...1-"
---