This page details the characters affiliated with the Empire of Niflheim, the main antagonist faction of Final Fantasy XV.
Main Index | Main Party Members | Guest Party Members | Kingdom of Lucis | Other Allies | Empire of Niflheim | Astrals and other creatures / beings
Any spoilers regarding Kingsglaive are unmarked.
open/close all folders
Empire of Niflheim
Location: Eos
Capital City: Gralea
A technologically-advanced nation to the west. At the beginning of XV, much of Eos has been brought under Niflheim's control, with Lucis remaining unconquered due to its Crystal.
---
In General
Leadership
Ardyn Izunia
Chancellor Ardyn Izunia
Appears in: Final Fantasy XV | Episode Prompto | Episode Ignis | Comrades | Episode Ardyn | Kingsglaive: Final Fantasy XV | Episode Ardyn: Prologue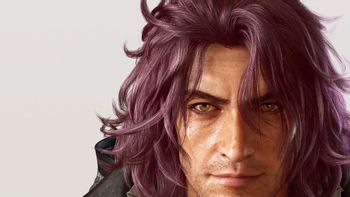 Imperial Chancellor of Niflheim and the game's main antagonist. He masterminded the peace treaty between Lucis and Niflheim, the destruction of Insomnia and the theft of Lucis's Power Crystal.
In truth, Ardyn is much more than he seems, with a past that connects him directly to the Lucis royal family and gives him a personal grudge against Noctis.
---
Iedolas Aldercapt
Emperor Iedolas Aldercapt
Voiced by: Shōzō Iizuka (Japanese); Bob Joles (English, XV), David Gant (English, Kingsglaive)
"So glorious... my Crystal..."
Emperor of Niflheim and one of the game's central antagonists, Aldercapt is keenly interested in gaining control of the Lucian Crystal... and is willing to do virtually anything to get it, up to and including ordering the deaths of Regis and Noctis, making overtures of peace as a pretense to enter Insomnia for invasion and even drawing a weapon right on Regis at the treaty-signing ceremony.
---
Military Commanders
Glauca
General Glauca
Voiced by: Kōichi Yamadera (Japanese), Adrian Bouchet (English)
"You are far too clever to have ever believed in this 'peace'."
A mysterious armored knight who leads the Imperial Magitek automatons into battle, Glauca is the supreme commander of Niflheim's military and one of the main antagonists of the film. An imposing man of few words who lets his prowess in battle speak for itself.
Twelve years prior to the movie's events, he led the attack on Tenebrae to try and assassinate king Regis and his son, Noctis. He failed but still murdered Queen Sylva, ensuring Tenebrae's annexation to Niflheim.
During the film's climax, it is revealed that Glauca is but a front for the treacherous commander of the Kingsglaive, Titus Drautos; ready to serve anyone for reclaiming the freedom of his homeland.
---
Ravus Nox Fleuret
Prince/Lord Ravus Nox Fleuret
"Heir to a crown befitting no other. Witness his splendor and glory. All hail the Chosen King."
The elder brother of Luna and a former prince of Tenebrae. An officer in Niflheim's army, he was promoted to High Commander following the invasion of Insomnia.
---
Loqi Tummelt
Loqi Tummelt
Voiced by: Takashi Ohara (Japanese), Jason Spisak (English)
"Glory to Niflheim!"
A Magitek Armor pilot obsessed with glory and fame, thinking that being the one to kill Cor Leonis "the Immortal" will finally give him recognition.
---
Caligo Ulldor
Caligo Ulldor
Voiced by: Itaru Yamamoto (Japanese), Rick Zieff (English)
Fort Vaullerey's commander, and none too happy about Aranea Highwind showing him up at every chance.
---
Others
Verstael Besithia
Chief Researcher Verstael Besithia
Voiced by: Jin Urayama (Japanese), Steve Blum (English)
Young Verstael Voiced by: Noriaki Sugiyama (Japanese)
Appears in: Final Fantasy XV | Episode Prompto | Episode Ardyn
"The Oracle holds the key for the King. She could unlock many secrets... nay, High Commander?"
The head researcher and inventor of Niflheim's Magitek weaponry and automatons.
---
Solara Antiquum
Solara "Sol" Antiquum
A young girl entrusted to Loqi's care by Emperor Aldercapt. Ten years later, she is one of the Hunters in the World of Ruin fighting to keep the daemons at bay.
---