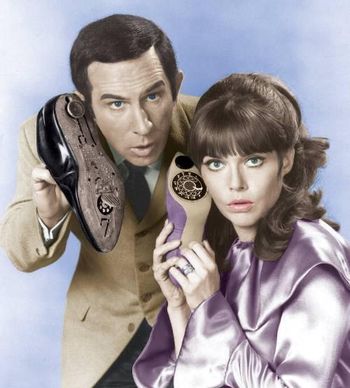 "Missed it by that much."
Get Smart is a spy fiction parody from The '60s created by Mel Brooks with (not "and") Buck Henry. Definitely a Sitcom. It starred Don Adams as CONTROL agent 86 Maxwell Smart, a bungling but perpetually optimistic secret agent who always managed to save the day and defeat the bad guys despite his own efforts. His partner, Agent 99 (Barbara Feldon), was a slightly daffy — but far more competent — agent who never let Max realize she could have saved the day without his help. They received their assignments from CONTROL's hapless chief (Edward Platt).
Offered a tremendous number of Catch Phrases, largely at the insistence of star Don Adams, who knew they would help make the show a success. The series ran from September 1965 to September 1970, a total of 138 episodes in five seasons, with the first four airing on NBC and the fifth on CBS.
Was revived three times:
The Nude Bomb, a feature film released in 1980. Executive Meddling hurt it; the producers wanted a titillating plot involving a bomb that dissolved clothing, allowing PG-appropriate nudity. The writers were so angered at the imposition that they were banned from visiting the set. Did not feature Feldon, who reportedly was not exactly crushed by the omission, although said omission was probably the leading cause of Fanon Discontinuity.
Get Smart, Again!, a 1989 ABC TV movie following the adventures of old, married, retired Max and 99. Much better received than "The Nude Bomb" (by fans of the original series, at least).
A short-lived 1995 Fox revival series focusing on one of their twin offspring (played by Andy Dick) following in Max's footsteps. Don Adams and Barbara Feldon were still around, except this time Max was Da Chief, running CONTROL. With this run, Get Smart holds the rare distinction of being a television franchise which has aired installments on every Big Four network.
In June of 2008, a Get Smart feature film remake was released, starring Steve Carell as Max and Anne Hathaway as 99.
---
That's the second longest trope list I've ever seen!:
open/close all folders
A-H
Coincidental Dodge: In "Someone Down Here Hates Me", a KAOS agent posing as a surveyor asks Max for a cigarette in order to get him in position for his partner to take a shot at him. However, Max fumbles the pack as he extends to the agent, spilling the cigarettes on the ground. As he bends down to pick them up, the other KAOS agent fires, missing Max and wounding his partner.
I-P
them "back".
Police Are Useless: A standard joke is while CONTROL and KAOS are in open combat, the police and nearly every other professional not involved in the area will be completely oblivious to it and utterly uninterested in helping Smart or his colleagues.

For instance, one episode has Max trying to cross a street and facing a storm of attackers. When he tries to tell a police officer, all the cop can say that Smart was jaywalking and dismisses any gunshots as a matter for the Homicide department.
In another episode, there is a gunfight in a hospital and the Chief is wounded. When 99 tries to get a nurse to help, that nurse competely ignores the shooting and demands to know the man's insurance information before doing anything.

Precious Puppies: Fang aka Agent K-13.

Buck Henry: While writing the pilot episode, it took all the restraint I could muster to keep from calling Fang 'Agent K-9'.

Prison Episode: In "The Not-So-Great Escape" two-parter, CONTROL agents are being kidnapped and held in a KAOS prison (located in New Jersey). Max goes undercover as a KAOS official, but after getting found out, he leads repeated breakout attempts.
Prisoner Exchange: In "A Spy for a Spy", Max and Siegfried kidnap important members of each other's organizations, and then try a traditional swap. When they double-cross each other, and continue abducting each other's staff, it escalates to the point that they eventually kidnap all the agents of the other side except each other. Max and Siegfried then hold a meeting, and try to exchange employees according to their own organizational deficiencies.
The Professor: Carlson.

"Hidden inside the tape recorder is a

tiny camera

. And hidden inside the camera is a tiny tape recorder."

"Why not just take pictures with the camera and record conversations with the tape recorder?"

"Because my mind doesn't work that way!"

Prosthetic Limb Reveal: In "Little Black Book Part 2" Max uses the old false hands in the chain trick to make his captors think that he has been chained to a wall, and then when they leave he gets out easily.
Public Secret Message: The Chief (disguised as a singing waiter) communicates a message to Max and 99 by slipping code phrases into the song he is singing.
Punch-Clock Villain: This also came up in one of the books, when it turned out that KAOS' sinister "Doomsday Plan" was in fact

the "Dooms Day Plan" — that is, a retirement party for longtime KAOS agent Arthur Dooms

.
Punch! Punch! Punch! Uh Oh...: Max is infiltrating a camp of desert nomads when he bumps into a massive guard

Max: "Where I come from, we have a saying. 'The bigger they are, the harder they fall.'"
Fires off a judo chop, two body blows, and a punch to the jaw that have no effect

Max: "Haven't heard of that one, eh? Well, maybe you know this one. 'The quality of mercy is not strained...'"
Q-Z
The 1995 sequel series provides examples of:
---