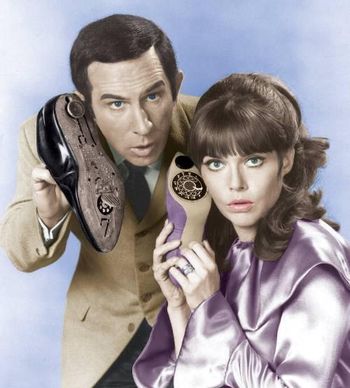 "Missed it by that much."
Get Smart is a spy fiction parody from The '60s created by Mel Brooks with (not "and") Buck Henry. Definitely a Sitcom. It starred Don Adams as CONTROL agent 86 Maxwell Smart, a bungling but perpetually optimistic secret agent who always managed to save the day and defeat the bad guys despite his own efforts. His partner, Agent 99 (Barbara Feldon), was a slightly daffy but far more competent agent who never let Max realize that she could have saved the day without his help. They received their assignments from CONTROL's hapless chief (Edward Platt).
Offered a tremendous number of Catch Phrases, largely at the insistence of star Don Adams, who knew that they would help make the show a success. The series ran from September 1965 to September 1970, a total of 138 episodes in five seasons, with the first four airing on NBC and the fifth on CBS.
Was revived three times:
The Nude Bomb, a feature film released in 1980. Executive Meddling hurt it; the producers wanted a titillating plot involving a bomb that dissolved clothing, allowing PG-appropriate nudity. The writers were so angered at the imposition that they were banned from visiting the set. Did not feature Feldon, who reportedly was not exactly crushed by the omission, although said omission was probably the leading cause of Fanon Discontinuity.
Get Smart, Again!, a 1989 ABC TV movie following the adventures of old, married, retired Max and 99. Much better received than "The Nude Bomb" (by fans of the original series, at least).
A short-lived 1995 Fox revival series focusing on one of their twin offspring (played by Andy Dick) following in Max's footsteps. Don Adams and Barbara Feldon were still around, except this time Max was Da Chief, running CONTROL. With this run, Get Smart holds the rare distinction of being a television franchise which has aired installments on every Big Four network, and the only known one that isn't explicitly aimed at children.
In June of 2008, a Get Smart feature film remake was released, starring Steve Carell as Max and Anne Hathaway as 99.
---
That's the second longest trope list I've ever seen!:
open/close all folders
A-H
Closest Thing We Got: When The Chief and Larabee are accidently locked in a vault in Do I Hear A Vaults?, Max and 99 are sent to a prison to recruit a renouned safecracker to free them. Unfortunately, they arrive right after he was executed, so they enlist an expert forger instead.
Coincidental Dodge: In "Someone Down Here Hates Me", a KAOS agent posing as a surveyor asks Max for a cigarette in order to get him in position for his partner to take a shot at him. However, Max fumbles the pack as he extends to the agent, spilling the cigarettes on the ground. As he bends down to pick them up, the other KAOS agent fires, missing Max and wounding his partner.
I-P
Q-Z
The 1995 sequel series provides examples of:
---