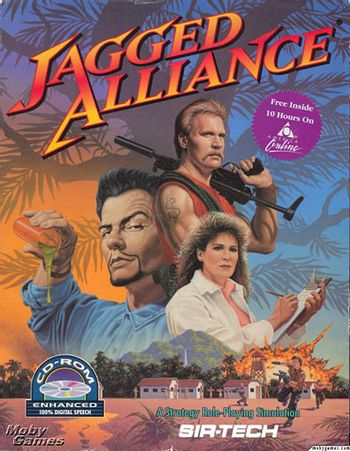 The ASSOCIATION OF INTERNATIONAL MERCENARIES, the most professional choice for commanders in need of a qualified hired gun.
— Jagged Alliance 2, AIM website.
A series of turn-based squad-level combat strategy games for the PC that came out in the 1990s, with some role-playing elements, financial management, and a weird and wonderful cast of mercenaries ranging from out-and-out maniacs to seasoned professionals (And in some cases, maniac professionals). Pick a modern combat trope, and they've probably used it shamelessly.
The first gamenote developed by the short-lived Madlab Software and published by Sir-Tech, released in 1995, takes place on the South Atlantic island of Metavira, which was once a nuclear testing site during the Cold War. Because of radiation, some trees mutated into fallow trees, and their sap contains amazing medical properties that is every doctor's Christmas wish come true. Thus a research team led by Jack Richards and his daughter Brenda arrived on the island to study the trees and, if possible, reproduce them. But one day, the labs burned down in suspicious circumstances, and Lucas Santiano, a senior member of the research team, proposed to split the research team in two, arguing that two heads are better than one. Despite Brenda's objections, Jack agreed, and with his new found autonomy and authority he hired his own (literal) Redshirt Army, and took over most of the island to monopolize the sap-supplying business. This is where the Richards hire You to reconquer the island and to kick Santiano's ass with the help of Hired Guns provided by the Association of International Mercenaries, or just A.I.M for short.
The stand-alone Expansion Pack, Jagged Alliance: Deadly Gamesnote developed in-house by Sir-Tech, released in 1996, has you working for Gus Tarballs and accepting small-time mercenary missions. Eventually, the stand-alone missions tie together into thwarting the DFK, a high-tech organization whose plans involve using satellites for orbital superiority. As this game was made specifically for multiplayer (complete with map editor), all strategic elements were sacrificed for tactical ones; instead of overworld management, the campaign is a series of one-sector scenarios.
The sequel, Jagged Alliance 2note developed by Sir-Tech's surviving Canadian branch and published by TalonSoft, released in 1999, takes place in Arulco. Hired by dethroned king Enrico Chivaldori, you and your band of mercenaries — from both A.I.M. and newcomer M.E.R.C. (More Economic Recruitment Center), which was founded by (surviving) ex-members of the former — are to liberate Arulco and to kill Enrico's ex-wife Deidranna Reitman, who usurped the throne a decade ago and ruled since then with iron fist of tyranny. Surprisingly well thought out and complex as computer games go in its approach to physical injury, fatigue, the effectiveness of firearms and the use of explosives and noted for its excellent Turn-Based Combat. Notably it's got a lot of mileage out of the v1.13 mod (a reference to the last official patch being v1.12 and, probably by coincidence, the last official versions of both original JA and Deadly Games), which drastically changed the game and even introduced a multiplayer mode that wasn't in the unmodified JA2! Some of the trope examples are due to, modified, subverted, or averted by this mod.
The sequel's stand-alone Expansion Pack, Jagged Alliance 2: Unfinished Businessnote Sir-Tech Canada's penultimate release, also published by TalonSoft, released in 2000, takes place in Tracona. Ricci Mining and Exploration was the company that ran the mines in Arulco for Deidranna, and with her fall they lost them. Wanting to take them back, they set up a military base in the nearby military dictatorship of Tracona, gave Arulco an ultimatum to return the mines to [RMaE]'s ownership and launched missiles at the Prison in Arulco as a warning. King Enrico Chivaldori, knowing that Aruclo has not recovered enough to effectively deal with this crisis, hires you to resolve it. This game is very short and remarkably more linear than the basegame, and the main draw of it is the map editor, which was later added (along with other new features in this game, except the new mercs, unless you count the v1.13 mod) to JA2 in later patches.
Jagged Alliance 3 has had a troubled past after Sir-Tech closed down in 2003, with numerous false starts and developers throughout the years. In September 2021, Jagged Alliance 3 was finally unveiled by THQ Nordic with pre-alpha gameplay footage, seemingly returning to the series' roots, promising deep turn based tactical gameplay. Jagged Alliance 3 was finally released on July 14th 2023, and reviewed well, with critics hailing it as a return to form for the series.
Kalypso Games and bitComposer Games released Jagged Alliance: Back In Action in February 2011, a real-time remake of Jagged Alliance 2. In August 2012 they released the sequel to BiA, Crossfire.
Gamigo and Cliffhanger Productions released Jagged Alliance Online, a free-to-play isometric tactical MMORPG, in August 2012. It was shut down in April 2015. A successor, Jagged Alliance Online: Reloaded, was released in May 2015 and shut down in November 2018.
Jagged Alliance: Flashback by Full Control, the makers of the 2013 videogame adaptation of Space Hulk, was officially released in October 2014, having previously undergone a period in Steam Early Access. It is turn-based with elements from the 1.13 mod, taking place in 1991 depicting the origins of AIM.
A Spin-Off titled Jagged Alliance: Rage! was released in December 2018. Featuring survival elements, the game is again a turn based tactical shooter.
---
Provides examples of:
---