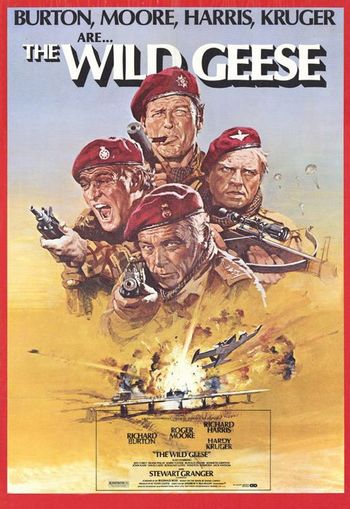 "Well we've got no bloody place to run to, so why not stand and fight? And for a cause; for two causes — one, Lembani, he's the best there is, words from your own lips. And two... Matheson".
— Rafer Janders
A 1978 war movie produced by Euan Lloyd and directed by Andrew V. MacLaglen, based on an unpublished novel titled The Thin White Line by Daniel Carney, later published as The Wild Geese itself after the film's success.
Allen Faulkner (Richard Burton) is a retired British Army colonel now making his trade as a mercenary. He is recruited by the magnate Sir Edward Matheson (Stewart Granger) to lead an operation into the fictional African nation of Zembala to rescue President Julius Limbani (Winston Ntshona), a good leader - all too rare in postcolonial Africa - who has been overthrown by a military coup d'etat. Limbani is still highly regarded by the people of Zembala and Matheson aims to use the threat of his return as a bargaining chip to negotiate favourable mining contracts with the new regime. Chief of the minerals is copper, the taste of blood...
Faulkner assembles a company of fifty mercenaries, led by former comrades Sean Fynn (Roger Moore) and Rafer Janders (Richard Harris), accompanied by Pieter Coetzee (Hardy Kruger) a Boer familiar with the African bush. Parachuting into Zembala after a period training in Swaziland, the mercenaries successfully retrieve Limbani from the prison where he is due to be executed by the dictator in a slick operation that goes off without a hitch - but in the meantime, the wheels of greater machinations are preparing to grind up the mercenaries. Sir Edward Matheson concludes his mining contract with the Zembalan military regime - he now no longer needs Limbani, and if the mercenaries return there is also that distasteful task of paying them that he'd rather not stoop to. He promptly recalls the escape plane, leaving Faulkner and his men stranded hundreds of miles from safety in the depths of Africa, with the Simbas, the deadliest shock troops of the regime's army, closing in... they came for gold, but the Wild Geese now have to struggle for their very survival. There are no pockets in a shroud - but revenge can come from beyond the grave.
The Wild Geese attracted controversy for being filmed in apartheid-era South Africa, with sizeable demonstrations accompanying its London premiere accusing it of racism - this is despite the fact that the film was very popular amongst black South Africans (producer Euan Lloyd even distributed copies of the Soweto Times detailing packed-out cinemas to protestors in an attempt to calm them) and the film bore an even-handed message of reconciliation acknowledging the crimes perpetrated by both whites and blacks in Africa (Limbani says to Coetzee at one point "we have to forgive you for the past, just as you have to forgive us for the present").
This film was also reheated for a 1984 Italian knock-off, Code Name: Wild Geese (copying the plot of the film and relocating England and Africa to Hong Kong and the Philippines) and led to an official 1985 sequel, Wild Geese II. Richard Burton was to reprise his role as Allen Faulkner in the sequel but died before shooting began; instead the actor Edward Fox took the role of "Alex Faulkner", Allen's brother. The sequel was derived from another Daniel Carney novel, The Square Circle, and is notable for being directed by Peter Hunt of On Her Majesty's Secret Service and including a late role for Laurence Olivier as Rudolf Hess... and for being such an unmitigated disastrous flop that it killed Euan Lloyd's producing career.
Spawned an unofficial Foreign Remake by Shaw Brothers, Mercenaries from Hong Kong.
---
Contains examples of:
Wild Geese II
---