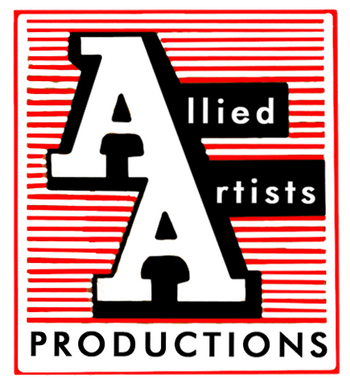 The longest-lived independent film production company in the U.S. was founded in 1930 as Monogram Pictures Corporation. In 1935, Monogram was merged into Republic Pictures, but soon later was spun off as its own company again. In The Golden Age of Hollywood, Monogram would produce over thirty movies a year, which were distributed to theaters at B-Movie flat rates.
The Monogram name became synonymous with quick, unpolished, low-budget film-making. Some of the most well-known actors associated with the studio, including Bela Lugosi and Sidney Toler (aka Charlie Chan), were obviously past their prime during their Monogram years.
When Steve Broidy, who had been Monogram's sales manager since 1937, became president in 1945, he set out to change the studio's dubious reputation. Allied Artists Productions was founded as a subsidiary of Monogram in 1946; by 1953, the Monogram name had been phased out and the company was officially renamed the Allied Artists Pictures Corporation. The studio had not cut back on its B-Movie production, which remained as intensive as ever, but its annual output now contained a substantial share of bigger-budget pictures, some even filmed in color. In the 1950s, Allied Artists came to depend more on independent producers such as Roger Corman and William Castle.
Broidy stepped down in 1965; Allied Artists sold its studio facilities shortly after, subsisting for a while as a distribution company only. The company attempted to return to film production in the 1970s, but with little success. Allied Artists finally went bankrupt in 1979, and was sold to Lorimar a year later. Today, much of the Allied Artists library resides with Warner Bros., which acquired Lorimar in 1988.
---
Monogram Pictures and Allied Artists productions include:
---