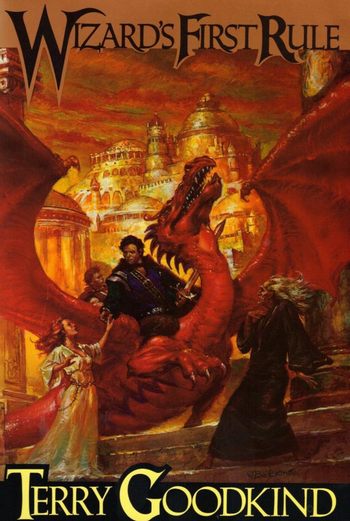 "People are stupid; given proper motivation, almost anyone will believe almost anything. Because people are stupid, they will believe a lie because they want to believe it's true, or because they are afraid it might be true. People's heads are full of knowledge, facts, and beliefs, and most of it is false, yet they think it all true. People are stupid; they can only rarely tell the difference between a lie and the truth, and yet they are confident they can, and so are all the easier to fool.
"
— The Wizard's First Rule
A series of High Fantasy novels — ahem, stories that have important human themes—written by Terry Goodkind. It started in 1994 with the publishing of Wizard's First Rule and ended in 2007 with the eleventh in the series and final book of the Chainfire trilogy, Confessor. There is also a prequel novella, originally published in the Legends compilation of short stories and now available on its own, called Debt of Bones. In story-internal order, the books are as follows:
Wizard's First Rule (1994)
Stone of Tears (1995)
Blood of the Fold (1996)
Temple of the Winds (1997)
"Debt of Bones" (1998)
Soul of the Fire (1999)
Faith of the Fallen (2000)
The Pillars of Creation (2001)
Naked Empire (2003)
Chainfire (2005)
Phantom (2006)
Confessor (2007)
In addition to these books, Terry Goodkind has written other novels related to the main Sword of Truth series. The Law of Nines serves as a sequel of sorts to the main series and features an entirely new cast of characters. The Omen Machine, billed as "A Richard and Kahlan Novel", takes place immediately after Confessor, but is not connected to the Myth Arcs of the previous series. The First Confessor is a self-published e-book which features events in the backstory of the main series.
The Law of Nines (2009)
The Omen Machine (2011)
The First Confessor (2012)
The Third Kingdom (2013)
Severed Souls (2014)
Warheart (2015)
After the conclusion of Warheart, the main series ended. However several side characters received a spin-off series of sorts, titled The Nicci Chronicles. That series follows the adventures and tribulations of Sister Nicci and Wizard Nathan.
The TV adaptation, called Legend of the Seeker, has its own page.
Links:
---
Richard Cypher is a woods guide living in a mostly-pastoral nation called Westland, cut off from the rest of the world—known to them as consisting of two other lands, called the Midlands and D'Hara—by a magical boundary that is in fact a window to the underworld; all who enter it die. After coming upon an "odd-looking vine", he spots a mysterious and beautiful woman who appears to be chased by four armed men. Offering to help her, he finds she is being trailed by assassins.
She explains that she has come in search of a great wizard, who supposedly came to Westland years ago, to help defend the Midlands against a man named Darken Rahl, who hopes to bring all the world under his dominion. Richard knows that what she says is impossible; nothing can get through the boundaries, and Westland doesn't have any magic. Yet he has never seen a woman like her, nor men like those hunting her. He decides he should take her to Zedd, a slightly crazy old man who is like a grandfather to him, and who always seems to know everything that goes on...
As you might have guessed, Zedd does, indeed, turn out to be the wizard, and the three characters team up to stop Darken Rahl before all is lost. Richard is given the titular Sword of Truth, which uses the power of its user's personal anger to strike down enemies.
The two first books, Wizard's First Rule and Stone of Tears, are fairly standard fantasy fare, complete with dragons, an evil wizard out to rule the world, the discovery that he wasn't working for his own sake, a potentially world-ending plot, a magic sword, a wise old wizard, a mysterious woman with strange powers, and a gratuitous S&M sequence. For a long time some people thought Goodkind was ripping off Robert Jordan, as his stories contained many things that had exact counterparts in Jordan's novels. From the third book on, things get slightly less derivative, with the introduction of a new Big Bad and increasing focus on Richard's struggles as a leader. By the fourth book the plot is still pretty standard but starts going under its own power.
Around the fifth book, Goodkind began introducing overtly Objectivist themes and aesops inspired by Ayn Rand in the Sword of Truth. Things went overboard in the eighth book, Naked Empire, which contains the infamous evil pacifist plot. The last three books, collectively called the Chainfire Trilogy, brought back plenty of the early themes and events of the series, and Confessor, the last book, was specifically one huge throw-back to Wizard's First Rule.
Goodkind has stated a distaste for cliffhangers and other ways of forcing people to buy future books, which is why, aside from the Chainfire trilogy, the books have mostly self-contained plots; some new danger is introduced, the characters wonder about its meaning, and it is defeated. However, all of these book-plots are tied by the Myth Arc of either the Imperial Order or the Keeper of the Underworld.
There's also a spin-off book, The Law of Nines, which follows a completely different cast of characters and shifts genres from High Fantasy to a contemporary thriller with fantasy elements. It takes place in the magic-free world created at the end of "Confessor", the inhabitants of which developed technology to replace the magic they had lost. The story follows the exploits of Alex Rahl, a distant descendant of Richard's half-sister Jennsen, whose life is changed forever when he meets a woman named Jax who claims to be from a parallel universe where magic still works.
Now has a character sheet.
---
This series provides examples of:
Amazon Brigade: The Mord-Sith, who are the sworn protectors of Lord Rahl, as well as his expert torturers. They perform... other services for him, they act as his bodyguard, are capable of beating up squads of elite soldiers without breaking a sweat, have a magical torture device / weapon / awkward phallus thing called an Agiel, they're made via a truly horrifying Break the Cutie indoctrination process, are probably the second most feared thing in all of D'Hara, only behind the Lord Rahl himself... oh and they can capture your magic and then use it to torture you. They've driven one member of the main cast insane.
A Million Is a Statistic:

Zedd detonates a light spell with similar power to a modern nuclear weapon in the midst of the Imperial Order's gigantic army. The resulting explosion kills an estimated 500,000-1,000,000 soldiers of the enemy army, though there's more where that came from. Though the Imperial Order has always considered Zedd (and Richard Rahl, who he was acting on behalf of) to be the epitome of evil (and more so afterward), Zedd is not bothered by what happened because the soldiers killed were all faceless enemy thugs of an invading army intent on killing him and enslaving/raping everyone on the continent.
Zedd's attitude toward murdering a large fraction of the world's known population in the backstory (before the rest of the continent was revealed to also have people in the third book) and burning up their souls to fuel two thousand-mile-long hellmouths to serve basically the same function a ten-foot wall could have filled is essentially "meh, worth it".

Animal Eye Spy: Slides have an ability to look through animals' eyes and hear with their ears when sending people's captured souls into them.

Nicholas used this to always stay one step ahead of Richard until he figures it out.
Badass Normal: Chase, consistently described as wearing a small armory (he had to actually dress down in order to infiltrate an enemy camp), knowing how to use every weapon he has to great effect, and is probably the deadliest non-magical person in the whole series.
Balance Between Good and Evil: Ann says to Richard at one point that she believes getting rid of the Keeper (who embodies death and is the main Big Bad in the early series) would not be a good thing, unlike the view other Sisters of the Light have. She explains that without the Keeper nothing would ever die. Very soon there would be no room for anyone in the world and they'd be left as utterly miserable immortals forever. She warns him never to tell anyone about her view, because many would consider it heresy and proof that she's a servant of the Keeper herself.
Black-and-White Morality: The heroes are good and noble, and always right, while the villains all Kick the Dog like they're in an international dog-kicking competition. Or at least, that's how the author intends it. To many readers, it comes off as more Black-and-Grey Morality, given how ruthless the heroes can be (using torture, massacring people etc.) if not Evil vs. Evil at times.
Black Eyes of Evil: Emperor Jagang's "nightmare" eyes are black and sign of his evil. When any Dreamwalker is experienced enough, their eyes turn, as "the mark of a Dreamwalker."
Black Magic: Magic is defined as Additive and Subtractive, with the "magic sand" for Additive magic being pure white and for Subtractive magic being as black as space. Subtractive magic can also be granted only by making a Deal with the Devil by the time of the books, though in the past it was available to most mages and neutral. While it destroys things (in contrast to Additive, which creates them) it's not inherently evil. Rather, Subtractive's issue is due to its source, and it reemerges in a neutral way after Richard's born with both.
Brainwashed:

The effect of Confession. Anyone who undergoes it loves the Confessor who does it without limit over the rest of their life, will do anything they're ordered to, and die from grief without them.
Mord-Sith are tortured and forced to kill so they'll serve as fanatically elite bodyguards/torturers of the Lord Rahl.

Breaching the Wall: There were two cases of magical barriers put up in order to stop a war. The first is broken by the Big Bad of the first book in order to have an easier time conquering and looking for the McGuffins, the second is deactivated by the protagonist so that he can stop The Keeper from breaching the barrier between life and death, destroying everyone.
Break His Heart to Save Him: This is how Kahlan persuades Richard to go away with the Sisters of the Light in Stone of Tears. Later, when Richard has to do the same thing to his pet gar Gratch, he realizes what Kahlan was actually doing.
Lotus-Eater Machine: The boundary separating the New World from the Old World works like this, tempting those attempting to travel through it with their hearts' desire. It also appears to keep people alive when it traps them, since

when Richard brings down the boundary, dozens of people who've been stuck there for years are finally freed

.
Luke, I Am Your Father: Richard Cypher's real name is actually Richard Rahl. He is a Child Of Rape by Darken Rahl, and has inherited his kingdom and magical powers. Neither of them knows this until Zedd reveals it.
Saving the World With Art: The sixth book Faith of the Fallen, puts Richard in the heart of the Imperial Order, powerless to free the people from the enemy government that preaches that people are inherently corrupt and shameful and that only through the Order's "benevolent" guidance can they be redeemed. After being forced to create a hideous sculpture idealizing this, Richard decides to instead create a sculpture showing the sanctity and beauty in the human potential, which he names Life. This sculpture has such a profound impact on the populace that it inspires a rebellion against the government and its teachings, instigating a civil war within the Capitol of the enemy.
Schrödinger's Gun: Minor elements in one book will turn out to be crucial to the plot of the next, with practically no foreshadowing; this can sometimes seem much more like an Ass Pull than anything that was planned in advance.
The Scottish Trope:

Subverted. The Sisters of the Light are constantly warning Richard not to speak the name of the Keeper of the Underworld, but it turns out that the implied dire consequences are merely superstition.
Also played straight with the summoning of the Chimes, though it's not just saying their names. There's a specific set of criteria that the one saying it has to fit for it to work.

Screw Destiny: Richard hates prophecy and goes his own way. About half the time he succeeds, half the time, not so much. But then someone always rationalizes it as prophecy being misinterpreted and Richard actually doing what the prophecy said in the first place. However, it may not be rationalization. A repeated theme is that only a Prophet has ANY chance whatsoever of correctly interpreting a Prophecy, and even then is extremely unlikely to be able to get the real meaning across to anyone other than another Prophet. A Prophet can, however, attempt to manipulate events...
Sealed Evil in a Can: Several, including Big Bad Emperor Jagang.
Self-Fulfilling Prophecy: Subverted in that a character who has knowledge of prophecy explains how this might occur and how to avoid it.
Selfless Wish: Inverted. Richard, when faced with a Sadistic Choice, chooses the selfish wish... knowing the selfless one will be granted in any case.
Serious Business: Within the Imperial Order, the people and the establishment alike take the sport of Ja'La very seriously. The society has virtually no social mobility, but becoming an elite player is a surefire way to gain tremendous status and glory.
Sex Magic: In Stone of Tears sorceresses gain subtractive magic as part of their pact with the Keeper through having (painful) sex with a demon (he has a barbed penis).
Sex Slave: Confessors choose men they've confessed as mates, although the effect of the Confessor's touch means they're completely happy with this. The Imperial Order also enslaves many women for this use.
Shirtless Scene:

In Stone of Tears, Richard takes off his shirt (while holding his sword) before

laying waste to 30 blade masters

for "fluidity." Du Chaillu didn't really seem to mind he'd killed all five of her husbands.
In Faith of the Fallen, however, he chides three local youths for not wearing shirts, since it makes them seem like thugs, and advises them to instead put proper clothes on and learn how to fix a staircase.

Sink or Swim Mentor: The Baka Ban Mana were assigned the task of one day helping the Chosen One to unlock the full potential of the Sword of Truth. How are they to do that? Train their swordsmen to be the best fighters in the world, then sic thirty of them at the candidate. If he dies, he wasn't the man.
Skip the Anesthetic: In the first book, Kahlan is given some leaves to chew while she is having her wound treated. Upon learning it's an anesthetic, she spits the leaves out - the nature of her powers makes any loss of control too risky.
Sleep Deprivation Punishment: Sleep deprivation is a common tactic of Mord-Sith. Cara mentions at one point people would end up begging to be tortured instead.
Sleeps with Both Eyes Open: Wizards sleep with their eyes open. We first see it with Zedd in Wizard's First Rule, then in Stone of Tears, it serves as another piece of proof that Richard has the gift.
Sliding Scale of Idealism Versus Cynicism: Would you believe that Goodkind considers this series to be firmly on the idealistic side?
So Beautiful, It's a Curse: Nicci. Her mother told her at an early age that beauty is only useful to whores. Grown-up Nicci is repeatedly described as one of the most beautiful women in the whole series.
Solitary Sorceress: Two regulars in the series: Adie, a sorceress who helps early on and eventually becomes one of Zedd's traveling companions, and Shota, a witch who is more antisocial and tells and gives things to Richard that he doesn't like but she deems to be for his own good.
Sorcerous Overlord: Darken Rahl, lord of the D'Haran Empire. Later Emperor Jagang, head of the Imperial Order. Both have powerful magic and rule as brutal despots. Some might also see Richard as this later on, despite him officially being the hero, since he becomes ruler of the D Empire and uses more than a little brutality.
Splitting the Arrow: Kahlan mentions her Home Guard gives ribbons for such shots (called shaft shots). A few had half a dozen ribbons, one had ten. She herself manages such a shot after some training by Richard... who, due to his magical powers awakening, ruined a hundred arrows in a single session.
Stalker with a Crush:

Nicci

is a stalker with a crush on

Richard.

Standard Fantasy Setting: The series shares some of the elements, but mainly uses them as a vehicle for its Author Tract, particularly when the latter begins to take precedence over the fantasy elements.
The Stoic: Nicci . . . just Nicci. Undoubtedly the most stoic character in the entire series. After going through an insane life of hardship and self-loathing, she eventually becomes so hardened that she

is raped and doesn't even bother to acknowledge the person doing it.

Stopped Dead in Their Tracks: A variant occurs in the fourth book of the series. A healer goes to see a family where the kids are sick from a plague outbreak, and the parents described the youngest child having some strange sores on her legs. The healer misses a step...they just described a variant that is 100% lethal, no exceptions.
Straw Character: Author Terry Goodkind has done the strawman routine on everything from liberalism to socialism to traditional religion to democracy. All other ideals can only stand in the way of the true freedom that comes about under the rule of a benevolent Objectivist dictator, Richard.

Richard is opposed by pacifist terrorists who are said to be "armed with only their hatred of moral clarity" and must be ridden down by Richard to prevent them from screwing everything up.
All proponents of religion are shown to be foolish by contrast to Richard, who espouses that all must live their lives free from backwards religious beliefs because there can be no proof of life beyond death... despite having extensive personal experience with spirits.
One pair of villains is a No Celebrities Were Harmed version of Bill and Hillary Clinton, who are killed by their own lecherous depravity.
Goodkind spares most of his straw for depictions of socialists and socialism, which is portrayed as a ludicrously harmful and illogical philosophy that does nothing but destroy the human spirit. One zealous socialist is shown to quickly drive her husband's business into the ground with her illogical socialist business practices, such as hiring random people simply because they need jobs and paying unskilled laborers as much as master craftsmen because it's "fair."

Straw Civilian: People are supposed to look foolish for not joining Richard's empire and disagreeing with his strategy of total war against the Imperial Order. But look at it like this. Richard is descended from the line of the Rahls, notorious for being crazy power hungry bastards. He ascended to rule the D'Haran Empire by killing his father. He continues to employ the Mord-Sith, whose primary purpose for existing is just to torture people. Most of the claims about the Imperial Order's evil initially comes from Richard and his own soldiers. And he's continuing his father's expansionist policies, and also insisting that people perform the devotion, in which they spend a total of four hours every day essentially praying to Richard. (There's a magical reason why this protects them, but most people don't know about it). He's also fond of making references to how much killing he does. Oh, and he broke a little girl's jaw. Would you trust this guy? Well you should, because he's right, and if you don't join with him the Order will kill and rape everyone in the country. Although that may happen anyway. However, Richard simply expects them to get in line without hesitation and also threatens punishment for anyone who doesn't, demanding complete surrender of everything they have into his control. Is it any wonder many refuse? The text acts like it's just them being unreasonable, but from their perspective it has to come off as very suspicious, and he does little to convince them of his benevolence.
Straw Misogynist: Almost all male villains. For some specific examples, Darken Rahl thinks women are hardly rational or intelligent at all, good only for having children, while the villain of Temple of the Winds is a literal misogynistic Serial Killer. Emperor Jagang seems to view them as good only for sexual abuse by him or his army (or in the case of sorceresses, also as slave mooks).
Suicidal Pacifism: The people of Bandakar display this, since they've taught for millennia that violence is always wrong, even to defend yourself or others. When the Imperial Order invades, they're therefore helpless and at the mercy of the soldiers who freely murder or rape people. Richard has to talk people out of it, after which many finally fight back (unrealistically well, since they never used weapons before), killing the Imperial Order soldiers with his help.
Suicidal Sadistic Choice: In the second book of the series, Stone of Tears, Kahlan encounters a man who had just tried to kill her hanging from a ledge, about to fall to his death. She gives him the choice of taking her hand and living the rest of his life as an essentially brainwashed slave or falling to his death. He chooses the latter.
Suicide Attack: Wizard's Life Fire, a spell that uses the wizard's life force to consume their surroundings.
Suicide Watch: In the third book, a seer tells Kahlan that her half-sister (who suffered a bad case of Prison Rape resulting in Rape Leads to Insanity) is dreaming of hanging herself. She then says she'll sleep next to her this night.
Summon Bigger Fish: The big-time magical spells and their counters tend to work out this way. A magical plague can be cured by invoking the chimes, entities whose arrival can destroy magic entirely. The Chainfire spell, which can destroy the world, can only be countered and undone by the Boxes of Orden, which can also destroy the world.
Super Breeding Program: It turns out that the Sisters of the Light have one. Hoping to breed more Wizards, who are dying out, the young Wizards training with them are encouraged to sire children with the Sisters of the Light (who are all sorceresses) or the muggle women in the city. In the latter case, they'll pay the mothers a stipend for raising the child. Verna had a daughter with one of the Wizards, Jedediah, who didn't have the gift and thus was given to another family. She kept in contact with her, and thus endures seeing her daughter die of old age as the Palace of the Prophets slows the Sisters' aging so they can live for centuries on end.
---