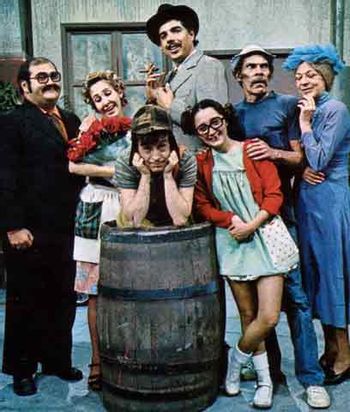 "¡Tenía que ser El Chavo del Ocho!" ("It had to be El Chavo del Ocho!")
El Chavo del ocho is a legendary Mexican Sitcom (and staple of popular culture) about a little orphan boy and his quirky neighborhood. Famous for casting adults as little children. This lets the show get away with having many rather awful things happen to the kids without it being too horrifying, since they're really adults and playing parodies of kids, anyway.
The show was created by comedian Roberto Gómez Bolaños (whose artistic name was Chespirito, "Little Shakespeare"), along with other classic sketch characters like El Chapulín Colorado. Chespirito is considered by many to tie Cantinflas as Mexico's greatest comedian, and his sketch comedy shows are beloved amongst the entire Latin American population.
The show relies mostly on Bottle Episodes. Most of them take place in the main courtyard or patio of the "vecindad" (community houses) where almost all of the characters live. Sometimes, there are episodes where the kids are in school or some other location, like the often-mentioned but rarely-seen "other patio", or the small business some character owns.
The show began in 1972, as a segment in a Sketch Comedy. In 1973, this segment got its own Half Hour Comedy. The show proved to be very popular, and at its peak of popularity spawned a lot of merchandise. After some backstage disagreements two major actors left the series, taking their characters with them because of licensing issues, which caused what many believe to be inferior quality episodes. Soon after, "El Chavo" and its sister show El Chapulín Colorado were merged into an hour-long sketch comedy show called "Chespirito" (fittingly, since they originated as sketches on the original "Chespirito" show). On "Chespirito", few new Chavo scripts were written, but the restaging of old Chavo episodes was a regular feature on the show until Chespirito retired the character in 1992.
The show has been too difficult to translate, due to the nature of its very regional humor. The only exception is Brazil, where the show was renamed Chaves and got an over-the-top translation.
Despite its excessive regionalism, its lack of "sophistication" and its very dated appearance, the show is still very popular in syndication and has been a staple of TV channels not only in Mexico but also almost all Central and South American countries (And Spain)note and in the U.S., for that matter for years. Many people watch it for the nostalgia factor, but others watch because of a deep identification with the struggle of the characters. In Brazil, it is so popular that when the channel that broadcasted it tried to cut it from their schedule after almost twenty years of uninterrupted transmission, the public reacted with such outrage that they had to restore it almost immediately. There's also an annual El Chavo Fans Meeting. In 2020, the show was promptly removed from every channel in the world due to a licensing issue between Chespirito's sons and Televisa, to the surprise and sadness of many fans.
The show is considered to be quite possibly the most beloved and successful comedy show in Latin American history; it's literally IMPOSSIBLE to go to any country in Latin America where this show was not shown. Part of its success was based on the social status of the characters: they were working poor who tried to make the best out of their lack of money and tried to lead decent, happy lives in spite of it. This attitude was embraced by the poor masses of Latin America, making the show a success. It was also successful for being a comedy show that was appropriate for all ages, yet still maintained a level of sharpness and sophistication that did not insult any audience.
In 2006, El Chavo got an animated adaptation.
---
This series provides examples of:
open/close all folders
A-H
Chavo and Quico proceed to "plant a Chilindrina tree" by burrying her feet in large flower pot and pouring water on her.
Fully-Clothed Nudity: In one of the Acapulco episodes, when Chavo chases Quico around the beach, we see a woman who's sheepishly covering her body with a blanket. when Chavo and Quico run past, they cause her blanket unwrap, and she looks incredibly embarrassed trying to cover her body, while wearing a Victorian-era swimsuit.
Fun with Acronyms:

Done once when the kids went on "Strike",

Prof.Jirafales: ¿Qué significa E.M.P.L? note

Chilindrina: Exigimos Mejoras Pro Libertad.note

Chavo: Yo creí que decía El Maestro Parece Longaniza. note

Also, the signs brought by the people rallied by La Chillindrina's "Biscabuela" to protest against El Chavo's work conditions at Doña Florinda's restaurant.
In another episode, Don Ramón tries to avoid paying his due rents by claiming there are flying saucers in the sky, tricking Señor Barriga as well as Quico. When Don Ramón escapes...

Quico: So, was it really a flying saucer?
Señor Barriga: No, I don't think it was really an UFO.
Quico: An UFO?
Señor Barriga: UFO is an acronym that means Unidentified Flying Object. What had escaped was a WISP - a Well Identified Scamming Person.

Gainax Ending: There's one episode where Mr. Barriga punches Don Ramón out and then jumps on him, leaving him flat as a pancake, and later another where El Chavo pokes Ñoño with a pair of scissors, blowing him up like a balloon and leaving only his clothes behind. Obviously, they were back to normal the following episodes.
Human Hummingbird: El Chavo gives a nice live-action interpretation of the trope whenever he's excited about something.
Hypocrite:

Doña Clotilde doesn't want anyone to think she's a witch. Yet, she has named her dog and her cat Satan.
In one episode, after he learns a blank painting represented El Chavo's daily breakfast, Profesor Jirafales discusses with Doña Florinda about tthose poor people who cannot even get something to eat. This happens while they are eating all the cookies in a plate even though El Chavo himself was there and couldn't get a single cookie. El Chavo left in silence, though the scene itself hints Profesor Jirafales and Doña Florinda were unaware they were denying El Chavo some food.

Hypocritical Humor: Doña Florinda once told El Chavo that some women take advantage of Double Standard: Abuse, Female on Male to hurt men without retaliation. Later, when she's about to slap Don Ramón, he reminds her of what she said, only for her saying she is one of those women, then she slaps him. El Chavo also conveniently ignores his golden rule that men shouldn't hit women and tries to hit La Chilindrina or La Popis when provoked, especially on remakes that originally had Quico being hit or chased by him (in one of them, Señor Barriga even encourages him to hit Popis after she makes fun of his weight, which was one of the aforementioned remakes originally with Quico).
I-N
Around 137 episodes later, in 1977, we get a flashback of Florinda's husband, in which she gave the same response when he said their son Quico had got his face (also a case of same-actor).

In the episode where Doña Florinda returns Quiko's puppy to Profesor Jirafales, Don Ramón asks Chavo to go to the store and buy him half a dozen eggs, Chavo refuses on the grounds that Don Ramón doesn't tip him anymore, to which Don Ramón claims he'll pay Chavo "in full at the end of the year." When Chavo asks for the shopping money, Don Ramón says to have the store's owner charge it to Doña Florinda's account, and Chavo asks if he'll pay her "in full at the end of the year." When Chavo returns later and confesses to eating the eggs, he promises to pay him back, when Don Ramón asks when, Chavo responds "in full at the end of the year."
In the first episode when there's no water in the vecindad, Chavo insults Don Ramón, which promts him to hit Chavo, when Chavo starts to cry, Don Ramón says "Don't cry! Men don't cry!" when Don Ramón orders Chavo to bring him a bucket of water, Chavo spills it, as Don Ramón is about to hit him again, Chavo uses the bucket as a helmet, hurting Don Ramón's hand, and when he begins to cry, Chavo says "men don't cry!"
O-T
U-Z
---