---
This page contains some unmarked spoilers for Bayonetta and Bayonetta 2.
open/close all folders
Bayonetta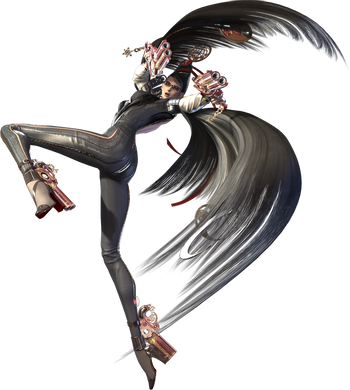 "As long as there's music, I'll keep on dancing."
–Bayonetta
The main character of the series.
Bayonetta is one of the Umbra Witches, a magical European clan that existed hundreds of years ago to protect the world's sacred darkness. However, she was born at the center of conflict – her parents were an Umbra Witch, Rosa, and a Lumen Sage named Balder, and their union led to the destruction of both of their clans. In the midst of the Witch Hunts that put her life in danger, Bayonetta was sealed away without her memories for five hundred years. Her awakening and resultant desire to remember her identity starts the events of
Bayonetta
.
Like other witches, Bayonetta's powers are the result of a contract with a demon of Inferno, hers being Madama Butterfly, and her skills in combat are a mixture of magical gunplay and martial arts. Contrary to her bloody origin and training, though, Bayonetta is an outrageously carefree person who handles the angels sent after her with a mixture of playful sadism, camp, and sheer joy, all while remaining untouched by the carnage and ruin around her. While initially aloof to her allies and acquaintances, Bayonetta eventually warms up to them and displays fierce loyalty and protectiveness even in the worst of circumstances. Bayonetta also has an extremely soft spot for children, and will often provide care and support to her "little ones" in the midst of her quests.
---
Jeanne
"I stake my honour as an Umbra!"
Jeanne is a major antagonist in
Bayonetta
and a major protagonist in
Bayonetta 2
. An Umbra Witch of prodigious skill, Jeanne was Bayonetta's childhood friend and her frequent sparring partner, despite Bayonetta's stigma as an impure outsider and Jeanne's status as heir to the clan. When the Witch Hunts threatened the safety of her clan, Jeanne sealed Bayonetta away and spent the next five hundred years fighting the forces of Paradiso as the last of her kind.
She is Bayonetta's equal in battle, and similarly fights with four magical pistols, martial arts, and the limbs of a demoness, Madama Styx. However, Jeanne is much more serious and proud, holding her status as an Umbra Witch in high regard, and she often concerns herself with the supernatural workings of her world even when no one else does. She regards combat as a fierce, no-nonsense proving ground for skill, and is merciless to her opponents. However, she shows an emotional side sometimes, often being shocked at displays of friendship; she's also a daredevil who thoroughly enjoys performing dangerous stunts on her motorcycle.
---
Luka Redgrave
Luka is a significant supporting character in the series, being an antagonist of sorts in
Bayonetta
while being firmly on Bayonetta's side in the sequel. Like his father Antonio, Luka is an intrepid journalist dedicated to uncovering the truth, and also puts his talents to use in uncovering the mysteries of Vigrid's Lumen Sages and Umbra Witches. His interest in the subject began when his father – who was also investigating the clans – suffered a strange death; Luka's subsequent investigations eventually led to him encountering Bayonetta twenty years later.
As a normal human, Luka has no special powers, but he's often forced to keep up with everyone else anyway. His investigative instincts, coupled with a clever grappling-hook device, often get him into places and trouble that a regular person wouldn't normally be near, and he has a knack for uncovering local legends that play a vital role in the plot. When not doing his research, Luka usually provides comic relief through his theatricality and his shameless flirting with any pretty woman he meets – both of which make him a frequent target for Bayonetta's teasing.
---
Rodin
"You got halos. I got items. Welcome to the foundation of a barter economy."
Rodin is Bayonetta's armorer, and the bartender and owner of the Gates of Hell in his spare time. Menacing and dangerous, his weapons are powered by the souls of demons he personally beats into submission, but he prefers to watch Bayonetta put his "works of art" to use instead of getting directly involved in the games' storylines. Despite his bloody place in the cast, Rodin's shown a softer, more affable side on occasion, and cheerfully greets the player with cheesy jokes and pop-culture references whenever they visit his shop.
Rodin is also a fallen angel whose power used to be on par with that of Jubileus. Players can purchase the Platinum Ticket for 9,999,999 halos to restore his power and face him as the game's bonus boss; in
Bayonetta
, he manifests as Father Rodin, while in
Bayonetta 2
, he fights as the demon Rodin – both of which bear the
Boss Subtitles
of
The Infinite One
.
---
Adorkable: When the topic is weapons, combat, business, the Trinity of Realities, or making cool one-liners, Rodin's as smooth as his scalp... but when he's trying to make small talk or relate to the people around him, he's uncharacteristically awkward. And then there's his apparent love of penguins.

Rodin: Santa don't get paid enough for this shit. When Ed and Edna found out their daddy wasn't coming home, they made me stay all the way through dinner!

Bayonetta: Oh, don't pretend you weren't delighted. I hear Enzo's wife makes a lovely casserole.

Absurd Phobia: His bio in The Wonderful 101 reveals he has one. It's

small birds

.
All-Powerful Bystander: Rodin is by far and away one of the most powerful characters in the series, but he's perfectly content to simply sit on the sidelines and make weapons.
Badass Baritone: One of the most powerful characters in the series with a fittingly deep voice to match.
Badass Santa: Shows up in Santa getup in Bayonetta 2 to deliver Bayonetta her new guns. The way he does it is beyond badass. According to Bayonetta, he might as well be the real Santa.
Bald of Awesome: He's as bald as an egg, making it easy to see the slick tattoos he's got on his head, and alludes to his strength and preference for doing things with his bare hands.
Ballistic Discount: Defeating him for the first time gets you his namesake Swiss Army Weapon. One of the possible weapons it turns into is a chainsaw on your arm.
Bare-Fisted Monk: Despite being The Blacksmith, Rodin never fights with a weapon and prefers to use his fists. That said, given how immensely powerful he is, it's all he needs.
Barrier Warrior: Can throw up a barrier to block enemy attacks as he cannot evade.
The Blacksmith: Though not in the traditional sense of the word. Whenever you bring him Gold LPs, he teleports into the bowels of Inferno and plays the angelic music recorded on the disc, summoning demons to him like moths to a flame. He then defeats the demons and uses their spiritual essence to forge new weapons for Bayonetta. The Hierarchy of Laguna text claims that Rodin's skills as a smith were legendary amongst the echelons of Paradiso, and that he often crafted weapons which struck terror into the hearts of The Legions of Hell.
Bonus Boss: You can buy an item that will cost enough halos to turn him back into

Father Rodin

. In the sequel, the item will

massively boost his demonic power

instead.
Catchphrase: "Beautiful", said when Bayonetta is doing something particularly awesome, or earns a Pure Platinum medal.
The Chew Toy: Downplayed. Rodin appears to receive a bloody beating every time Bayonetta hands him an LP, but he's actually just out of breath and the blood he's covered in belongs to the demon he just turned into a weapon. Except when he goes after the Chain Chomp, which is handed to Bayonetta without a scratch on it...
Combat Sadomasochist

Rodin: I never thought a girl would beat my ass so hard. But I gotta admit, I kinda liked it.

The Comically Serious: He does try to tell a joke now and then, but it's mostly negated by his intimidating presence. What really qualifies him for this trope are the odd things that happen to him sometimes, such as stuff falling onto his head, or the time he dressed up as Santa, complete with a beard.
Cool Shades: His sunglasses hide his eyes completely. In Tag Climax, they can also conduct his Eye Beams without sustaining damage.
Difficult, but Awesome: When playable. For starters, he has the slowest movement and attack speed of all the playable characters, he cannot evade attacks and cannot slow down time, he lacks the Wicked Weaves that

his boss incarnation

and the other playable characters have, and his only ranged attack is a weak eye beam. Basically, he's a charge character in a cast of rushdown characters. That said, he can erect a barrier to block attacks and has powerful, hard-hitting attacks and wide area stomps that make him great at dealing with large crowds.
Dimensional Traveler: He can travel between the human world and Inferno at will.
Does This Remind You of Anything?: In the second game, when fighting him. After he uses his raging demon attack, he's lying down casually on the ground, smoking a cigar, while Bayonetta lies unconscious... and naked. Real subtle.
Drop the Hammer: Wields the hammer Yagyu in The Wonderful 101 and turned the sword Takemikazuchi into a hammer for the cool factor, which is a logical preference for someone who creates weapons.
Establishing Character Moment: The first game has him emerging from a coffin, turning to the angels (and by extension, the camera) with a murderous expression, and scaring them off with a loud shout. Tells you all you need to know about him.
Even Evil Has Standards:

In the first game, Rodin states that no matter how many times Bayonetta asks, he won't put a chainsaw on her arm. Can be subverted if the player chooses to obtain the Rodin or Salamandra weapons.
In Bloody Fate, he is disgusted by Enzo's shady business practice of overcharging families for funerals.
Is rather disgusted by Alraune

devouring and torturing Jeanne offscreen, calling her a monstrosity to her face.

Everything's Better with Penguins: The "Rodin's Treasures" screen at the Gates of Hell prominently displays an apron with three baby penguins on the front, along with the slogan "I LOVE CHICKS" in the game's demonic alphabet. Coupled with the flavor text from his guest appearance in The Wonderful 101, it seems Rodin's quite the penguin lover.
Evil Has a Bad Sense of Humor: He may not be evil, but he likes to refer to himself as the devil... and he also enjoys using the shop screen as an excuse to say some of the cheesiest crap imaginable.
Evil Laugh: Usually done in the form of a quiet, creepy chuckle. After talking to Bayonetta in Noatun, he lets out a more bombastic laugh as he returns to his bar, complete with Power Echoes. It's as unnerving as it sounds.
Eye Beams: This is his ranged attack when playable in Tag Climax.
Fallen Angel:

He used to be an angel before he was cast out of Paradiso

.
Fingersnap Lighter: Tends to light his cigars with a plume of hellfire off his thumb. It even serves as his victory pose in Tag Climax.
Giant Hands of Doom: His boss forms can use their own version of Wicked Weaves, being giant projections of his hands. He can also fire them like rockets.
Glowing Eyes of Doom: His eyes are sometimes seen emitting a red glow from behind his sunglasses. In Bloody Fate, his eyes glow purple instead.
Graceful Loser: If you manage to beat him.
Hidden Heart of Gold: Bayonetta thinks he has one; in Bayonetta 2, Rodin tries to complain about having to play Santa for Enzo's kids all the way through dinnertime, but she sees right through him and says he must've been delighted to.
Holy Halo: Collects these.

Seeing as how he is a fallen angel, it's only natural that he'd sport one of these when you return him to his true form. In a rather intimidating twist, the halo around his head is the same halo that Jubileus (i.e. God) herself wears.

I Got You Covered: Rodin tells Bayonetta he's not in Inferno to help her, but the verse he joins her for inevitably involves him one-shotting everything, including the minibosses, before they have a chance to attack either of them. Rodin was also near Alraune's palace when Bayonetta showed up, and a cutscene in chapter VII showed he was aware of Jeanne's time running out; this suggests that he showed up to keep Alraune's sentries from stalling Bayonetta. Presumably, he was aware that telling her this would end in him getting shot again.
Jerk with a Heart of Gold: Intimidating? Definitely. Morally ambiguous? Yes. Is he still a cool guy to hang out with? Yes. He's referred to himself both as "jollier than the average demon" and "the nicest angel you'll ever meet."
Kick the Son of a Bitch: He literally kicks Alraune across the floor of her palace before

sealing her within a weapon and giving it to the witch who just defeated her

.
Lightning Bruiser: In his boss forms, while his playable form is a Mighty Glacier. Rodin has ridiculous amounts of health, insane damage output, unbelievable attack speed — all the criteria you'd tend to associate with the Bonus Boss gets cranked Up to Eleven here.
Made of Iron: In the first game, he takes two coffin lids to the head and doesn't give a damn. In the second, after giving Bayonetta Love Is Blue, he stands in the middle of the street and catches the toy jet Enzo bought. A second later, a sign lands on his head, splitting, and he doesn't feel it.
Mechanically Unusual Fighter: When playable, he lacks Wicked Weaves and the ability to slow down time on his own. He also blocks attacks in place for his defensive move rather than dodging. Rodin's moveset is also less combo-friendly than the rest of the cast, and he is built for using burst damage to clear enemies off the screen before his opponents can outscore him.
Mighty Glacier: When playable. His attacks are slow, he cannot evade enemy attacks, and he moves slower than most characters. But his sheer strength and ability to throw up a barrier compensates for this.
Moveset Clone: His lack of maneuverability, focused power, and demon-based Super Mode make him play more like a Devil May Cry character than anyone in the Bayonetta universe.
Named After Somebody Famous: Named after a French sculptor, Auguste Rodin. One of his popular works, a depiction of a scene from Dante Alighieri's Divine Comedy, is called "The Gates of Hell."
Names to Run Away from Really Fast:

Having a title called "The Infinite One" doesn't exactly inspire visions of hope and peace.

Nice Guy: While he may be a demon (possibly THE demon), he's easily the coolest and nicest guy in the game. Taken Up to Eleven in the sequel, where he even dresses up as Santa Claus for Enzo's kids and sticks around through dinner.
Occidental Otaku: He makes a few shout-outs to Japanese video games and likes Shinshu sake enough for Luka to bribe him with it; his outfit in Bayonetta 2 also shows some Japanese style.
Odd Friendship: By the end of Bayonetta 2, he's struck up a business relationship of sorts with Luka, who now helps him advertise his bar in exchange for Rodin supplementing his journalism with an "anonymous source" – implied to be Rodin himself.
Offscreen Moment of Awesome: Every time he gets a Gold LP, he goes to Inferno to beat a demon into a bloody pulp so he can turn it into a weapon. All in just a couple of seconds. Not so offscreen in the sequel, though, as while most weapons are obtained in the usual method, you do get to see how

Alruna

is made, due to

it being made from Alraune, the last demonic boss fought in Inferno.

One-Winged Angel: In Bayonetta 2, the boss fight with him starts off against his human form, but partway through he'll turn into a towering demon that rivals his Father Rodin form. This new form is (mercifully) absent when fighting against him in Tag Climax.
Pet the Dog: After Bayonetta drags Enzo off to fly her to Noatun, Rodin decides to play Santa for Enzo's kids. He begrudgingly admits he enjoyed it.

He didn't HAVE to go out of his way to preserve Jeanne's body, or give Bayonetta the first Alraune weapon free of charge, either.

Playing with Fire: He can control fire, but mainly uses it to light his cigar. Taken Up to Eleven as Father Rodin, who uses various fire-based attacks.
Pocket Dimension:

Both of Rodin's boss fights take place in some strange dimension apparently created by him. The fight with Father Rodin takes place in a heavenly realm that resembles Paradiso while the battle with his demon form takes place in a realm that resembles Alraune's palace.

Bloody Fate shows that the Gates of Hell itself is a pocket dimension that he can create anywhere he wants.
Pop-Cultured Badass: He makes several references to other video games and has a home run that would make the most skilled of baseball players jealous.
Power Floats:

As Father Rodin.

Power Gives You Wings:

His Father Rodin form uses twelve peacock wings similar to Father Balder's, while his demon form plays this a little more traditionally with two feathered wings.

Power Glows: As Father Rodin, he gets a glowing halo and red Tron Lines on his outfit.
Promoted to Playable: In Bayonetta 2's Tag Climax multiplayer mode.
Rapid-Fire Fisticuffs: In a game crammed full with this trope,

his boss forms'

variations are the most impressive. His most frequently used technique involves pummeling you about half a dozen times in the space of a second, and his signature move is a reference to Akuma's Raging Demon and beats you so quickly that the game doesn't bother rendering it, instead presenting a blank screen and the sound of a beatdown. It also really hurts.
Really 700 Years Old:

He used to be an angel, meaning that he's much older than he looks

.
Red and Black and Evil All Over:

His demon form is primarily black with traces of red all over, most notably his wings, which have red feathers.

Running Gag: At least three times across the first two games, something big and hard (like a tombstone or sign) falls onto him, hitting him in the head, and breaking while he expresses absolutely zero reaction to it.
Satanic Archetype:

Oddly, all of the character art for Rodin in the unlockable extras never uses that name, giving his name as "Mephisto"note , the name of a demon from German folklore, who is most prominently mentioned in the Faust legend and has occasionally been used as another name for the Devil himself. Appropriately, Rodin's role is broadly similar to the traditional devil: a fallen angel who is thwarted and punished for trying to conquer Heaven (and is feared by it) who rules his own "sub-basement" location after his punishment, and jokes about the "deals" he provides Bayonetta.
Played straight in Bayonetta 2. After the Bonus Boss battle where he fights using his true demonic form, Rodin will congratulate Bayonetta, but then cryptically reminding her that "the devil always gets his due." Furthermore, his death animation in Tag Climax shows him being encased in a block of ice, a reference to Satan in The Divine Comedy.

Scary Black Man: One of the most intimidating characters in the series and one of the most prolific examples in video gaming. That said, he's a pretty cool dude once you get to know him.
Shockwave Stomp: One of his attacks when playable and

as a boss

.
Shout-Out:

Loads of them to the Divine Comedy, and that isn't even including his dialogue.
When he Turns Red in the fight against him in Bayonetta 2, he turns into a demon form with wings, being a reference to Devil Trigger.

Smoking Hot Sex: His most powerful attack in the second game, is clearly meant to symbolize this.
Soul Brotha: Groovy slang? Smooth delivery? Averting But Not Too Black? Cool and badass? Rodin says yes to all four.

Rodin: Right on, baby. Right on.
Rodin: Chill, Bayonetta. Don't go shootin' up my target, ya dig?
Rodin: Damn... some of these fools are really 'bout that life.

Super Mode: The

demon form

is his version of Umbran Climax when playing as him, effectively making it his Devil Trigger.
Thinking Up Portals: Rodin can create red portals that lead to his bar.
To Hell and Back: Waltzes in and out of Inferno on a regular basis. Seeing as how he tends to be soaked in demon blood whenever he returns from one of his trips, it can be surmised that the results of these escapades are rather... messy.
Unskilled, but Strong: Both in Tag Climax and in his tag battle in the story mode.

On paper, Rodin's slow attacks and high damage make his combo potential inferior to those of the other four playable characters. When combined with his area-of-effect attacks, though, a Rodin player can effectively sabotage their opponent by quickly clearing the screen and ending the verse with a passable combo score before the other player has time to build a better one with extensive weak attacks. As a result, Rodin performs poorly against boss verses, but excels in multiple-enemy encounters.
Rodin tag-teams with the player for one verse in Chapter X. The difficulty in getting a decent combo score for this verse comes not from the high enemy density, but because Rodin can immediately one-shot any enemy the player's trying to build a combo off of.

We Will Meet Again: Whenever you beat him in one of his

boss forms

, he'll make some cryptic threat and promise a rematch.

Rodin: (first game) I gotta hand it to you. You sure let me have my fun. I never thought a girl would beat my ass so hard. But I gotta admit, I kinda liked it. You win... This time, baby.

Rodin: (second game) Shiiett... Where'd that come from? Credit where credit is due, you just put your foot straight up my ass. You won this time, but remember, the devil always gets his due.
Enzo
"You have any idea how much this is going to cost to fix? How the fuck do I always get wrapped up in this shit?!"
A mobster who operates in the city Bayonetta calls home. Like Luka, Enzo's primary role in the series is to provide Bayonetta with information. However, Enzo's information usually springs from underworld connections and takes the form of tips that put Bayonetta in the right place to track down what she's looking for. Enzo's "business" doesn't put him in a position to help out during the main storyline, so his appearances in the
Bayonetta
series are at the beginning and end of the game.
Enzo might be a feared, tough mobster in his day job, but in Bayonetta's world, he's a fish out of water. He (and his car) want nothing to do with the scenery-chewing angel fights that Bayonetta attracts, and heroes and villains alike seem to make a point of making his screentime miserable and humiliating. Still, Enzo seems to care about both of his "families", as much of his motivation for staying out of Bayonetta's business is so that he can come home to his beloved wife and children in one piece.
---