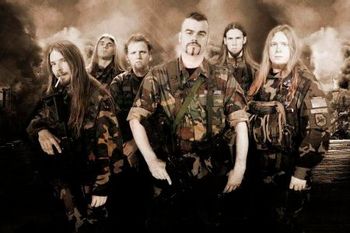 Sabaton
is a Swedish Power Metal band founded in 1999. Most of their songs touch on themes of war, often being about famous historical battles, especially from World War II.
Initially formed as a Traditional Heavy Metal group with frontman Joakim Brodén also playing keyboards, their first productions were a pair of EPs later released as Fist for Fight and their intended debut album Metalizer. However, these albums were sent into Development Hell by their label, Underground Symphony. In 2005, they jumped ship to Black Lodge Records and released the World War II-based Concept Album Primo Victoria, which had Brodén give up keyboard duties to Daniel Mÿhr. Such war songs, composed by Brodén, bassist Pär Sundström, or both, have comprised the lion's share of their output ever since. They are currently signed to Nuclear Blast Records.
The band underwent a major lineup change after the release of Carolus Rex in 2012, with Mÿhr, guitarists Rikard Sundén and Oskar Montelius, and drummer Daniel Mullback leaving due to the group's grueling touring schedule. They subsequently joined up with Astral Doors vocalist Nils Patrik Johannson to form Civil War.
In 2019, Sabaton collaborated with Indy "Time Ghost" Neidell to create the Sabaton History channel on YouTube, going into detail on the history behind the songs and the process of writing them.
Current line up:
Joakim Brodén - lead vocals (1999-present), keyboards (1999-2005, 2012-present)
Pär Sundström - bass (1999-present), backing vocals (2012-present)
Chris Rörland - guitars, backing vocals (2012-present)
Hannes Van Dahl - drums (2013-present)
Tommy Johansson - guitars, backing vocals (2016-present)
Former members:
Rikard Sundén - guitars, backing vocals (1999-2012)
Oskar Montelius - guitars, backing vocals (1999-2012)
Richard Larsson - drums (1999-2001)
Daniel Mullback - drums (2001-2012)
Daniel Mÿhr - keyboards, backing vocals (2005-2012)
Robban Bäck - drums (2012-2013)
Thobbe Englund - guitars, backing vocals (2012-2016)
Albums:
Primo Victoria - 2005
Attero Dominatus - 2006
Metalizer - 2007

Singles: "Masters of the World"

The Art of War - 2008

Singles: "Cliffs of Gallipoli", "Ghost Division"

Coat of Arms - 2010

Singles: "Coat of Arms", "Screaming Eagles"

Carolus Rex - 2012

Singles: "Carolus Rex", "The Lion From the North", "A Lifetime of War"

Heroes - 2014
The Last Stand - 2016
"Bismarck" (standalone single) - 2019
The Great War - 2019
"Livgardet"/"The Royal Guard", "Defence of Moscow"* , "Steel Commanders" feat. Tina Guo (standalone singles) - 2021
The War to End All Wars - 2022
Weapons of the Modern Age - EP, 2022
Heroes of the Great War - EP, 2023
---
Sabaton and their songs provide examples of:
---