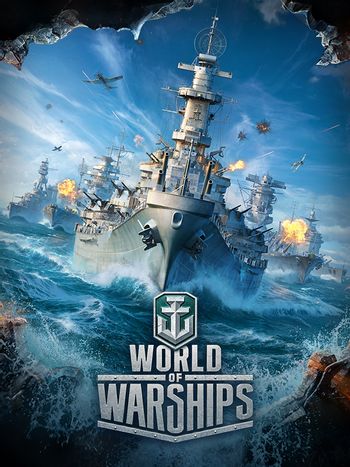 World of Warships is a Naval Combat Simulator from Wargaming.Net (the same company behind World of Tanks and World of Warplanes). Announced in 2014, the game went through a closed beta and open beta through much of 2015, with its formal official launching on September 17, 2015
This game is essentially Cool Boat incarnate.note Or, Cool Boat: The Game if you think about it.
Here, you start out with warships from the pre-World War I era up until the post-World War II-era, with a few early 20th century ships here and there. They range from mass-produced ships like the Fletcher-class destroyer or Cleveland-class cruiser, to single prototypes like the ''Taiho'' or ''Shimakaze'', or even vehicles that only made it into blueprint stage.
Ships here are divided into five categories as of the current patch: destroyers (DD), cruisers (CA/CL), battleships (BB), aircraft carriers (CV/CVL), and submarines (SS). Destroyers are used for escorting larger ships, as well as for attacking battleships and aircraft carriers with their torpedoes and rapid-firing artillery. Cruisers are essentially similar to the medium tanks of WoT in that they're usually the mainstay of a team, and are capable of fulfilling several tasks throughout a match, ranging from mobile Anti-Air platform to escorts for carriers and battleships, and even hunting destroyers and other cruisers. Battleships are for engaging enemy ships at long range with their powerful main armament and are capable of destroying smaller ships in a few salvos. Aircraft carriers have planes that can be used for scouting enemy ships, intercepting enemy aircraft, and damaging or destroying enemy capital ships, at the cost of having no primary armament or defense whatsoever. And lastly, submarines are for sneaking around underwater and firing torpedoes at any surface ship that comes within range.
It is the company's third MMO entry, which features American, Japanese, Soviet, British, German, French, Italian, and Polish warships. So far, only the American, British and Japanese trees are fully populated: the Germans currently have three lines plus a single premium aircraft carrier; the French and Russians have three lines; the Polish tree has only a single premium ship; the Pan-Asian Navy (a whole group of non-Japanese Asian navies who aren't worth being added into the game as separate nations) consists of three Premium ships and a single Destroyer line; the "Commonwealth Navy" (a catch-all for British-affiliated smaller navies like Australia) has two premium ships; and the Italian Navy has three premium ships and a single cruiser line. Currently in the works are a Pan-European Navy (non-Great Power navies compiled together like the Pan-Asian Navy), which will start with a single destroyer line, including one premium battleship and destroyer, incorporating ships from the Swedish, Dutch and Austro-Hungarian navies.
A mobile version, World of Warships Blitz, was released on September 12, 2017, for iOS and Android.
---
This game provides examples of:
open/close all folders
Tropes A-M
Tropes N-Z
---