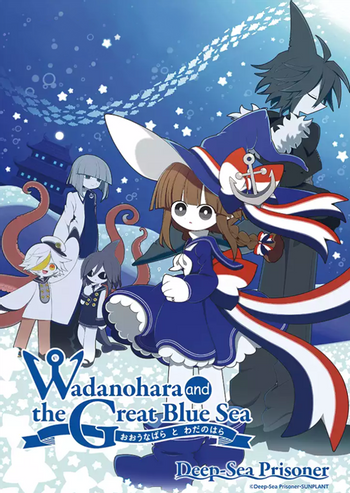 "Please, always remain who you are.
Let nothing stain you, nothing take you away.
...That is all I ask of you."
Wadanohara and the Great Blue Sea is a game created in RPG Maker 2000 by Deep-Sea Prisoner in late 2013. It follows the adventures of a young sea witch, named Wadanohara, who is narrating her story to you. While exploring islands with her three familiars, she encounters her ex-familiar, a shark boy named Samekichi, who tells her she should leave the sea forever. Things start to go downhill when war is declared on her ocean home by the Tosatsu Kingdom, led by Princess Tosatsu, for reasons unknown. It's up to Wadanohara to use her magic to keep the invaders out. But a mysterious traitor is among them — and the prime suspect is Samekichi.
An English-translated version can be downloaded from here
.
The manga adaptation can be found here
for the first part of the story, while the final arc is found here.
On February 1, 2020, the game got an Updated Re-release titled Wadanohara and the Great Blue Sea -Reboot-. The re-release features extra content not found in the original and adjusts the gameplay.
Deep-Sea Prisoner's other games include The Gray Garden, released in late 2012, and Mogeko Castle, re-released in early 2014. There's also Ice Scream, a multimedia web series set in the same universe.
---
Wadanohara and the Great Blue Sea provides examples of:
---