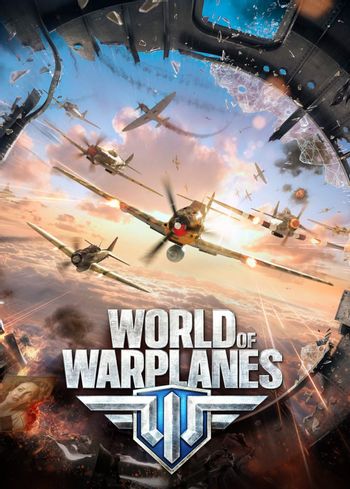 A second installment in Wargaming.Net's massively popular and critically acclaimed series of combat MMOs, World of Warplanes follows pretty much the same premise, but with warplanes. Just like in World of Tanks, you start with a crappy early-30s prop-driven biplane, and grind your way up to the second generation jets of the Korean War-era, with the cutoff apparently being the introduction of radar sights and guided missile armament just after that war. Currently available in the game are Soviet, German, American, Japanese and British planes, although probably not on all servers simultaneously, some French and Republic Of China planes have been added as well.
These are broken into three distinct classes — fighters, which shoot down enemy planes in hopes of achieving air superiority, ground attack planes that strafe targets on the ground, earning superiority points and easing AA pressure, and heavy fighters, which bridge the gap between them. The game features a somewhat complicated scoring model, awarding the team points for the destruction of enemy targets (both in the air and on the ground), with an additional superiority meter that slowly fills up when one of the teams is in the lead, which is reset when the enemy team scores. A team wins when this meter is full or all enemy planes are shot down, the latter being the notably more frequent occurrence.
It was released worldwide on the 13th of November 2013 after more than two years of development and testing, and is currently in the deployment phase, so to speak. In October 2017, a new update (so-called "World of Warplanes 2.0
") was released, with improvements to overall graphics, game mechanics and the new addition of Conquest game mode.
---
This game provides examples of:
---