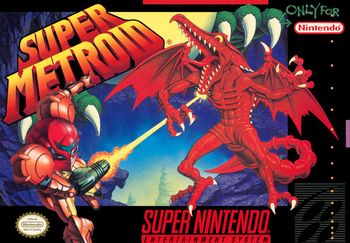 "The last Metroid is in captivity. The galaxy is at peace..."
Super Metroid, also known alternatively as Metroid 3 from the intro, is the third game in the Metroid series, both in terms of release order and within the series' chronology (discounting the Metroid Prime Trilogy). It was released for the Super Nintendo Entertainment System in 1994, and was the largest game released on the SNES at the time, using a 24-Megabit cartridge (that's 3MB). It was the last Metroid game that Gunpei Yokoi worked on before his departure from Nintendo and death, the first where Yoshio Sakamoto was the main director, and the first with music from Kenji Yamamoto.
Taking place shortly after the events of Metroid II: Return of Samus, Samus has given the Metroid hatchling to scientists aboard the Ceres space colony for further study, in hopes that its energy-producing abilities may be harnessed for non-destructive means. Shortly after leaving, however, Ridley and the Space Pirates attack the space station; killing all the inhabitants and kidnapping the infant Metroid. To stop the Space Pirates from making use of the Metroid for their own vile ends, the bounty hunter gives chase to their rebuilt hideout on planet Zebes.
Where the first Metroid birthed the genre that's an eclectic mix of action, exploration, and platforming, Super Metroid codified the tenets of its gameplay style to become one of the most acclaimed games of the 16-bit era. To this day, Super Metroid is still cited as a master class in level design — teaching its players game mechanics with subtle use of antepieces — and environmental storytelling — apart from the brief introductory exposition recapping most of the events of the previous two games, almost all the storytelling is done through world-building and on-screen events, many described below.
Super Metroid, like most prestige SNES titles, has spawned a fair number of ROM hacks. Among those are "randomizers" that mix up the item placements and/or map layouts. Perhaps the most interesting of these combines
this game with A Link to the Past: Randomizer: any item from either game can be found (though not necessarily used) by Samus or Link, and they exchange items by switching between Hyrule and Zebes. This is accomplished by traveling between four doorways that connect the worlds. Once the player progresses far enough into Link to the Past, Link can move around Hyrule more easily with the help of fast travel; Link can combine those shortcuts with the doors to Zebes, shaving time off Samus' itinerary. The objective here is to defeat both Ganon and Mother Brain, and the ending corresponds with the boss fought last. The most noteworthy repository of non-randomizer ROM hacks (for the entire Metroid series, not just Super Metroid) is undoubtedly Metroid Construction
.
---
Provides examples of:
open/close all folders
A to D
E to H
Easter Egg: If you return to the surface of Zebes after obtaining the Super Missiles but before descending into lower Brinstar (when it's still raining) and use the bombs and super missiles to go into the cave on the right, you can listen to the "arrival on Zebes" music again.
Equipment-Based Progression: As Samus makes progress, she gets Super Missiles to supplant the normal Missiles, and Power Bombs to supplant the Morph Ball Bombs. The Space Jump completely superannuates both the Wall Jump and Grapple Beam.
Evolving Weapon:

The Power Suit gets upgraded twice as the game goes on. The Varia Suit, guarded by Kraid, cuts damage in half and cancels out the heat damage from the main areas of Norfair. The Gravity Suit, located in the Wrecked Ship, quarters damage, lets Samus move with her usual speed in liquids, and prevents lava damage in the main area of Norfair but nowhere else.
Unlike many of the games, Samus's Arm Cannon retains each and every upgrade she gets. By the end of the game, the Charge Beam, Spazer, Wave Beam, Ice Beam, and Plasma Beam combine into one single, powerful weapon. The only exception is that the Spazer and Plasma beams cannot normally be combined, although they can be combined via a glitch, resulting in the fan-coined Spacetime/Reset Beam, which is invisible and reverts the game world to its original state when used.

Excessive Steam Syndrome: In the intro level, Samus needs to escape a space station, while avoiding gushes of steam coming out from practically everywhere. If you get hit by the steam, you lose precious time to escape.

It happens again during the escape from planet Zebes, only the steam's escaping from the ground itself.

Expy Choots have different sprites, but behave in the same manner as chute leeches from Metroid II: Return of Samus
Eye Beams: Gadora defend the doors to bosses with these
Fake Ultimate Mook: The fake Kraid looks like Kraid and goes down in a single Super Missile. The real Kraid is very large and looks intimidating, but he's the Warm-Up Boss.
Family-Unfriendly Death: Metroid may be more adult-oriented compared to other Nintendo franchises, but even that doesn't explain why

Crocomire

goes out in such a gruesome manner. Upon beating him,

he falls into a pit of lava and screeches while his skin and musculature melts off like candle wax. He manages to survive as a skeleton and lunges towards Samus for one final, desperate attack, only to collapse under his own weight into a pile of bones

.
Fanservice:

As usual for the series, beating the game fast enough causes Samus to remove her suit after the credits, leaving her in the underwear she has on underneath.
Using the Crystal Flash shows a Sexy Silhouette of Samus as she restores her health.

Fan Disservice: The alternate way to see Samus in her underwear is to let her health run out, causing her suit to disintegrate around her in the process right before she dies.
Fast Tunneling: Justified, as skree and metaree drill their way through the ground to get away after dive bombing you, often scattering rocks for extra injury. Owtch instantly burrow to get away from you.
Fetal Position Rebirth: Samus curls up in the fetal position and gets surrounded in a ball of light when using the "Crystal Flash" for emergency recharge.
Fireballs: You're back on dragon territory, both Ridley, who looks like one, and the creactures actually called "dragons", which look more like lava dwelling seahorses. Also shot by alcoons. Phantoon's seem to be supernatural
Five-Second Foreshadowing: In Tourian, you will enter a room filled with grayed-out enemies that crumble to dust if touched or shot. In the very next room, you become trapped with one such enemy, which is impervious to your weaponry (except super missiles). In the next second,

it gets turned to dust by the Metroid hatchling

.
Floating Platforms: Taking what Metroid II started even further, very few platforms in Super Metroid are elevated without some form of hand wave or justification.
Foreshadowing:

Samus's narration at the very beginning hints that the Metroid's ability to drain energy can also be used for beneficial purposes, implying that the devoured energy can be used afterward.

The baby Metroid demonstrates this by transferring life energy and a powered-up beam from Mother Brain to Samus during the final battle.

Under normal circumstances, the battle with Ridley on the Space Station ends when he brings Samus to low health, setting off her Critical Annoyance.

The same sound sets off when the Metroid Hatchling is draining her energy in Tourian; it recognizes it and stops draining Samus.

If you place a Power Bomb near where Mother Brain was in the original Metroid, it'll open up a rather large chamber underneath, much larger than would be expected to be hidden underneath a Brain in a Jar.

The revived Mother Brain in Tourian stores her biomechanical body underneath her, suggesting a similar layout.

In Maridia, you catch a glimpse of what looks like a Metroid when traveling through a pipe. It's actually a "Mochtroid", a far weaker failed cloning experiment that you face a few rooms later.
After defeating Ridley, the next room has the larval Metroid's capsule smashed and empty.

It grew large enough to break free and escape to Tourian.

Freeze-Frame Bonus:

A small blip can be seen flying away from Zebes at the end of the game if Samus takes the time to rescue the Etecoons and Dachora during the Escape Sequence, indicating that the creatures have safely made it off the planet. This ends up being extremely important in Metroid Fusion, as the animals return in that game and

help Adam pilot Samus' ship, saving her life at the very end

.
During your escape from Ceres at the beginning of the game, one of the doors will actually explode behind you, leaving behind an impassible hunk of glowing hot metal. This one is a lot more likely to go unnoticed, due to all the other explosions and random chaos on screen (not to mention that your escape is timed). It's also the only instance of a door exploding in the entire game.

Game Mod:

While the definitive history of ROM hacking has yet to be written, one of the oldest total-conversion hacks, Super Metroid Redesign, dates at least from 2004, which establishes the game's hacking scene as perhaps one of the longest-standing outside the fan translation world. There's a wide variety of Super Metroid hacks, ranging from relatively minor gameplay and physics tweaks (Project Base) to radically deuterocanonical and hugely ambitious reimaginings of the entire game and its backstory (Hyper Metroid); while the total number of released hacks is relatively small compared to, say, the Super Mario World scene, the gameplay variety and general quality level of Super Metroid hacks is surprisingly high. This website contains a lot of information on the subject.
There are many randomizers, as mentioned in the game description; they can completely reshuffle items and, in some cases, rooms, allowing a new experience each time one plays the game, and often requiring use of some clever, obscure techniques to reach critical items. One of the most interesting is the Super Metroid/A Link to the Past randomizer, which mashes the game up with A Link to the Past: Randomizer (any item can be almost anywhere in either game, as long as its location doesn't render either game unwinnable).

Game-Breaking Bug: Samus can collect five beam upgrades but only four of them can be active at one time. Apparently, the programmers implemented a fail-safe that prevents the player from using all five beam upgrades because trying to do so would cause a fatal error that permanently disables Samus's beam cannon or even crash the game.
Game Over: Should you run out of energy, the background disappears and Samus's Power Suit overloads and explodes, leaving her in her underwear as the screen fades to white and transitions to the continue screen.
Giant Enemy Crab: Scisers are realistically sized, and not that hostile, but are crab like, pretty large and will hurt Samus if she bumps into them.
Go for the Eye: The door blocking Gadora are the first instance of enemies in this series that must be hit in the eye.
Guide Dang It!:

The beam-specific charge combos, which are described only in strategy guides and shown in the "secret techniques" Attract Mode video unlocked by a completed game file, and are unlikely to be discovered by accident unless you're messing around with beam settings and Power Bombs.
The Varia/Gravity suit combo lets you traverse the lava at the entrance to Ridley's lair without taking damage. Nothing indicates this aside from an Attract Mode video, and most players would be cautious of jumping in there to find out. It doesn't help that most other damaging liquids in the game aren't affected by the suits at all.
To easily access the underwater portion of Maridia, one of the glass tubes there (the one that you pass through while going from Brinstar to Norfair) must be shattered with a Power Bomb. This mechanic appears nowhere else in the game, though the presence of a broken tube at the other end of Maridia may be considered an oblique hint, if you go far out of your way to find it.
The unused blocks that act exactly like solid wall tiles but let Samus pass through them would have been nigh-impossible to detect, making anything hidden behind them a matter of luck to find, which is probably why they were cut to begin with.
The final save point in Tourian is a Point of No Return, locking you out of 100% Completion on that run if you didn't make a copy of your file beforehand. In the rare circumstance that you reach this point without the Charge Beam (or, less likely, 150 missiles) and at least three Energy Tanks, you can get locked into a situation where

Mother Brain

is unbeatable due to either not being able to damage the boss or not being able to survive the scripted sequence during it.
Phantoon's flame-sweep attack, triggered by Super Missiles, is very hard to dodge and can easily kill you even if you have lots of energy left. However, it can be avoided by using a "Pseudo-Screw Attack" (charging a shot and somersaulting), a technique that's not obvious to new players and normally doesn't offer much protection.

Harmless Enemy: Trippers, harmless versions of the already non aggressive ripper I Is that do not have to be frozen to serve as platforms, helpfully flying you around without a thought. Not all of them are strong enough to hold Samus up though, and if you're a jerk you can kill them with a power bomb.
Heart Container: The energy containers (health) and missile upgrades (ammo). This was the first (and until Metroid: Samus Returns with use of an amiibo, only) game in the series to utilize reserve energy tanks, which will save Samus if all her health is depleted.
Helpful Mook

Shaktool are built to clear away sand. The robot can hurt you, if decide to get in its way, and you can destroy it, if you're an asshole.
Firefleas cause damage on contact but are not aggressive and light up dark rooms. They also die on contact, and their death makes the room dark again. If one has the ice bream, it's possible to turn off all other beams and freeze firefleas in a helpful location where they won't be bumped into.
The tin can robots take pot shots at you every now and then, but can make useful step stools.
Powamps are dangerous to touch and harmfully explode if shot but do not attack Samus otherwise and can be latched onto with the grapple beam
Scisers often reveal passage ways in Maridia that are otherwise invisible to the naked eye.

Heroic Sacrifice: During the final boss fight,

the larval Metroid, now huge, takes a blow for Samus and bequeaths Samus' ultimate weapon

.
Heroic Second Wind: During the final boss fight, Samus will eventually get hit by a scripted attack that deals heavy damage and knocks her to the ground. If she has enough energy remaining, you can make her get back up by tapping up and keep fighting in a weakened state; the boss will keep using its ultimate attack until the threshold where Samus would die from taking another, and she will no longer stand up. The proper second wind comes when the Metroid hatchling makes its Heroic Sacrifice to save Samus's life, restoring her life to full and granting her a powered-up beam to rip Mother Brain to shreds with.
High-Voltage Death: The secret way to defeat Draygon is to used the Grapple Beam to grab the electrical current of one of the destroyed turrets while Draygon is carrying Samus around in her claws. Both of them get electrified, and Samus lasts much longer than Draygon does.
Hitodama Light: Phantoon, the ghostly boss of the Wrecked Ship, appears surrounded by hitodama, and uses them as weapons against Samus.
Hopeless Boss Fight:

The fight against Ridley in the opening. You can make him fumble the Metroid hatchling's container, but you can't stop him stealing it, and you can't prevent him from starting the self-destruct sequence.
Samus can't do a single thing to harm

the Super Metroid

, which effortlessly reduces her to 1 energy unit before

it (presumably) realizes who she is and backs off

.
The second portion of the final fight. Mother Brain's giant multicolored laser is impossible to dodge. When you're hit by it, it will drain any remaining missiles, super missiles, and power bombs, and reduce your health by 500. If you can survive another hit with the beam (energy 600+), then you can get up and keep fighting until you get hit by the beam again. Otherwise, you're stuck on your knees, unable to move until the Metroid hatchling arrives and the final phase of the battle begins. Because of the extreme damage of the beam, if you have fewer than 4 energy tanks when you get to Tourian, the battle is literally hopeless: you must survive at least one hit from the beam so that the game can trigger the transition scene.

HP to 1:

The first time Samus encounters the Super Metroid in Tourian, it almost effortlessly reduces her to one HP (unless players pull off the "baby skip") before (presumably) recognising who she is and backing off.
I to S
T to Z
---