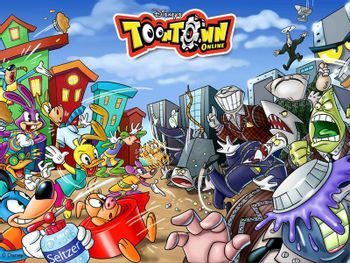 "Ever wondered what it'd be like to live life as a toon? Well, here's your chance..."
Disney's Toontown Online is pretty much what it says in the title: a town full of Toons, online! It's an MMORPG featuring falling flower pots, cream pies, and the corruption of humanity.
You play as a colorful cartoon animal of your choice, living in an equally cartoony world. In Toontown, there's plenty of fun to be had, with Trolley Games, go-kart racing, mini-golf and all sorts of other activities in store. However, the town has become infested with Cogs, robotic businessmen who wish to transform the whole city into a dull, gray corporation. To keep Toontown vibrant and fun, the Cogs must be fought back with a variety of practical jokes and gags, such as the aforementioned pots and pies.
Unlike most MMORPGs, this one has a basic turn-based system and can literally make people laugh their heads off. No, seriously, when a Cog loses a battle, its head explodes!
Not to be confused with that place where cartoon characters live.
Toontown Online closed on September 19, 2013. However, fans remain loyal to the game and it remains open through various private servers that retain the game's core gameplay features with the promise of new content.
Notable private servers
Toontown Rewritten, currently active. The most recognized private server with all the features from the original game with new event content, revamped Field Offices, and an ongoing storyline with Alternate Reality Game elements.
Toontown: Corporate Clash, originally known as Project Altis, with a focus on creating new content, including new Toon species, new bosses, and storylines told in comics and ARGs. Currently active.
Toontown Archive, originally called Toontown Infinite. Was the most solidified private server besides TTR in regards to content, often serving as its only real competition for a few years. Original format deleted on April 13th, 2016, to make way for active archives of Online as it was in development.
Toontown House, currently inactive. One of the earliest private servers besides Rewritten, but much more unstable.
Toontown Realms, originally known as Toontown Offline, currently active. Realms's focus is on creating episodic content that serves as a continuation to the original game's storyline. The game is playable in a single-player format, though multiplayer is possible with up to 16 players.
Toontown Apex, cancelled. While in development, Apex was one of the only private servers with a focus on providing a drastically different Toontown experience than the other servers, focusing on new endgame content for skilled players.
---
This game provides examples of:
open/close all folders
#-E
F-M
N-R
S-Z
---