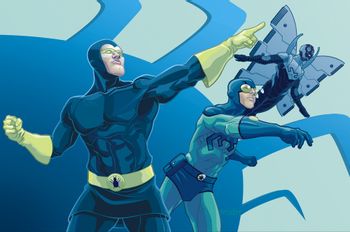 A Super Hero, or rather, several superheroes since Blue Beetle is a Legacy Character, whose main motif is Exactly What It Says on the Tin.
The original Blue Beetle was a Golden Age superhero, originally published by the Fox Feature Syndicate, first appearing in Mystery Men Comics (August, 1939). Dan Garrett started out as a rookie cop whose father was killed by gangsters. He got super strength from Vitamin 2-X, although he could be knocked out by a blow on the head. The Golden Age Blue Beetle soon got his own magazine. He had a reasonably long run of lurid, violent adventures where he fought gangsters, gorillas, reanimated mummies, etc. He even had his own short-lived Radio Drama. But sales began dropping in the late 1940s. There were gaps of several months between some issues, and finally, in August of 1950, the series was cancelled.
Eventually Charlton Comics bought the first Blue Beetle, at first only reprinting his old stories. When The Silver Age of Comic Books came around, they revamped him as an archaeologist who unlocked the powers of a mystical artifact he found in a pyramid. This mystical artifact was a bright blue Scarab amulet. Shouting a word caused the powers to activate, and Dan would find himself in blue and red themed armor, shooting lightning from his hands and flying. (Although he could still be knocked out by a blow to the head. Hey, it's better than yellow.) Dan was a pretty awesome Charlton character. The character held his own series from June, 1964 to February/March, 1966.
Then he died. Cue his friend, Ted Kord, millionaire and technical genius, who took the Scarab and the Blue Beetle mantle. Kord was introduced in the backpages of a title devoted to Captain Atom in #83 (November, 1966), appearing there until #86 (June, 1967). Then he got his own magazine, lasting from June, 1967 to November, 1968. After that the character mostly appeared in anthology titles. Ted didn't have any powers - the Scarab didn't seem to work for him, so he made up for it by using his neat gadgets to fight crime anyway. If he resembled another wisecracking acrobatic bug-themed superhero a bit, that wasn't too surprising as he was created by Steve Ditko after he left Marvel.
In the 1980s, Charlton licensed most of its superheroes to AC Comics, only to sell them to DC a few months later. Ted made his DC debut as a reader point of view character in Crisis on Infinite Earths and was integrated into The DCU shortly thereafter, holding his own title from June, 1986 to May, 1988. He got to be a member of the Justice League International, get lots of Ho Yay with Booster Gold, and be an all-around Fan Favorite. Then Max Lord Dropped a Bridge on Him. Boom Head Shot! The character was killed in the one-shot Countdown to Infinite Crisis (May, 2005).
Cue the third Blue Beetle, Jaime Reyes.note pronounced 'Hye-Mae', not 'Jamie' The new character first appeared in Infinite Crisis #3 (February, 2006). He found the Scarab lying on the ground in his home town of El Paso, TX, took it home, and overnight it crawled into him and attached itself to his spine. He soon found himself speaking a language he didn't know, transforming into a much more advanced tech version of the Blue Beetle armor, and whisked away to save the universe in Infinite Crisis. The character held his own series from May, 2006 to February, 2009.
Unlike Dan and Ted, Jaime never Jumped at the Call, he got shoved. This Blue Beetle retconned the Scarab into a piece of alien technology as opposed to a magical artifact—what wasn't retconned was the fact that Dan had been activating the Scarab using magic, which damaged the Scarab's memory and functionality. Jaime's series is notable for managing to make Jaime integrate himself into the Blue Beetle name and The DCU really well.
Although Jaime's solo series was canceled, he returned as a back-up feature in Booster Gold - unfortunately, the back-up also got canceled. Poor kid can't catch a break. That said, he did get to be a member of the Teen Titans (poor kid really can't catch a break), and joined the reformed JLI in Justice League: Generation Lost.
Never quite as popular as some superheroes, the three Blue Beetles have managed to keep a legacy with very little similarity in powers or even personalities, but all three have been rather likable, and all three have been fun rather than dark and edgy. Both Ted Kord and Jaime Reyes versions of the Blue Beetle have had appearances in Batman: The Brave and the Bold (and a dead Garret gets a cameo). Jaime Reyes appeared as a central character in the Smallville episode "Booster", which also featured Ted Kord as a wealthy industrialist rather than a superhero. Dan Garrett got a shout-out. DC has announced interest in making a Live-Action Adaptation starring Jaime Reyes.
Jaime later became a major character in season 2 of Young Justice, with Ted frequently namedropped and memorialized as a deceased member of the Justice League. Both Ted and Dan eventually appeared in flashbacks in "Intervention," detailing the Blue Beetle legacy. The team and Jaime initially assumed that the Scarab Jaime found while taking a shortcut through a Kord Industries parking lot was an invention of Ted's, but it was actually the Scarab Dan Garret found on a dig in Bialya. While Dan believed it was just an ancient artifact that gave him powers and bequeathed it to Ted upon his death, Ted realized that it was alien technology and locked it up, refusing to allow it to merge with him. He was, however, inspired by Dan's example and joined the Justice League, fighting crime with his gadgets. When the alien race that created the Scarab came to Earth and allied with the Light, Sportsmaster and Deathstroke confronted Ted, demanding he give the Scarab over. While Ted died in the skirmish, he kept the Scarab away from the Reach, and Jaime found it.
DC later relaunched the series starring Jaime in September 2011 as part of their New 52 relaunch. As of January 2013, the new series was canceled. The story, however, continued in the Anthology Comic, Threshold, which was also canceled.
A younger, pre-Blue Beetle Ted was introduced at the end of Forever Evil in 2014, courtesy of the Cosmic Retcon that created the New 52. An Alternate Timeline version of Ted, based on his JLI incarnation, featured in Justice League 3000.
The series was relaunched in 2016 as part of DC Rebirth, featuring Jaime and Ted joining forces.
Not to be confused with Harry Dresden's car, a blue V W Beetle that was named as a Shout-Out by the main character. Or the one from The Electric Company (1971). Or another muscled, blue, arthropod-themed superhero.
Media appearances
Film — Animation
Film — Live-Action
Live-Action TV
Video Games
Western Animation
---
open/close all folders
(Golden Age) Dan Garret Examples
Dan Garrett Examples
Death by Cameo: Dan makes a single appearance in Batman: The Brave and the Bold... as a dead body.
Scarab Power: The Blue Beetle takes his name from a scarab amulet that Adventurer Archaeologist Dan Garrett, the first Blue Beetle, found in a pyramid and which gave him magical superpowers. His successor, Ted Kord, could never get the amulet to work, so became a Gadgeteer Genius instead. The amulet subsequently passed into the hands of Jaime Reyes, who discovered its full potential, leading to the revelation that the source of its power is not magic but advanced alien technology.
Shout-Out: Dan does not appear in the Smallville episode "Booster", but is given a shout-out that explains that he had been a scientist who studied the Scarab before it fell into Jaime's possession, and that he had died when the Scarab was removed from his spine.
Ted Kord Examples
Aborted Arc: The second volume of Booster Gold had a running arc heavily hinting that Ted had somehow survived when he went back in time to his own death. It never concluded before the universe got rebooted.
A Death in the Limelight: Prelude to Infinite Crisis.
Jaime Reyes Examples
Abusive Parents: Brenda. The fact that her father hits her is brought up very early in the series.

We later find out that in the year Jaime was missing Brenda's father beat her so severely that she was hospitalized, prompting her Aunt Amparo (secretly the crime boss La Dama) to have him killed in a staged DUI so that she could get custody of her niece and give Brenda a safe home. Despite being into very illegal dealings otherwise it's indicated that La Dama is the only good parent Brenda has had since the death of her mother.
Paco: Wish for a porsche! Quick, before it wears off!
(New 52) Jaime Reyes Examples
(Rebirth)
Dan Garrett Examples
(New 52/Rebirth) Ted Kord Examples
Adorkable: Still. If anything he's even more charmingly geeky than the previous version.

Ted: (BIG grin) MAGIC?

Ambiguously Evil: His opinion of the Posse, who he thinks could either be heroes or villains.
Ascended Fanboy: Ted is a huge superhero fan in this version, and is alive and well when Jaime is bonded to the Scarab. When Jaime comes to him looking for help removing the Scarab, Ted sees it as an opportunity to help people, and decides to help Jaime fight crime.

Subverted, as he confirms he used to be Blue Beetle himself.

Continuity Nod: His clothes reference his old superhero costume, having a shirt with a beetle symbol and yellow goggles or glasses.
Cool Airship: The Bug.
Cool Car: Ted has a sick-looking futuristic blue limo when he isn't traveling in the Bug.
Crimefighting with Cash: After he joins up with Jaime.
Deuteragonist: The opening credits of each issue so far always take care to say that Jaime and Ted are the Blue Beetle.
Disappeared Dad: His father died in the beginning of Forever Evil.
Expy: His role this time around is closer to that of Old Bruce from Batman Beyond.
Hollywood Heart Attack: Ted makes a reference that he knows a heart attack from experience; later he has what looks like some chest pains while Beetle is fighting Rack n' Ruin.
Hyper-Competent Sidekick: Ted seems to be delegating Kord Industries' day to day operations to his assistant Teri, who seems to not mind. This is a bit of a Mythology Gag to Ted's first solo series at DC where he did the same thing with Melody Case. Melody however was usually far more exasperated at his antics.
Jumped at the Call: Eagerly leaps at the chance to mentor and support Jaime as a superhero, despite Jaime having come to him in the hopes that the billionaire inventor could help get the Scarab off of him.
Mission Control: His intended role for Jaime, who's not impressed by his efforts.
Older Sidekick: Ted supports Jaime from the sidelines and basically acts as a sidekick despite being older.
Retired Badass: While he used to be Blue Beetle himself, he's not any more.
Secret Keeper: He seems to be withholding the fact that his assistant Teri and Milagro's new friend Tina are from the future, namely from Giffen and DeMatteis' Justice League 3000 and 3001 series. He also hid the fact Jaime's mom is helping the Posse as their doctor, and he's funding her clinic.
Sink-or-Swim Mentor: Seems to come off as this, having Jaime try and solve his fights himself.
Teen Genius: Went to college at sixteen, and was developing insect-sized drones by nineteen.
There Are No Good Executives: Remains an aversion, being inspired by his father's example to make a difference in the world.
Town with a Dark Secret: El Paso in this series seems to be this; Ted confirms that the 'spontaneous metahuman' population is higher than anywhere else in the U.S.
(Rebirth) Jaime Reyes Examples
---