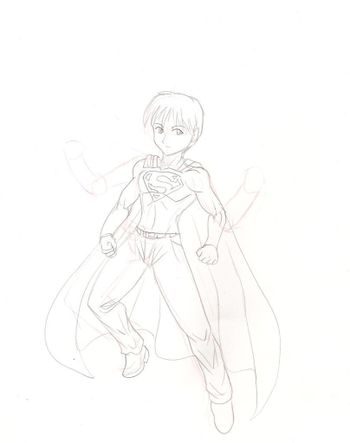 "You will believe Shinji can fly."
Shinji Ikari is summoned to Tokyo-3 by his father Gendo. However Misato's car gets knocked over by the shockwave of a N2 mine, preventing them from reaching the Geofront in time for Shinji getting into the giant robot and fighting Sachiel, forcing Rei to sortie despite being badly wounded.
To her complete shock and disbelief a flying, super-strong stranger comes along, saves her from getting killed and defeats the Angel with his bare fists before flying away.
Later Misato and Shinji arrive at the Geofront, but Shinji cannot synchronise with Unit 01 for some reason, leading Gendo to summon Asuka Langley Sohryu to Tokyo-3 and send his son away again. Misato though pities Shinji and takes him in together with Asuka.
Before long Misato and Asuka realize that Shinji is quiet, soft-spoken... and one of the most caring, kindest and most compassionate persons they have ever met. Asuka cannot help to be drawn to him, but she also notices that he is abnormally strong and seems to be hiding something.
Unbeknownst to her, her own past also hides secrets... and the survival and freedom of humankind depends on Shinji, her and other people learning the secrets of their pasts and mastering powers and capabilities beyond human understanding.
Last Child of Krypton by Chuckman is a Neon Genesis Evangelion Super Fic that has an interesting premise: What if Shinji Ikari was Superman? The answer is a story that seamlessly combines elements of the Superman mythos with the setting and story of Evangelion, eventually becoming a Fusion Fic of sorts, in which more characters and elements of the DC universe are integrated into the plot.
It can be read here
. Some time later, Chuckman wrote a redone version
, although it eventually strays considerably from the original fic to the point it could be considered its own.
Discussion about the story and fanart can be found in SpaceBattles.com in this thread
.
Compare and contrast with Superwomen of Eva 2: Lone Heir of Krypton, another story where an Eva character gains Superman powers, and with Shinji And Warhammer 40 K, Gods, Angels, and Kings, Thousand Shinji and Children of an Elder God, other Crossover fics where Shinji becomes a badass and/or gains powers due to circumstances that change his personality profoundly and turn him into The Hero... or an Anti-Hero.
Check Advice and Trust, The Child of Love, Evangelion 303, Higher Learning, The Ikaris, Nobody Dies, The One I Love Is..., or Mobile Fighter Evangelion to see other AU Eva fics. Check A Crown of Stars, HERZ, Neon Genesis Evangelion R, Scar Tissue, Walking in the Shadow of Dreams and Neon Genesis Evangelion: Genocide to see other Eva continuation fics. Check Doing It Right This Time, Once More with Feeling, RE-TAKE, The Second Try to see Peggy Sue Eva stories.
---
Tropes:
open/close all folders
A-C
D-F
G-I
J-L
M-O
Making Love in All the Wrong Places: Since Shinji is Superman and Asuka Wonder Woman (Supergirl in the rewrite) it is possible for them having sex in anywhere in the planet... and outside of it. In the final chapter of the rewrite they make love floating between Earth and the Moon.
Male Gaze: In chapter 2, Kaji and Shinji walk behind Misato and Asuka. Kaji advises Shinji to let them walk in front in order to enjoy the "sight".
The Man Behind the Man:

Darkseid

was pulling the SEELE's strings behind the scenes to

find the Anti-Life Equation.

Manipulative Bastard: Gendo tries to use Shinji's emotions and morals in order to manipulate him and mould him.
Man of Steel, Woman of Kleenex: Subverted with Shinji and Asuka. At the beginning, it looks like they're going to have this trouble... until

it's revealed Asuka is an Amazon, and nearly as strong as Shinji.

In the final story version, she

becomes a Kryptonian via bio-engineering.

Mecha Show: The Evangelion characters have Humongous Mecha, and the DC characters have all kind of cool sci-fi gadgets.
Mêlée à Trois: In this story there're several sides fighting each other: The Angels; SEELE; NERV; and

the Justice League and their successors: Shinji, Asuka, Touji, Kaji, Misato…

The Men in Black: NERV's Section-2 agents wear black suits and sunglasses and are tasked with protecting the pilots. However they often are useless or a nuisance. Kaji and Misato got several disputes with some of them.
Mildly Military: NERV is a quite informal military organization. This irritates Gendo, who wants well-trained puppets.
Mind Rape: When

Asuka falls into the Sea of Dirac, Leliel sends all kind of nightmares and illusions into her mind to drive her to kill herself, one of them being a giant, knife-wielding version of the doll her mother called Asuka, and says over and over she is useless and worthless and nobody will ever help her or love her.

Shinji dives into the Sea to save her, breaks into the illusion despite of the mental barriers and traps set by Leliel and shields Asuka. When Leliel objects, Shinji simply replies: "Burn.".
Missing Mom: Shinji and Asuka lost their mothers due to contact experiments with Evangelion Units. Ten years later

Shinji found out his mother was the cause of his Kryptonian DNA,

and Asuka found out during her stay in

Paradise Island

that her mother got forced to undergo that experiment.
The Mole: Kaji worked for SEELE and NERV, but he was secretly working for a third party that intended to destroy both organizations.
Motherly Scientist: Ritsuko becomes this after the battle against Zeruel. When she understood what Gendo was like, she stopped treating Rei like an inhuman thing.
Mugging the Monster: When Shinji was younger some bullies harassed him and he ran away. When they chased him, he outran them easily… luckily for them. Otherwise they would have found out that scrawny, shy kid could bend steel with his bare hands.
Mythology Gag: When Leliel Mind Rapes Asuka with its illusions, Shinji, a. k. a. Superman confronts him saying a single word:

Shinji:"BURN."

The Needless: Shinji eats food but he's never hungry, he sleeps although he doesn't really need to, and he doesn't need to breathe. Justified because he is Superman, and his body is a living solar battery.

Asuka was already heading out the door when he popped a piece of toast in his mouth (he wasn't hungry, and it fact couldn't remember being hungry, but liked toast)

Negative Space Wedgie: The Dirac Sea, as always, an impossibly thin inky-black shadow in reality is a vast alternate universe. Asuka falls into it and gets Mind Raped by Leliel. Shinji flies into it to save her, and a mysterious trio of aliens takes advantage of it to communicate with Shinji as he is inside.
Nice Guy: Shinji and Kaworu both qualify, although Kaworu becomes rather... different when he transforms into Black Adam, and in the rewrite he is very creepy and not nice at all. Regardless, Shinji is the nicest, most compassionate, most considerate and less judgemental person Asuka and Misato have known...
Nigh-Invulnerability: Shinji Ikari is as invulnerable as any Kryptonian. At one point he gets hit with one dozen of nukes and survives.
Nightmare Sequence: In chapter 11, Shinji and Asuka suffered several nightmares as they fought Leliel's psychic assault. Shinji saw his self choking Asuka on a beach under a red sky, and Asuka saw a version younger of herself turning into a monstrous, blood-stained doll and urging her to die with her before strangling her.
No, Mr. Bond, I Expect You to Dine: Lampshaded by Fuyutsuki when Ra's Al Ghul is explaining his evil scheme:

Fuyutsuki: If you mean to detail your nefarious plan to me, shouldn't we be eating dinner? Or did you plan to aim a laser at my crotch?

Non-Action Big Bad: Gendo is a Manipulative Bastard, but when Shinji attacked him, there was nothing he could do to stop his son. If he'd have not got kryptonite, he had been done.
No Sense of Direction: Misato gets lost very easily. In the third episode of the redux, she got lost on the way to her own office.
No Social Skills: Shinji is shy and quiet, but he is somewhat better at socializing than his canon counterpart because his altered backstory. So, when Asuka comes along, and she is as socially inept as her canon self, he is better prepared to deal with her mood shifts and see the real Asuka under the "leave me alone" mask. Even so he completely misses many clues hinting Asuka's feelings.
Oblivious to Hints: Despite having enhanced senses, Shinji is horrible at noticing hints. In chapter 2 Asuka met him for first time. She stiffened and stared at him for several seconds before quickly looking away lest he noticed she was staring. Shinji, despite of being able to sense the heat rising from her skin, missed this.

The second thing that happened was that Asuka Langley Soryu laid eyes on Shinji Ikari for the first time, and stiffened oh so subtly, her air of casual indifference shifting to one of deliberately indifference, her eyes rapidly snapping off him to look anywhere else before he noticed her looking. Shinji, being Shinji, despite being able to see the heat rising from her skin, hear the quickening of her heartbeat, and practically feel the sounds of the afternoon breeze brushing through her hair, of course noticed none of this.

Oblivious to Love: Shinji fell for Asuka as soon as he met her, but did not believe she liked him... until she lunged at him.
Official Couple: Shinji and Asuka.
Official Kiss:

In chapter 12 Asuka and Shinji kissed for first time. Afterwards Shinji revealed Asuka that he was Superman. She got angry with him for risking his life only to save hers, slapped him, tackled him and kissed him again. She were together since that point onward.
In the rewrite happened in chapter 9 when Asuka went to Shinji's cabin and kissed him.

Oh, Crap!:

In chapter 2 a plane is crashing down. Shinji manages to straighten it and stabilize it. Then he notices he missed the airport.

Shinji:"Great."

Old Flame: Misato and Kaji were in a relationship when they were college students, but they broke up (and Misato blames herself for it). As they were fighting Gendo, they got back together.
Once-Green Mars:

As it turned out, Mars was destroyed by the Angels in this story instead of the White Martians

.
One-Man Army: Shinji and Asuka, which is easily understandable and explainable, since in this crossover story he is Superman and she is Wonder Woman (or Supergirl in the reboot). They do not even need a Humongous Mecha to punch out enormous alien monsters.
Orphan's Ordeal:

After his mother Yui died and his father Gendo left him, Shinji lived virtually alone for one decade. During that time he found

a recording revealed his DNA had been modified with Kryptonian chromosomes. When his DNA donor said

he hoped his father raised him properly, Shinji snorted.
Shortly after her mother's suicide, Asuka's father married his mistress and abandoned her daughter. Asuka threw herself into becoming the best Humongous Mecha pilot ever to validate her existence. Unfortunately, no one in her organization cared about her, and she was regarded as a tool to use or discard, or lust target to be leered at by perverts.

Outside-Context Problem:

Shinji -Superman- is capable lift mountains, faster than a speeding bullet, nearly invulnerable, capable to fly... He can crush an Evangelion or Angel with his bare hands, Gendo and SEELE have no way to counteract their powers and abilities and they have no way to harm him.
Darkseid was this to NERV. Giant aliens? Sure, we can deal with it. An ancient, malevolent, overwhelming powerful alien God of Evil? Hell, no.

Outside-Genre Foe:

Darkseid

was this to NERV. Giant aliens? Sure, we can deal with it. An ancient, malevolent, overwhelming powerful alien God of Evil? Hell, no.
P-R
S-U
V-Z
---
Shinji:"You asked me once if I could change fate [...] What do you think?"
---