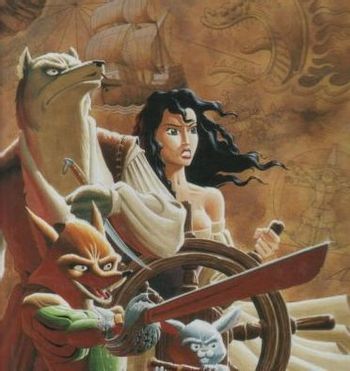 A 12-volume French bande dessinée (the last two volumes are a prequel focusing on one character) written by Alain Ayroles (also author of the Fractured Fairy Tale comic Garulfo) and illustrated by Jean-Luc Masbou.
In Europe of the 17th century, two noblemen united by an indestructible friendship, Don Lope de Villalobos Y Sangrin, a rash and impulsive Spanish wolf, and Armand Raynal de Maupertuis, French Gascon fox poet, dash into an epic adventure in search of the treasure of the Tangerine islands. During their trip, which will lead them to the borders of the world, and even elsewhere, they will meet their companions of adventure: Eusèbe, a naïve but cunning rabbit, Raïs Kader, who hides a generous personality under surly airs, and promises Lope a duel to the death but becomes his friend, Doña Hermine, Don Lope's lover, who hides a similar feeling, Séléné, Cenile's adopted child, who lives an idyll with Armand, and Bombastus, learned German so cultivated as to be annoying. Besides this heterogeneous troupe, they will also meet Andreo, Séléné's brother and his servant, Plaisant, a troop of pirates without scruples, a ruthless capitàn and strange exiles from the moon...
---
De Cape et de Crocs provides examples of:
Accidental Astronaut: A variation towards the end of the comic. The cast is already on the Moon but needs to get back to Earth. Mad Scientist Bombastus helps them build a new ship, but stays onboard during the countdown and only realizes the problem after the ship has launched.

Bombastus: I wanted to stay on the Moon!

Action Girl: Hermine. She does not fight often, due to lacking in combat skills (at least compared to the other main characters), but never hesitates to jump into the action, and manages for instance to steer a large galleon to safety in the middle of a storm, and on the Moon becomes quite skilled at driving a house. In a Funny Background Event, she forces Don Lope to sew in her stead while she replaces him... at cutting logs with an axe. Later on, she asks Kader to teach her how to fight.
Actual Pacifist: Most of the selenite population (except the mimes).
Accidental Aiming Skills: The pirate Captain shoots the rope Don Lope was dangling from, then comments to one of his subordinates who compliments him on the shot that he was actually aiming for Don Lope.
Alas, Poor Villain: Cénile's last scene is played tragically as it is highlighted that his greed has developed into a mental dependence. His son Andreo tries to drag him out of a forest of gold but he refuses.

Cenile: No! I cannot get away from my gold ! It is mine! I belong to it!... You do not understand!... My gold ! I love it!

The Alleged Steed: On the Moon, Armand and Don Lope find themselves out of horses and forced to ride giant ducks to cross the land, walking at a snail's pace because of that. Subverted when after they switch ducks with horses again, Don Lope discovers that the ducks could have flown all the way, they just didn't know how to make them fly.
Alliterative Name: The Spooneristic Smugglers (contrebandiers contrepeteurs), and Captain Boney Boone are examples of this.
Always Someone Better: The Maître d'Armes is as good a swordsman as Don Lope, as good a poet as Armand, and in addition is said to be a great scientist and philosopher. Armand and Lope can't help feeling jealous when they first hear the Selenites gushing about him.
Ambition Is Evil: Among Mendoza's many faults is his boundless ambition. As soon as the opportunity presents himself, Mendoza decides to become a lunar conqueror, plotting to steal the throne of the Moon and even planning to invade earth and become the most powerful king of Earth.
Anachronism Stew: Among many other things, the Heavy Metal concert onboard a pirate ship (with period instruments to boot).
And the Adventure Continues: The last page of the main series ends up with Armand, Don Lope and Eusèbe in Venice (where the whole story began in the first place) about to interfere with what seems to be the kidnapping attempt of a beautiful masked woman by sinister masked figures.
Arch-Enemy: Armand and Mendoza are mortal enemies ever since Armand gave him a nasty scar on the cheek. Mendoza hates the fox for this and swears to personally kill him. They feud climactically ends in the final volume of the main adventure.
Aristocrats Are Evil: Eusebe's backstory takes place in Paris under Louis XIII, so naturally we encounter lots of them.
Red Filter of Doom: Tome 8's battle sequence is colored only in bright red and white to accentuate the drama and violence of the battle.
---