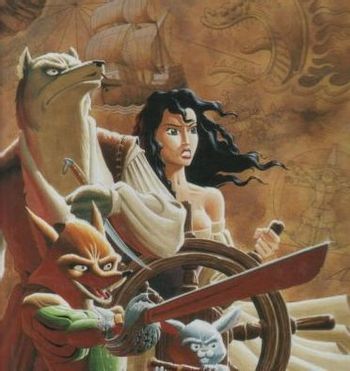 A 12-volume French bande dessinée (the last two volumes are a prequel focusing on one character) written by Alain Ayroles (also author of the Fractured Fairy Tale comic Garulfo) and illustrated by Jean-Luc Masbou.
In Europe of the 17th century, two noblemen united by an indestructible friendship, Don Lope de Villalobos Y Sangrin, a rash and impulsive Spanish wolf, and Armand Raynal de Maupertuis, French Gascon fox poet, dash into an epic adventure in search of the treasure of the Tangerine islands. During their trip, which will lead them to the borders of the world, and even elsewhere, they will meet their companions of adventure: Eusèbe, a naïve but cunning rabbit, Raïs Kader, who hides a generous personality under surly airs, and promises Lope a duel to the death but becomes his friend, Doña Hermine, Don Lope's lover, who hides a similar feeling, Séléné, Cenile's adopted child, who lives an idyll with Armand, and Bombastus, learned German so cultivated as to be annoying. Besides this heterogeneous troupe, they will also meet Andreo, Séléné's brother and his servant, Plaisant, a troop of pirates without scruples, a ruthless capitàn and strange exiles from the moon...
---
De Cape et de Crocs provides examples of:
Red Filter of Doom: Tome 8's battle sequence is colored only in bright red and white to accentuate the drama and violence of the battle.
---