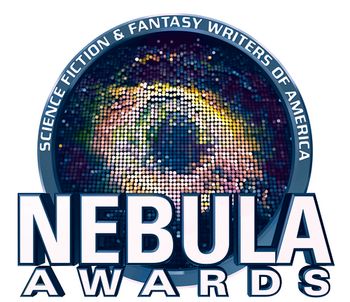 The Nebula Awards are yearly awards given out for works of Science Fiction and Fantasy by the Science Fiction and Fantasy Writers of America (SFWA), beginning in 1966. Unlike the Hugo Award, its equally-famous counterpart, the Nebula is only given for written works and not film or TV, although "Best Script" was added to the list in 2000 which covers them somewhat.
There are also several special Nebulas:
Compare the very similar Bram Stoker Award for Horror.
Links:
Note on dates:
Unlike most awards, the Nebulas are officially described as being "for" the year before they are given. Thus, the first Nebula, given at the Nebula ceremony in 1966, is the Nebula for 1965.
---
Works with a Nebula Award nomination include:
<!—index—>
<!—/index—>
Works with a nomination for Best Script (1973-1977, 1999-2008) or the Bradbury Award (2009-present) include:
<!—index—>
---