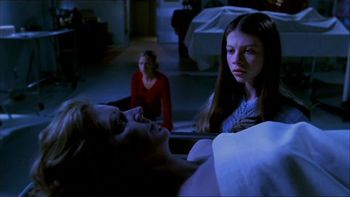 "I don't understand. I don't understand how this all happens. How we go through this. I mean, I knew her, and then she's, there's just a body, and I don't understand why she can't just get back in it and not be dead any more. It's stupid. It's mortal and stupid, and, and Xander's crying and not talking, and I was having fruit punch and I thought, well, Joyce will never have any more fruit punch, ever. And she'll never have eggs, or yawn, or brush her hair, not ever and no one will explain to me why!"
— Anya Jenkins
Written & Directed by Joss Whedon
It should be noted that apart from the intro and end credits, there is no music in this episode whatsoever.
This is also the only episode that doesn't show James Marsters (Spike) since becoming a regular cast member.
---
The first scene is the same as the last in
the previous episode
. Buffy walks in the door, and calls for her mom. She goes into the living room, where Joyce's body is lying on the couch.
While the credits run, we get a flashback scene to the previous Christmas. The whole cast is there apart from Spike. The gang enjoys dinner as they discuss the horrifying truth about Santa Claus. Buffy and Joyce head into the kitchen to find the pie has burnt and Joyce curses the oven.
Jump Scare back to the present, Buffy tries to wake her mom up. When this fails, she calls 911. The dispatcher sends paramedics and instructs Buffy to perform CPR. This doesn't work either, and even worse, Buffy, with her super strength, accidentally manages to break one of her mother's ribs. The dispatcher tries to assure Buffy not to worry, but when she tearfully explains that Joyce feels "cold," the demeanor of the dispatcher changes and she begins to refer to Joyce as "the body," which upsets Buffy. The dispatcher finally tells her that the ambulance will be with her soon, leading her to hang up and call Giles, telling him only, "She's at the house." The paramedics arrive, and start using equipment to try and revive Joyce. Joyce wakes up suddenly. In the ambulance, Buffy stands beside her mom as the paramedic pronounces it a miracle. In a hospital room, Joyce cradles Dawn as the doctor gives Joyce a clean bill of health...
Buffy snaps back to reality to discover that Joyce, despite the paramedics' efforts, still isn't moving. The paramedics eventually take note that Joyce is cold, surmise that their revival attempts will be useless, and officially pronounce Joyce dead. One of the paramedics explains to Buffy, who at this point is only capable of numbly mumbling in response, that her mother may have died from a complication relating to her recent brain tumor and that he will place a call for a coroner. The paramedics then receive a call for assistance and have to leave. After they leave, a dazed Buffy tries to contemplate everything that has just happened, and ends up vomiting on the carpet. Giles arrives, thinking Buffy's call was about Glory. When he sees Joyce's body, he tries to revive her. Buffy shouts at him, "We're not supposed to move the body!" It takes a brief moment before the realization of what she just said hits her. Buffy breaks down crying, and Giles tries to comfort her.
The coroner arrives, zipping Joyce's body into a black body bag. At school, Dawn is crying her eyes out. A friend comforts her, saying that it isn't that bad. Dawn disagrees, saying that Kevin called her a freak in front of the whole class. They eventually decide to blame Kirstie for spreading rumors that Dawn has been cutting herself, and head off to art class, where the art teacher tells the class not to draw the object, but the negative space surrounding it. Dawn is working next to Kevin, who is actually quite friendly, dissing Kirstie and telling Dawn he has also felt the need to do something extreme before. Dawn starts to tell an embarrassing story about Kirstie, only to see Buffy arrive. Buffy takes Dawn outside the classroom. Dawn, confused by what is happening, wants to know where Joyce is, since she was supposed to pick her up after school. Buffy responds that she would rather explain this somewhere more private, but this only prompts Dawn to get upset and demand to know what is going on. The camera stays with the students, who watch through the window. We don't hear Buffy actually tell Dawn, but we see Dawn break down in tears, and we hear her sobs and screams. The camera shows Dawn's negative space sketch, which looks like a crime-scene body outline.
Joyce is on a slab in the morgue, as the coroner starts cutting open her shirt for the autopsy. Willow and Tara are in their dorm room at UC Sunnydale, sorrowfully waiting for Xander, as Giles by now has contacted everyone and explained what has happened. Willow is fixating on what shirt she should wear—she can't find the blue one that Joyce liked. She starts hyperventilating and crying, and Tara calms her with a "Shut Up" Kiss—their first onscreen kiss. Xander and Anya double-park outside the dorm, and come inside. Xander and Willow hug. Anya asks what they are going to do. The plan is to go to the hospital, where Giles, Buffy, and Dawn are. Xander asks about what Giles said, trying to determine if the death was natural. He first blames Glory, then the doctors. He needs someone to blame. Willow holds up her fists, challenging Xander to a mock fight. Xander calms down a bit, and kisses Willow on the forehead.
Anya asks if they're going to see the body. The consensus is that they will support Buffy and Dawn, no matter what. Tara leaves to look for Willow's shirt. Anya asks if they're going to cut the body open. Willow yells at her to shut up. Anya breaks down: "I don't understand! I don't understand how this all happens. How we go through this. I mean, I knew her, and then she's... there's just a body, and I don't understand why she just can't get back in it and not be dead anymore. It's stupid. It's mortal and stupid... And Xander's crying and not talking. And I was having fruit punch, and I thought, well, Joyce will never have any more fruit punch, ever. And she'll never have eggs or yawn or brush her hair. Not ever. And no one will explain to me why!"
Xander moves to comfort Anya, while Willow answers that, "We don't know how it works. Why." Xander puts his hand through the wall. The girls come over, and find that he's stuck. Willow asks if it made him feel any better. "For a second there." "A whole second?" Willow looks at him, envious of that second of comfort. Xander switches into construction-man mode, commenting on the crappy wallmanship. Tara returns as they manage to extract Xander's fist. It's bleeding. Anya gets bandaids. They leave. Willow returns to change sweaters. Outside, a meter maid tickets Xander's car.
The autopsy is done. The Scooby Gang assembles in the lobby. Hugs all around. The doctor shows up. Buffy, Giles, and Dawn go to talk to him. He confirms that she died from an aneurysm, probably a complication of the surgery. He says that there was probably very little pain, and even if someone had been there (shot of Joyce collapsing on the couch, Buffy rushing to her side, her safe in the ambulance), there was nothing they could have done. Buffy asks if he's sure that there wasn't any pain. "Absolutely." His lips move out of sync with the next words: "I have to lie to make you feel better." Giles volunteers to take care of the paperwork. Dawn goes to pee. Xander, Anya, and Willow go to get food. Buffy and Tara sit together. Tara reveals that her mother died when she was 17. She doesn't go out and say it, but the message is there: Tara is proof that Buffy can get through this.
Dawn walks to the morgue, finding her mother's body. Behind her, in what's only there to remind the viewers what show this is, one of the bodies rises from the slab — a vampire. Dawn turns around.
In the lobby, Xander, Willow, and Anya return with a ton of food. They notice that Dawn's not there. Buffy goes looking for her, and arrives at the morgue just in time. She grapples with the (naked) vampire, decapitating him with a bonesaw. Dawn stares up at Joyce's body. "Is she cold?" she asks. "It's not her," Buffy says.
Dawn reaches her hand toward the body's face. "Where'd she go?"
The episode ends before her hand makes contact.
---
Tropes featured in this episode include:
---