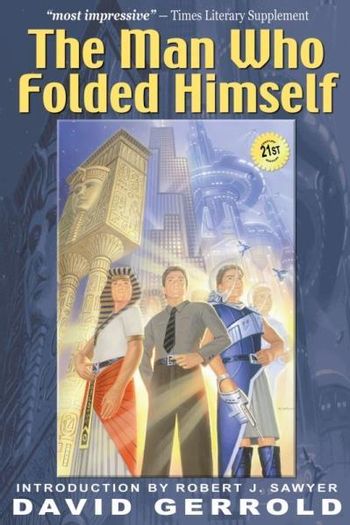 The Man Who Folded Himself is a 1973 science fiction novel by David Gerrold that deals with time travel. It was nominated for the Nebula Award for Best Novel in 1973 and the Hugo Award for Best Novel in 1974. Pretty clearly Gerrold's attempt at writing the end-all and be-all Time Travel looping novel, it apparently had another f-word in its title, but the publisher wouldn't go for it.
The story follows Daniel, a college student, whose uncle increases his allowance (to help with living expenses) if he promises to keep a journal. After his uncle dies, Daniel inherits a "Timebelt" that allows him to travel in time so he goes into the future, meets his future self and makes a large winning on the horse races. Soon after he realises he has to accompany his younger self to the previous day at the horse races and make the same results.
Over the course of the story he learns more and more about the Timebelt and ponders how else he can help himself through the time travel...
---
The Tropes That Folded Themselves:
---