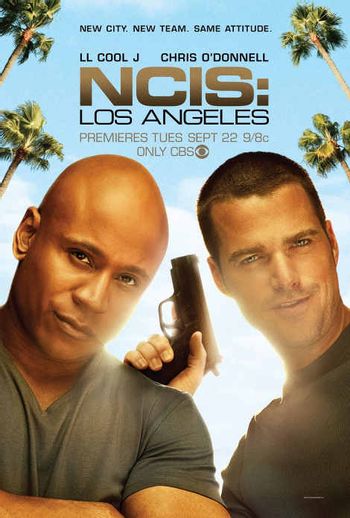 Known during development as NCIS: Legend, NCIS: Los Angeles is a long-running spin-off from NCIS. It takes place in L.A. and concerns the Office of Special Projects, a division that conducts undercover operations for cases within the purview of NCIS. As a result, this spin-off series has a heavier Spy-Thriller atmosphere as opposed to the Procedural feel of the parent series.
This spin-off began on September 22, 2009 in the timeslot following NCIS. It stars Chris O'Donnell, LL Cool J, Daniela Ruah, Adam Jamal Craig, and Linda Hunt. Rocky Carroll has a recurring role as his character from the original series. Most of the main cast were first introduced on a two-parter called Legend on the original NCIS.
The LA team is headed up by Henrietta "Hetty" Lange, a diminutive woman with a penchant for fashion and more connections than most people could dream up. G. Callen (O'Donnell) and Sam Hanna are both field agents and best friends. Hanna is an ex-Navy Seal while Callen carries some emotional baggage over his childhood spent in foster care and not actually knowing what the "G" in his name stands for. Rounding out the team are agent Kensi Blye and LAPD Liason Detective Marty Deeks, who after getting close over several seasons are now engaged to be married. Deeks replaced NCIS Special Agent Dominic Vail, who lasted one season and left, and was eventually brought back to be killed off. The LA branch also boasts its own tech wizard in Eric Beale, who was joined in Season 2 by fellow techie/hacker goddess Nell Jones, who both leave at the end of season 12. Dr. Nate Getz, whose job was to evaluate the team's mental stability as team shrink, lasted the first season and sporadically reappeared up through season 8. In Season 9, Hetty was replaced as the chief of the LA division by director Shay Moseley, but after ending season 9 with an unsanctioned OP to rescue her kidnapped son that got season 9's other new team member Harley Hidoko killed in Mexico, Mosley left NCIS shortly into season 10 and the position has been returned to Hetty, who takes it back up at the end of season 10. Fatima Namazi and Devin Roundtree join the team as Special Agents during season 11 and 12 respectively.
Rounding out the main longterm cast was Deputy Director Owen Granger, who was a recurring character starting in season 3 then full time from Seasons 5 to 8, co-leading the team with Hetty. Granger was written out and later killed off due to Miguel Ferrer's death in January of 2017. As Ferrer knew he had little time left due to mouth cancer, Granger too was diagnosed with cancer so he could be written out in exactly that situation. After the actor's death, Hetty went to see the character in hospital to find a note saying he had to go take care of unfinished business with what time he had left. The following season finally revealed his ultimate fate.
The show is airing the 13th season.
---
Related shows:
---
Tropes: