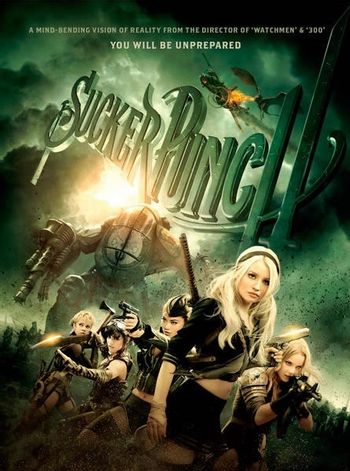 "Reality is a prison.
Your mind can set you free."
Sucker Punch is a psychological action fantasy directed, written and co-produced by Zack Snyder (his first film not to be an adaptation of any kind), and released by Warner Bros.
It is about a young girl, Babydoll (Emily Browning), and her Fire-Forged Friends. Together, they plan escape from the insane asylum where they're being held against their will. Babydoll can't cope with the trauma of being trapped there, and imagines the asylum as a fantasy world instead. But she can't cope with her fantasy world either... which is when things get complicated.
Not to be confused with the video game company of the same name. For an actual sucker punch, see the Talk to the Fist trope.
---
This film contains examples of the following tropes:
open/close all folders
#–C
D–I
Glasses Pull: Both Blue and Doctor Gorski put on reading glasses to take a closer look at some important detail, just before discovering something very important.
Gorn: Surprisingly averted. Aside from Legend Of The Guardians The Owls Of Ga Hoole, most Snyder films kick the gibs-level into high gear. Here, all you have are chopping up robots and shooting steam powered WWI era German soldier zombies. Instead of blood, when they're shot they release the steam that allows them to move. Even in the Castle Storming sequence (when two Orcs are tossed into a propeller, and a dragon's throat is slit) bloodshed is minimal.
The Ingenue: Subverted with Babydoll. Asylum inmates deem her at first to be very docile, naive, and immature. However, Babydoll has much more spunk and intelligence than most ingenue heroines, and it eventually shows. See Seemingly-Wholesome '50s Girl below. Blondie is also convinced Babydoll's not a virgin.
Interplay of Sex and Violence: The fantasy action sequences are a metaphor for working in a brothel; Babydoll's impending deflowerment in the brothel is a metaphor for the violence of the lobotomy that will be inflicted upon her in the asylum.
Ironic Echo: "You have all the weapons you need. Now fight."

This is last said is only seconds after it has been revealed that Babydoll could have saved herself from the lobotomy at any time simply by informing the doctor that Blue intended to forge her signature. She knew this, but in her delusion she believed that Blue was running the place and that the doctor was powerless against him, or that she actually wanted it

.
Ironic Nickname:

Blondie is a brunette.
Rocket's jetpack doesn't work.
Babydoll, age 20, is one of the more mature girls.
Sweet Pea is very cold towards the others.
Amber's name (in Gaelic) means "fierce". She's quite docile and submissive.

It Was with You All Along: The fifth item they need, but Baby doll doesn't tell them they need was in the team all along.
K–Q
R–Z
---
"You have all the weapons you need. ...now fight."
---