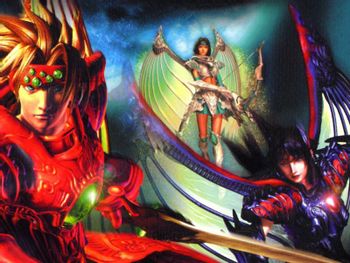 The Legend of Dragoon is an RPG that was developed by Sony Computer Entertainment Interactive (now known as SCE Japan Studio). It was released for the PlayStation in Japan in December 1999, North America in June 2000, and Europe in January 2001. As Sony Computer Entertainment's first independent RPG, it was heavily advertised with emphasis being put on the development time (three years) and the size of the development team (over 100 members).
The protagonist is Dart, a world traveler on a fruitless search for "The Black Monster", the mysterious being that killed his parents and burned down his hometown when he was young. Upon returning to his adopted hometown of Seles, he finds it under attack by Sandora. The imperial soldiers also have a dragon called Feyrbrand at their disposal, and it nearly makes hamburger of Dart before he's rescued by an enigmatic swordswoman named Rose. Thus begins a story that eventually takes Dart and his companions across the world. Modern politics mixes freely with the fallout of the ancient Dragon Campaign (when humanity used the power of the dragoons to win control of the world) and purely personal issues (such as Dart's quest to find the Black Monster), all coming together in surprising ways that ultimately results in Dart and company fighting to Save the World.
It was later rereleased on PlayStation Network for the PlayStation 3 in 2010 in Japan and 2012 in North America, followed by a version for the PlayStation 4 in 2023.
Not to be confused with the Panzer Dragoon series, Legendary Air Ride Machines, or an Eggman-made robot.
---
This video game provides examples of:
---