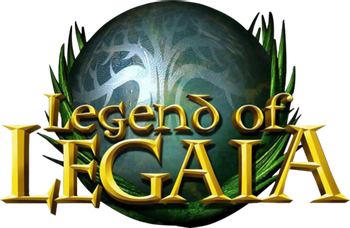 "As if forsaken by God, human civilization collapsed. It was the twilight of humanity. Those who escaped the Mist inhabited desolate areas and protected each other. Now, their faint hope is their only source of inspiration."
— Opening Sequence
Legend of Legaia (Legaia Densetsu in Japan) is a two game Role-Playing Game series commissioned by Sony Computer Entertainment. The first was developed by Contrail, with its follow-up, Legaia II: Duel Saga, moving to the PS2 and developed by Prokion. Despite similarities in gameplay and some character designs, they have next to nothing to do with each other.
The first Legend of Legaia takes place in a world where a mysterious substance called "the Mist" has changed a good percentage of the population into monsters, caused by the symbiotic creatures (known as Seru) they were reliant upon fusing with them and hijacking their bodies, and caused civilization to completely collapse. The game centers around Vahn, a blue haired Kid Hero from a small village, one of the few areas of the world not shrouded in Mist thanks to a giant wall, and also with no Seru there. After a servant of the Mist attacks his village, he ends up merging with a Ra-Seru (A sapient Seru that can also absorb the essence of other Seru and is also immune to the effects of Mist) named Meta that was hidden/resting within a dying tree that lay in the center of his village, known as a Genesis Tree. Upon being prayed to and infused with power, the tree grows again, banishing the Mist from the immediate area, and Vahn leaves his home to attempt to find others, in order to remove the Mist from the land. Eventually, he meets up with two other heroes — Noa, a feral girl raised by the Ra-Seru Terra, and Gala, a monk who eventually gains the service of the Ra-Seru Ozma.
Both games are fairly standard turn based RPGs, but with some twists. Both games have the "Tactical Arts System", which revolves around selecting not just to make an attack but forming combinations of attacks for efficiency and maximum damage, using specific limbs and heights for attacks — turning it into a similar feel as to a fighting game. By chaining together specific attacks, a character can use Arts — by chaining Arts together, a player can find his characters doing impressive amounts of damage without resorting to magic. This is made more complex in the sequel by the multiple types of Arts one has — Basic Arts build Art Points, allowing the character to use more powerful Super Arts, Hyper Arts, Variable Arts, and Mystic Arts. (In the original, Art Points were always consumed by any form of Art and replenished by a small amount at the end of each turn, by taking damage, and by using the Spirit command, which also granted a significant extension to the combo bar, plus a temporary guard status — Spirit plus Miracle Art spam was ultimately the endgame tactic, with one party member relegated to healing.)
---
Legend of Legaia shows examples of:
open/close all folders
A-E
F-K
L-P
Q-S
T-Z
---