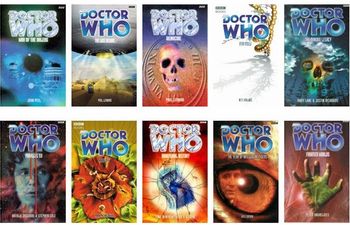 Break, damn you! Break! You've never had a spanner like this thrown in you! Chew on me till your teeth crack. Grind me up till your gears lock. I'm the nail in your tyre, the potato jammed in your exhaust pipe, the treacle poured in your petrol tank. I'm the banana peel beneath your foot, the joker that ruins your straight flush, the coin that always comes up heads and the gun you didn't know was loaded. I am the Doctor!
— The Eighth Doctor, Camera Obscura
After the Seventh Doctor's part in the Doctor Who New Adventures came to an end in 1997, BBC Books picked up the licence to produce new Doctor Who literature from Virgin Publishing. Realising Virgin had the right idea, BBC decided to have an honest crack at it, moving on from wiley ol' McCoy onto the newly regenerated Paul McGann.
Running from 1997 to 2005, a series of 74 novels revolving around the exploits of the Eighth Doctor and his companions were published. These books, commonly referred to as the EDAs, were notable for fleshing out the character of the Eighth Doctor after his short run in the television movie, for having a very compelling cast of characters, for having several interconnected Story Arcs, and for having been seemingly written on drugs.
The tone of the novels is a bit Darker and Edgier and more mature than the television series (usually not as "edgy" as the New Adventures, but arguably "deeper"). No Hugging, No Kissing is averted, people get hurt, the "right thing" is often not cut and dried, the Doctor happily snogs his male companion just because he feels like it, and there's a quite a bit of sex, albeit not explicit.
Aside from the 74 novels, several audio plays also take place in this range's continuity: "Bounty", "Dead Time" and "The People's Temple" (collected as "Earth And Beyond") by BBC audio, and "Fitz's Story" by Big Finish.
The title "New Eighth Doctor Adventures" was also used for several series of Big Finish Doctor Who audio dramas starring the Eighth Doctor. To prevent a Continuity Snarl between Eight's adventures in the novels and in their own audio ranges, Big Finish explicitly references the novels as adventures that happened to an alternate version of Eight in a different timeline (though with a few exceptions, and the occasional Flash Sideways).
As with the Virgin Books, a companion range featuring the previous Doctors (i.e. One through Seven) was published alongside the Eighth Doctor novels, doing much the same thing. This line was called the slightly-more-clunky "Past Doctor Adventures" (as opposed to the "Missing Adventures" that Virgin had called their similar line).
Has a character page. Please keep most of the character-specific tropes there.
Now also has the beginnings of a recaps page. Please help to fill it in.
---
This series provides examples of:
open/close all folders
A-C
D-F
G-K
L-N
O-R
S-U
V-Z
---