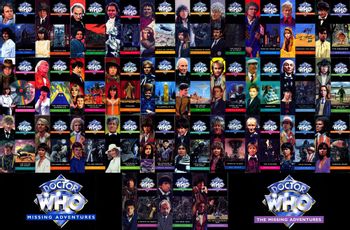 A line of Doctor Who spin-off novels produced by Virgin Publishing between 1994 and 1997. The Missing Adventures novels were set between episodes of the TV series (as opposed to its sister line, the Doctor Who New Adventures, which picked up where the TV series had left off in 1989).
Since the line was intended to provide adventures that more-or-less easily slotted into gaps in previous television eras, the Missing Adventures generally tended to be less experimental in nature than the New Adventures, but they often adopted the more adult and Darker and Edgier tone of the other novel range.
The Missing Adventures were succeeded by the Past Doctor Adventures, published by BBC Books.
Novels in this series
1. Goth Opera (July 1994), by Paul Cornell, featuring the Fifth Doctor, Nyssa and Tegannote
2. Evolution (September 1994), by John Peel, featuring the Fourth Doctor and Sarah Jane
3. Venusian Lullaby (October 1994), by Paul Leonard, featuring the First Doctor, Barbara and Ian
4. The Crystal Bucephalus (November 1994), by Craig Hinton, featuring the Fifth Doctor, Tegan, Turlough and Kamelion
5. State of Change (December 1994), by Christopher Bulis, featuring the Sixth Doctor and Peri
6. The Romance of Crime (January 1995), by Gareth Roberts, featuring the Fourth Doctor, Romana II, and K-9 Mark 2note
7. The Ghosts of N-Space (February 1995), by Barry Letts, featuring the Third Doctor, Sarah Jane and UNITnote
8. Time of Your Life (April 1995), by Steve Lyons, featuring the Sixth Doctor and original companion Grant Markham
9. Dancing the Code (April 1995), by Paul Leonard, featuring the Third Doctor, Jo and UNIT
10. The Menagerie (May 1995), by Martin Day, featuring the Second Doctor, Jamie and Zoe
11. System Shock (June 1995), by Justin Richards, featuring the Fourth Doctor, Sarah Jane and Harry
12. The Sorcerer's Apprentice (July 1995), by Christopher Bulis, featuring the First Doctor, Barbara, Ian and Susan
13. Invasion of the Cat People (August 1995), by Gary Russell, featuring the Second Doctor, Ben and Polly
14. Managra (September 1995), by Stephen Marley, featuring the Fourth Doctor and Sarah Jane
15. Millennial Rites (October 1995), by Craig Hinton, featuring the Sixth Doctor and Mel
16. The Empire of Glass (November 1995), by Andy Lane, featuring the First Doctor, Vicki and Steven
17. Lords of the Storm (December 1995), by David A McIntee, featuring the Fifth Doctor and Turloughnote
18. Downtime (January 1996), by Marc Platt, featuring Sarah Jane, the Brigadier and Victorianote
19. The Man in the Velvet Mask (February 1996), by Daniel O'Mahoney, featuring the First Doctor and Dodo
20. The English Way of Death (March 1996), by Gareth Roberts, featuring the Fourth Doctor, Romana II, and K-9 Mark 2note
21. The Eye of the Giant (April 1996), by Christopher Bulis, featuring the Third Doctor, Liz and UNIT
Who Killed Kennedy (April 1996), by David Bishop, featuring the Second, Third and Seventh Doctors and Dodonote
22. The Sands of Time (May 1996), by Justin Richards, featuring the Fifth Doctor, Nyssa and Tegan
23. Killing Ground (June 1996), by Steve Lyons, featuring the Sixth Doctor and Grant Markham
24. The Scales of Injustice (July 1996), by Gary Russell, featuring the Third Doctor, Liz and UNIT
25. The Shadow of Weng-Chiang (August 1996), by David A McIntee, featuring the Fourth Doctor, Romana I, and K-9 Mark 2
26. Twilight of the Gods (September 1996), by Christopher Bulis, featuring the Second Doctor, Jamie and Victoria
27. Speed of Flight (October 1996), by Paul Leonard, featuring the Third Doctor, Jo and Mike Yates
28. The Plotters (November 1996), by Gareth Roberts, featuring the First Doctor, Barbara, Ian and Vicki
29. Cold Fusion (December 1996), by Lance Parkin, featuring the Fifth Doctor, Tegan, Nyssa and Adric, and the Seventh Doctor, Chris and Roznote
30. Burning Heart (January 1997), by Dave Stone, featuring the Sixth Doctor and Peri
31. A Device of Death (February 1997), by Christopher Bulis, featuring the Fourth Doctor, Sarah Jane and Harry
32. The Dark Path (March 1997), by David A McIntee, featuring the Second Doctor, Jamie and Victoria
33. The Well-Mannered War (April 1997), by Gareth Roberts, featuring the Fourth Doctor, Romana II, and K-9 Mark 2note
This series provides examples of:
---