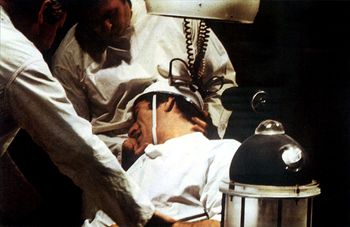 Do you think for once in your life you could manage to arrive before the nick of time?
— The Doctor to the Brigadier
The one where the Doctor laughs menacingly.
Written by Don Houghton. This six-episode serial first aired from January 30 to March 6, 1971.
---
The Doctor and Jo visit Stangmoor Prison, where a new machine created by Professor Emil Keller is to be demonstrated. The Keller Machine will apparently extract all negative thoughts and impulses from even the most hardened criminals, but when a prisoner collapses while undergoing the treatment, the Doctor's scepticism looks justified.
Meanwhile, the Brigadier is organising security at a World Peace Conference, where documents go missing and the Chinese delegate is murdered.
Elsewhere, UNIT Captain Yates is escorting a newly-banned "Thunderbolt" missile across Britain to be destroyed.
The Doctor goes to the peace conference and helps the Brigadier foil another assassination, this time of the American delegate. The culprit is found to be Chinese Captain Chin Lee, but she has been hypnotised by the Master — who is actually Professor Emil Keller...
The Master uses the evil impulses stored in his machine (which is actually just a case for an alien parasite) to cause unrest at Stangmoor and then convinces the convicts to hijack the Thunderbolt missile, which he plans to aim at the peace conference and start World War III.
However, the first convict who collapsed, Barnham, is now immune to the machine's effects and shields the Doctor as he takes the machine to the airfield where the missile is being held. Using the machine to keep the Master occupied, the Doctor buys time for the Brig to reconnect the missile's self-destruct mechanism and destroy it and the parasite-machine together. In the confusion, the Master escapes...
---
This story, despite being filmed in colour, for a long time existed only in black-and-white, as the original colour tapes had been lost. For the DVD release in 2013, the second to sixth episodes were
recoloured
using the automated chroma dot colour recovery method, while the first, whose films did not have chroma dots, was recolourised manually with the help of Stuart Humphryes, more commonly known as
Babelcolour
, a fan editor-turned-
Promoted Fanboy
known for his high-quality colourisations of clips from the show's first six seasons (which were filmed on monochrome videotape).
Tropes
---