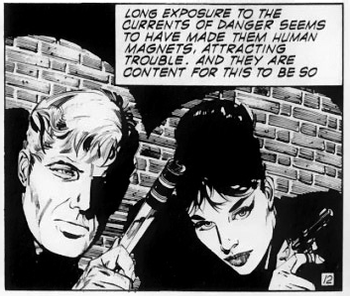 "The most complex, sophisticated, skilled and intelligent of all action heroines."
— Jennifer K. Stuller, author of Ink-Stained Amazons and Cinematic Warriors: Superwomen in Modern Mythology
Long-running (May 13, 1963-April 11, 2001) newspaper adventure serial created and written by Peter O'Donnell (1920-2010).
Modesty Blaise is an orphan with a Dark and Troubled Past who was head of a criminal syndicate before she was 20, and retired wealthy before she was 30. Willie Garvin is a multi-talented Cockney former street kid who became Modesty's trusted right-hand man and followed her into wealthy retirement. Retirement was boring, so now they fight crime.
(Only crime that's unusual enough to attract their interest, though — or nasty or personal enough to attract their anger.)
Occasional attempts to adapt the series to film or television have ended badly. The 1966 film directed by Joseph Losey is particularly notorious. More successful was a sequence of novels and short story collections, all written by O'Donnell.
The comic strip had an open And the Adventure Continues type ending, very much in contrast to how O'Donnell concluded the novel series.
---
The comic strip includes examples of:
---