Character subpage for Jotaro Kujo, the protagonist of Stardust Crusaders, a deuteragonist in Diamond is Unbreakable and Stone Ocean, and a minor character in Golden Wind.
Beware of spoilers for up to Part 6. Spoiler Policy forbids hiding trope names, so merely seeing certain tropes in this list may result in massive spoilers.
---
Voiced by: Daisuke Ono (TV anime Japanese, All-Star Battle (R), Eyes of Heaven, Last Survivor), Matthew Mercer (TV anime English), Irwin Daayán (Latin American Spanish, TV), Kiyoyuki Yanada (CD drama and Heritage for the Future video game), Jurota Kosugi (OVA), Abie Hadjitarkhani (OVA, English), Tetsu Inada (Vento Aureo video game)
Child Jotaro voiced by: Kiyoyuki Yanada (Heritage for the Future video game), Natsumi Takamori (anime), Wendee Lee (anime, English), Dorothy Elias-Fahn (anime [Egypt arc], English)
Played by: Yusuke Iseya (live-action movie)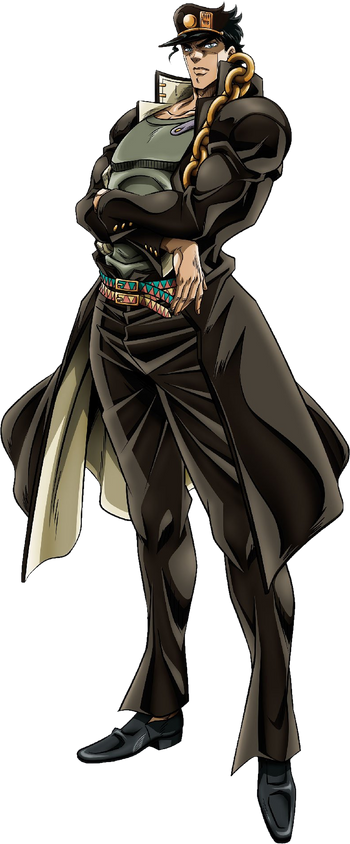 "Look. No one ever said Jotaro Kujo was a nice guy. I beat the crap out of people, more than I have to; some of them are still in the hospital. I've had idiot teachers who liked to talk big, so I taught them a lesson... and they never came back to class. If I go to a restaurant and the food's bad, I make it a policy to stiff 'em with the bill. But... even a bastard like me can spot true evil when he sees it! True evil are those who use the weak for their own gain, and crush them with their foot when they're through! Especially an innocent woman! And that is exactly what you've done, isn't it?! And your Stand gets to hide from the victim, the law, and the consequences! That's why... I will judge you myself!"
Jotaro Kujo is the grandson of Joseph Joestar. A perpetually angry youth, Jotaro's first appearance has him sitting in a jail cell which he willingly put himself in to keep the people around him from getting hurt by his Stand, Star Platinum, which he had no clue about, had minimal control over, and believed to be an evil spirit. After Joseph assures him he's not cursed and the Stand is under his control, he is recruited by his grandfather and Muhammad Avdol to search out and kill DIO before the vampire takes over the world.
He next appeared in Diamond is Unbreakable with a degree in marine biology, where he sought out his grandfather's illegitimate son, Josuke Higashikata. He made a few appearances after that but was relegated to a supportive role for most of that adventure.
He sent Koichi Hirose to find Giorno Giovanna in Golden Wind, but aside from that had nothing to do with the plot.
His final appearance was in Stone Ocean with his daughter Jolyne Cujoh, wherein he spent most of the arc in an almost vegetative state brought on by Enrico Pucci's Whitesnake Stand.
His Stand, Star Platinum, is incredibly fast and accurate, to the point of being able to catch a bullet fired 3 inches away from Jotaro's head between his index and thumb. He also has diamond-hard fists, capable of punching through walls and bending steel bars. Later on in the story, it's revealed that Jotaro has the same type of ability as DIO; the ability to stop time. Though unlike DIO, who can maintain it for 10 seconds at his peak, Jotaro can only last 4-5 seconds.
Has his own self-demonstrating page. Yare yare...
---
open/close all folders
A-D
E-M
N-R
S-Z
Star Platinum: The World
Star Platinum: The World
The Bare-Fisted Puncher.

The Strongest Stand in his Era.

The Time Stopper.

The First Guardian Entity and Fighting Spirit.

Named after the Star card of the tarot, Star Platinum is a short-ranged Stand with extreme precision, speed and strength. Upon its sudden awakening, Jotaro came to believe he was possessed by an evil spirit and surrendered himself to local jail before his grandfather taught him about Stands. Star Platinum is not a sentient Stand.
---
---
"Life can be bizarre."
---