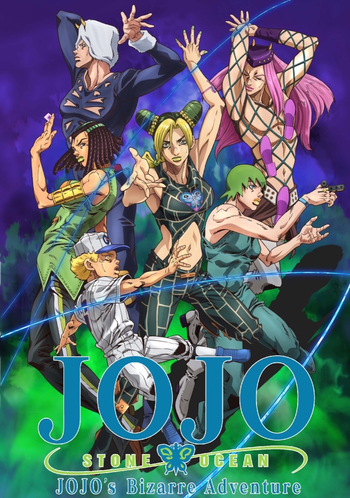 "If someone wished to go to Heaven... there may be a way."
Stone Ocean (ストーンオーシャン) is the sixth part of the long-running JoJo's Bizarre Adventure series. It is the Grand Finale of the original continuity, published in Shonen Jump between 2000 and 2003 (with its first chapter being published on the series' 13th anniversary). It's preceded by Golden Wind and followed by Steel Ball Run, the first entry in the series following a Continuity Reboot.
Set in 2011, Jolyne Cujoh, daughter of Jotaro Kujo* Cujoh is the official spelling seen throughout various media, including the original Japanese translations; the reasoning for this difference is unclear. Many fans, however, opt to spell it as Kujo, is framed for murder by a crazed disciple of DIO and sent to Florida's Green Dolphin Street Prison. Before she is completely incarcerated, Jotaro manages to awaken Jolyne's Stand powers and warn her of what is to come. However, he is rendered comatose when prison chaplain Father Enrico Pucci, DIO's most trusted follower, uses his own Stand to steal both Star Platinum and Jotaro's memories in order to further DIO's agenda.

Jolyne, along with fellow transfer inmate Ermes Costello, an amnesiac man known only as Weather Report, the love-stricken Narciso Anasui, a sentient Stand-using plankton colony named F.F., and the young boy Emporio Alniño, embark to stop other Stand-using inmates and staff, save her father, and prevent Father Pucci from remaking the world in DIO's image.

An anime adaptation was announced on April 4, 2021, introducing Fairouz Ai as the voice of Jolyne Cujoh, during the JOESTAR The Inherited Soul event. See the initial announcement here
.

On August 8, 2021, a worldwide release on Netflix was announced, with a simultaneous release of the first 12 episodes on December 1, 2021, and a weekly television broadcast from January 8, 2022. The second release consisting of episodes 13-24 will release on September 1, 2022. See the official trailer here
.
---
Do you believe in these tropes?
---
---