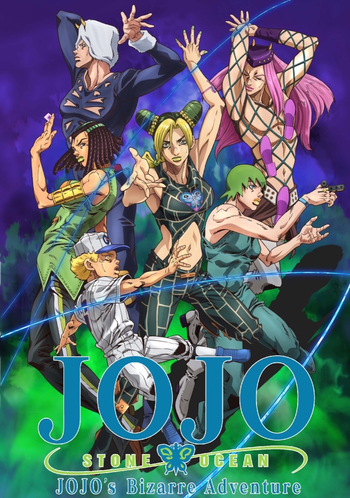 "If someone wished to go to Heaven... there may be a way."
Stone Ocean (ストーンオーシャン) is the sixth part of the long-running JoJo's Bizarre Adventure series. It is the Grand Finale of the original continuity, published in Shonen Jump between 2000 and 2003 (with its first chapter being published on the series' 13th anniversary). It's preceded by Golden Wind and followed by Steel Ball Run, the first entry in the series following a Continuity Reboot.
Set in 2011, Jolyne Cujoh, daughter of Jotaro Kujonote Cujoh is the official spelling seen throughout various media, including the original Japanese translations; the reasoning for this difference is unclear. Many fans, however, opt to spell it as Kujo, is framed for murder by a crazed disciple of DIO and sent to Florida's Green Dolphin Street Prison. Before she is completely incarcerated, Jotaro manages to awaken Jolyne's Stand powers and warn her of what is to come. However, he is rendered comatose when prison chaplain Father Enrico Pucci, DIO's most trusted follower, uses his own Stand to steal both Star Platinum and Jotaro's memories in order to further DIO's agenda.
Jolyne, along with fellow transfer inmate Ermes Costello, an amnesiac man known only as Weather Report, the love-stricken Narciso Anasui, a sentient Stand-using plankton colony named F.F., and the young boy Emporio Alniño, embark to stop other Stand-using inmates and staff, save her father, and prevent Father Pucci from remaking the world in DIO's image.
An anime adaptation was announced on April 4, 2021 during the JOESTAR The Inherited Soul event. See the initial announcement here.
On August 8, 2021, a worldwide release on Netflix was announced, with a simultaneous release of the first 12 episodes on December 1, 2021, and a weekly television broadcast from January 8, 2022. The second batch, consisting of episodes 13-24, was released on September 1, 2022. The final batch, consisting of episodes 25-38, were released on December 1, 2022. See the official trailer here.
---
Do you believe in these tropes?
open/close all folders
0 - C
D - O
P - W
Parental Marriage Veto: After making a Running Gag out of pursuing Jolyne's hand in marriage, Anasui finally meets Jotaro and asks him for permission to marry Jolyne. Except he makes the mistake of asking on the brink of a universal apocalypse. Jotaro reacts about as well as one would expect.

Jotaro: Are you insane?

Party Scattering: During Jolyne's improvised escape from the prison, she only manages to bring Ermes and Emporio along with her due to the male and female wards being separatednote . Thus, Weather and Anasui end up escaping separately and have to catch up on their own. This leads to both groups separately fending off two of DIO's sons individually, as well as Jolyne's side dealing with the last son Donatello simultaneously with Weather and Anasui trying to go for Pucci himself.
Permafusion: The climax of both the story and

Pucci's plan involves merging his Stand, Whitesnake, with the Green Baby, causing it to turn into C-Moon, which can then be used during a certain festival to further evolve into Made in Heaven, allowing Pucci to essentially reset the universe.

Pet the Dog: After Jolyne is sent to the infirmary ward after her second failed escape attempt, Green Dolphin Street Prison security surprisingly pardoned it. Though, they probably figured

nearly dying from 2 gunshot wounds and a storm of poisonous frogs

was punishment enough.
Pointy Ears: For some reason several side characters have noticeably pointed ears.
Potty Emergency: During the fight with Lang Rangler, Jolyne ends up having a case of this as a result of Rangler's Stand zero-gravity ability. Weather Report offers to give her privacy while he uses his Stand to absorb the urine just as he had done with his.
Powers as Programs: Part of the ability of Pucci's Whitesnake involves the ability to extract Stands and transfer them between individuals.
Precision F-Strike: As of this part, thanks in part to more lax regulations on Netflix than Toonami, the English dub has transitioned into using the actual word "fuck".

When Gwess tries to charge Jolyne additional money to get the amulet, she exclaims, "Shut the fuck up, you bitch! Just tell me the name before I kill you!"
Ermes' thoughts when Sports Maxx is only sentenced to five years for, "tax evasion and grievous bodily injury," instead of being convicted for the murder of her sister Gloria are, "Only five years? Thats all he fucking gets?!", and then exclaims at him, "Hey, you son of a bitch! I'm not fucking finished with you yet!", before being restrained by the guards.
Pucci, who is generally much more conservative with his language compared to the heroes, exclaims "Damn it all!" after discovering his sister Perla's dead body after she had thrown herself off a cliff after Weather was lynched and supposedly killed by a Klan mob he had hired to simply break off Weather and Perla's relationship.

Product Displacement: The Netflix airing of the anime removes the Chicago Cubs logo from Emporio's baseball jersey, replacing it with a plain blue circle — although this was later changed in late December 2021. Curiously enough, this is averted with Ermes' Stand, Kiss, which is renamed to "Smack" but still keeps the name "KISS" spelled out on its torso.note
Psychic Link: The psychic bond shared by the Joestar bloodline is a major plot point here.

When Pucci's Stand absorbs the Green Baby, which was born from one of Jonathan Joestar's bones, it causes him and his brother Weather Report to join this familial connection. This means that the heroes can know roughly where the villain of the story is, as well as the sons of DIO when they show up. But this also goes the other way around, and Pucci can use this to track the heroes too, up to using this to tell where Weather Report is while blinded.

Also, while Jotaro is in a coma, he subconsciously carves Jolyne's name into his arm, which causes Jolyne to receive the same scar, letting her know that she really does mean a lot to her father despite him being absent for most of her life.
Race Against the Clock: This is the main climax for Stone Ocean, the heroes have to stop Pucci before the next New Moon.

Unfortunately, Pucci figures out he doesn't actually need the New Moon; he only needs to recreate the gravitational conditions that the New Moon brings, meaning he gets Made In Heaven two days early.

Race Lift: In the colored manga, both of Pucci's parents have Caucasian skin, which contrasts how Pucci himself is Ambiguously Brown. In the anime adaptation, however, Pucci's father is given the exact same dark skin that Pucci himself has.
Rain of Something Unusual: In order to save Jolyne during the Operation Savage Garden arc, Weather Report manifests wind patterns that causes thousands and thousands of poison dart frogs to rain down from above. This completely subdues the prison guard tasked to kill Jolyne, and almost buries Pucci alive thanks to him losing his card key and being trapped in the chaos. Jolyne herself managed to survive by shielding her body with a cloth made of Stone Free's threads.
Recurring Extra: A certain black inmate seems to be present whenever Jolyne learns something new about the prison to explain it in detail.
Remember the New Guy?: An anime-only example regarding Ermes. As Weather Report and Anasui are now first introduced at the start of the Jumpin' Jack Flash fight instead of in the middle of the Highway to Hell fight, Ermes is no longer formally introduced to them, yet she already seems to be acquainted with both of them by the time that they meet up during the Heavy Weather arc. The only time she could have met them in the anime is in F.F.'s brief flashback about Jolyne making fun of their toes, but it's not established when it occurred, nor is Ermes shown interacting with Weather or Anasui.
Reset Button Ending: A twofold example. Made In Heaven does it to the original universe, but Pucci's death and subsequent erasure from existence not only does this again to the first reset, but it also undoes Part 6 as a whole, as the resulting universe has to take into account Pucci's non-existence.
Retcon:

DIO's motivations are a Downplayed Trope. In Stardust Crusaders, DIO was an Orcus on His Throne, who wanted to kill the Joestars, who he felt were an obstacle to his fate as the emperor of the world; wanted to suck their blood to make Jonathan's body obey him, and increase the powers of his stand. DIO, for the most part, was a straight-up megalomaniac hiding under a suave personality, who simply appeared of wanting the power to rule supreme. Pucci's flashbacks, however, show a more philosophical DIO, who talks about the meaning of happiness and the search for "Heaven", even stating that simple power or money wouldn't give him the happiness he so desires. The reason this is a Downplayed Trope is that these scenes are based on minor scenes from Part 3, and feel more like an expansion of the suave manipulator.
Played straight with DIO's diary, where it shows Jotaro burning it at some point after DIO's death, but is never mentioned once in Jotaro's appearances between then and Part 6.
Originally, Part 3 took place in the winter of 1987-1988, but Part 6 changes the date to the winter of 1988-1989. This creates a minor plot hole in that the birthdates of Jotaro Kujo, Holy Kujo, and Josuke Higashikata (respectively aged 17, 45, and 4 at the time of Part 3) are not changed to reflect the change in Part 3's datenote , which would make them a year older than stated. No other Part's date is changed, interestingly enough.

Ret-Gone: In the end, this was the fate of Jotaro and Jolyne — and, presumably, Weather, Ermes, Anasui, and Donatello Versus — when Pucci accelerates time and resets reality. This is because you only get to stick around if your spirit is still there. Dead = no spirit to exist for any time in the new universe = causality/history-altering to compensate for that. However, when Pucci is killed, the reset effect snaps back, and all his victims are restored, albeit with their lives considerably improved. Probably because reality has to take into account the fact that Pucci himself has been hit with Ret-Gone now (because of the exact same reasons as his victims). Played somewhat straight for F.F., however, as they do not seem to have been restored in the ending (which is likely because Pucci, the person who gave them life, no longer exists). The anime keeps this rather ambiguous as unlike the manga, F.F. does show up in the final shot of the party together.
Reused Character Design: In the scene where Jolyne gets her dollar back from the blonde inmate in the reading room, one of the female inmates looks like Bruno Bucciarati from Part 5, minus the hairclips.
"Save the World" Climax:

In the final segments of the story, the heroes actively rush to defeat Pucci before he can acquire Made In Heaven, which will allow him to remake the entire universe in the way DIO envisioned.

Self-Harm–Induced Superpower: One of the Stands Pucci keeps as a disk is Highway To Hell that allows its user to attack opponents by injuring themselves. The Stand's recipient, Thunder McQueen, then tries to kill himself, thus taking down his target with him.
Sensor Character: After Pucci

absorbs the Green Baby

, the after-effect causes himself, Jolyne, and

Weather Report

to be able to sense each other's location.
The Seven Mysteries: Played for Laughs with the Seven Mysteries of Green Dolphin Prison. None of them relate to the prison's actual mysteries and none of them are all that mysterious; they're just a way the inmates complain about the workings of the prison. One such mystery is how the last inmates to arrive at meal times will find no food left, even though there should be enough for everyone; immediately, it's shown that this is because some inmates take seconds.
Shoe Slap: How Jolyne manages to defeat Viviano Westwood. Using Stone Free, Jolyne snatches Westwood's boot, stuffs it with a brick, and uses it to block the oncoming meteor summoned by Planet Waves. She does get hurt by it; however, the force of the meteor propels the boot forward into Westwood's face, causing him to be stunned long enough for Jolyne to incapacitate him with a headbutt.
Shown Their Work: Emporio kills Pucci by using Weather Report to increase the concentration of oxygen around Pucci, paralyzing and fatally poisoning him. Pure oxygen really is highly dangerous to the human body because it overwhelms the body's ability to process it — it's worth noting that regular Earth air is only 21% oxygen.
Single-Stroke Battle: In the anime, in the second "Heavy Weather" episode, the flashback fight between

Pucci and Weather

is portrayed as such; both summon their Stands and dash past each other, followed by

Weather's head splitting open from Whitesnake's ability, causing his Memory disc to emerge

.
Sir Not-Appearing-in-This-Trailer: Pucci appears nowhere in any promotional materials for the anime, not even in the trailer, despite being the main villain and one of the most recognizable characters from the part, even for anime-only viewers. This was presumably to preserve his villain reveal.
Soundtrack Dissonance: Zizagged, given that this is a manga without any background tracks, but

the final chapter

is called "What a Wonderful World", a song infamously used to highlight the Crapsack World we live in. Even through something as indirect as a

chapter title

, Stone Ocean still sticks to this trope. The chapter involves Pucci succeeding at restarting the universe and killing all but one of the main protagonists, and while Emporio does manage to kill him and undo all of Pucci's work, this still doesn't stop the universe from resetting once more. Sure, the main characters (sans F.F.) are alive once more and live considerably better lives, but none of them recognize Emporio, which leaves him completely heartbroken.
Speed Blitz:

Made In Heaven, which accelerates the flow of time leaving anyone but Pucci lagging behind, allows Pucci to act so rapidly even Jotaro's time stop is just not enough.

Spell My Name With An S: When the JOJOVELLER art book was released in 2013, the cast of Stone Ocean was hit hardest with the new official English spellings of all their names, as fan translations simply kept all the original spellings of the Theme Naming of fashion brands; some examples: Guess to Gwess, D&G to D an G, and Hermes to Ermes. But most baffling was that the fans chose to name the heroine "Jolyne Kujo", sticking with how Jotaro's surname was written in previous books, when even in the original Japanese printing her surname was written exclusively as "Cujoh" in the splash page for chapter 2.
Spinning Clock Hands:

Upon Made In Heaven's awakening, clocks all over the planet begin rapidly spinning faster. As time acceleration goes further, the movement of the clock hands are sped up so immensely, they can no longer be seen by anyone

.
The Stinger:

Episode 5 has Johngalli A. congratulating Whitesnake on their joint effort, before he was gunned down by the latter to preserve its user's secret identity.
Episode 12 ends with Whitesnake summoning the inmate Sports Maxx and asking him to try using his powers on DIO's bone.

Stop, or I Will Shoot!: Security guards in Green Dolphin Street Prison are particularly zealous about shooting prisoners wandering where they shouldn't be. They are however reasonable when the prisoner is clearly surrendering and are guarding a maximum security prison after all, so it's justified.
Take Up My Sword: Emporio takes up Jolyne's duty to kill Pucci after she pulls out a You Shall Not Pass!, using Weather Report's Stand against him.
Talking Is a Free Action: In a particularly extreme example, the final battle includes a sequence where Ermes uses Kiss to let the gang ride on a bullet. Anasui then manages to explain a strategy to defeat Pucci, go over multiple concerns that his allies have about said plan, and receive a heartfelt speech from Jolyne, all in the time it takes for the bullet to hit its target.
Thematic Sequel Logo Change: The anime logo's subtitle is crossed with string behind the butterfly seen on Jolyne's shirt, representing the power of her Stand, Stone Free.
Theme Naming: Most of the characters first introduced in this part are named after fashion brands or designers, such as Hermès, Narciso Rodriguez, and Guess.
Unskilled, but Strong: The Sons of DIO in have powerful Stands, but have possessed them for a day at most. This causes their tactics to be very basic, leaving them open to more experienced Stand users. Rikiel, in particular, reveals himself to Jolyne and Ermes in what they immediately recognize as a ploy to get them to come closer to him.
Uplifted Animal: A recurring theme in JoJo, the role is now taken up by Foo Fighters, a colony of sentient zooplankton with a Stand inhabiting the body of a dead woman.
Utopia Justifies the Means: This is Enrico Pucci's motivation in Stone Ocean. His plan involves using the fusion of his Stand and a homunculus of DIO to accelerate time to the point where the cosmos undergoes both a Big Crunch and a Big Bang, and everything repeats as before, just without anyone who died during the acceleration. The utopia is supposed to come from the fact that those who got to live through the singularity will subconsciously remember everything that ever happened to them in the previous, identical cycle. This means that they will be imbued with a kind of fatalism, immensely dampening any shock, horror, agony, etc. that they would otherwise experience. Basically, Pucci's idea of "Heaven" is "a world without surprises".
Villain of the Week: Anyone who read Stardust Crusaders or Golden Wind knows the drill by now.
Walking Wasteland: Heavy Weather can

hypnotize people into transforming into snails, said snail being able to transform other people by simple contact. Ensures a snail apocalypse that only Weather's death can really stop

.
Wardens Are Evil: Downplayed, the wardens of Green Dolphin Street Prison are all assholes and abusive but aren't evil per se.
Waxing Lyrical: In the anime, Gwess mockingly sings "Jolene" while carrying the shrunken Jolyne.
Wham Line: "The other twin's family live in a big mansion in the next town over. Pucci is the family's last name..." This is what Mrs. Bluemarine tells Pucci in his backstory when explaining that she switched her dead child with Weather Report the day they were born. It's what causes Pucci to realize that his younger sister's new boyfriend is actually their brother, and what causes his Start of Darkness.
Where It All Began:

The final confrontation with Pucci ends back at Green Dolphin Street Prison, after he accelerated time far enough to have Emporio cornered to finish him off in his ghost room

.
Wolverine Publicity: In the second episode batch of the anime adaptation, F.F. had

died during the final few episodes

, and as such, doesn't appear at all during the third batch. Despite this, they're still heavily featured in the advertising for the third episode batch alongside Jolyne's Significant Wardrobe Shift and Pucci's Power Makeover.
Word Salad Lyrics: The incantation Pucci uses

to merge his Stand with the Green Baby

.
The Worf Effect: Pucci manages to pull this on Jotaro three separate times regarding Star Platinum: The World.

Through having Jotaro realize that Manhattan Transfer and Whitesnake are two completely different Stands, he pushes Jolyne out of the way and tries to punch Whitesnake, but because time resumed when Jolyne was pushed, it gave Whitesnake enough time to sneak up behind Jotaro, slash his face, and retrieve his Stand and Memory discs.
After returning to Florida, Jotaro stops time and tries to throw a javelin at Pucci, but because gravity is a concept that transcends all concept of time, C-Moon allows for Pucci to briefly Move in the Frozen Time and avoid being hit by the javelin.
While time is in the process of accelerating due to Made In Heaven, Jotaro tries one final time to use Star Platinum: The World in order to stop Pucci, but two things keep Jotaro from defeating him. One, the time acceleration also affects the time stop, shortening its duration from 5 seconds to 2 seconds. Two, Pucci had thrown a flurry of knives at Jolyne, forcing him to decide between saving his daughter or stopping Pucci. Like with Whitesnake and Manhattan Transfer, Jotaro chooses to save Jolyne from the knives, and once time resumes, the knives slash at his face, which ends up killing Jotaro on the spot.
---
---