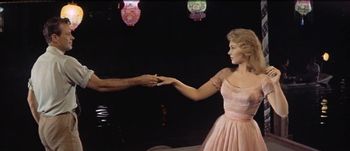 Picnic is a 1953 play by William Inge, which was adapted into a 1955 movie directed by Joshua Logan.
Hal, a handsome drifter, arrives in a small Kansas town on Labor Day weekend, looking for work. The town happens to be the home of Hal's old college roommate Alan, scion of a wealthy family. Alan is romancing Madge Owens, the prettiest girl in town. Madge's mother Flo is desperate to get her married off to Alan and is horrified by the romantic sparks taking place between Madge and Hal. Madge's younger, bookish, plainer sister Millie is jealous of the attention that Madge gets for her beauty. Rosemary, the spinster schoolteacher who lives in the boardinghouse next door, is also attracted to Hal, despite the attentions of her suitor, Howard, an older man who owns a general store.
The original play featured an unknown Paul Newman in the part of Alan. It won the Pulitzer Prize. The film recast most of the roles with Hollywood stars, including 37-year-old William Holden as Hal, Kim Novak in her Star-Making Role as Madge, and Rosalind Russell as Rosemary.
---
Tropes: