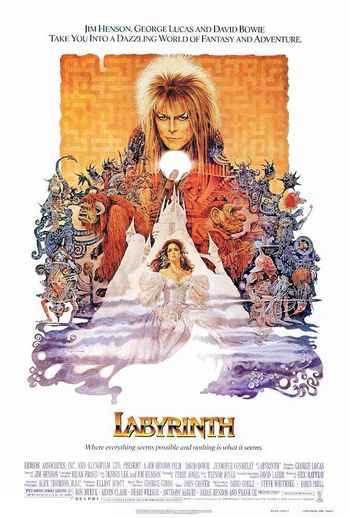 "
Labyrinth
is either: a film about David Bowie's crotch pretending to be a film about the classic hero's journey; or: a film about the classic hero's journey trying to disguise itself by showing David Bowie's crotch a lot."
ALL SPOILERS ARE UNMARKED. You Have Been Warned.
Labyrinth is a 1986 Jim Henson film executive produced by George Lucas written by Terry Jones, a musical fantasy starring David Bowie (and his package) and Jennifer Connelly. Sarah is an unhappy teenager, who hides from life in fantasy tales to the point of dressing up in a long flowing dress and acting bits of script in the park. The cause of her unhappiness is her father's remarriage and the resulting half-brother, Toby (played by concept artist Brian Froud's son Toby), about a year old at the time of the action. One night, in a particularly big sulk, she wishes that the Goblin King (called Jareth) would come and take Toby away — which, to her horror, he immediately does. When Sarah regrets her wish and demands Toby be returned, Jareth gives Sarah a chance to rescue Toby; he takes her to his realm, where she must find her way through the Labyrinth to Jareth's citadel before thirteen hours have elapsed. In this quest, she is aided by various goblins and monsters whose allegiance to Jareth is highly conditional or non-existent.
An adventure game
based on this film was released by LucasArts, written by Douglas Adams. It had some meta humor, in that it began with the player taking on the role of someone going to see the movie, with an annoying nerd yammering on about Fridge Logic in the film (such as why did Sarah eat the peach?) before Jareth appears to pull the player into the Labyrinth.
Is a Spiritual Successor to The Dark Crystal, and was itself Spiritually Succeeded by MirrorMask. Although a critical and commercial flop upon release, it has since become a Cult Classic, especially among Bowie fans; alongside The Man Who Fell to Earth, it is generally considered Bowie's most iconic film.
The film is mainly aimed at children, but has plenty to engage an adult audience (David Bowie's physique, a few fan-made drinking games, and the many, many tropes available for hunting...).
It should not be confused with Pan's Labyrinth, which is not aimed at children, although they are similar films in many ways.
Brian Froud, who designed much of this film, later published an art book entitled The Goblins of Labyrinth featuring humorous biographies of the various goblins written by Terry Jones. Many of the illustrations are concept art made for the film, with some small deviations (Sarah, for instance, is a redhead).
A four-novel English manga sequel called Return to Labyrinth was published by Tokyopop over 2006-10.
Archaia Entertainment announced a graphic novel prequel detailing the backstory of Jareth in early 2012; Development Hell kicked in on that, but in the meantime Archaia's Free Comic Book Day collections from 2012 onward have each included a story about other denizens of the Labyrinth, which were compiled in a special 30th Anniversary book in 2016. (They also reissued A.C.H. Smith's Novelization of the film in 2014.) The prequel, titled Labyrinth: Coronation, finally released in 12 issues from 2018-19.
River Horse released Labyrinth: The Board Game in 2016 and the Labyrinth: The Adventure Game RPG in 2020.
In May 2020, it's been reported that a sequel
, to be written by Maggie Levin and with Scott Derrickson (Doctor Strange) as director, is in development.
---
This film provides examples of:
---