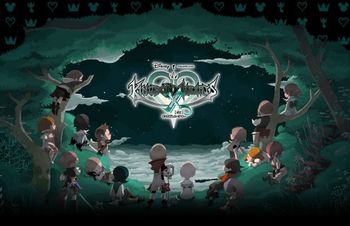 "When the time comes and there is war, you mustn't fight, but instead you must fly away to the world outside!"
— Foreteller Ava
The eighth (excluding remakes) game in Disney and Square Enix's Kingdom Hearts series, Kingdom Hearts χ [chi]note the Greek letter χ is pronounced "key" in Japanese is a Web Game on PC browsers and Mobile Phone Game. It uses a graphic style similar to Final Fantasy Brigade and Theatrhythm Final Fantasy. Tetsuya Nomura has stated that despite its many ties to Kingdom Hearts III, it is not essential to understanding III, but it will "enrich" your experience of said game.
Kingdom Hearts χ [chi] takes place before the first Keyblade War, which in The 'Verse is roughly the equivalent to mankind's fall in the Garden of Eden. You are a young citizen of Daybreak Town. The Heartless have invaded, and just as you are about to be attacked, a mysterious Foreteller saves you. They provide you with a Keyblade, and tell you that they are one of five Foretellers, who have foreseen The End of the World as We Know It. They charge you to go through the worlds and collect Light to challenge the encroaching darkness. To assist, they leave behind Chirithy, an Exposition Fairy and mentor mascot that resembles a pudgy cat to assist you.
Can you Screw Destiny and prevent the franchise from ever happening? Or is it that You Can't Fight Fate?
Iterations of this game include:
An hour-long short movie entitled Kingdom Hearts χ Back Cover was released with the compilation Kingdom Hearts HD 2.8: Final Chapter Prologue. Back Cover acts as a supplement to the story of χ, detailing the inner feud between the Foretellers from behind the scenes.
A novelization of the game was published and released on December 24, 2019 in English as Kingdom Hearts X: Your Keyblade, Your Story
.
In February 25, 2021, it was announced that Union χ [cross] will become a Defunct Online Video Game with the final story arc released in April before fully shutting down on May 30, 2021. The cutscenes will be made available offline so that players of the Kingdom Hearts series can still experience the story. Dark Road will become unavailable; later (currently planned to be in September), it will return without microtransactions.
---
This game as a whole provides examples of:
open/close all folders
A to D
E to H
I to O
P to W
Dark Road provides examples of:
Dark Road
"Your world can change in an instant. Sometimes all it takes is a single step."
— Xehanort
---