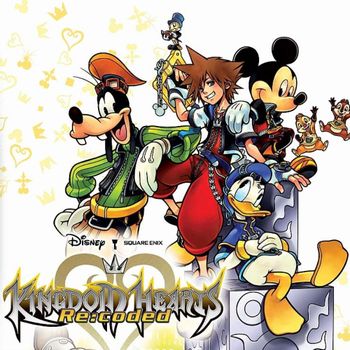 Their hurting will be mended when you return to end it.
Kingdom Hearts coded (yes, that is exactly how it is capitalized and punctuated) is the fourth game in the Kingdom Hearts series, first released as a Japan-exclusive episodic mobile game between 2008 and 2010.
The game is set shortly after the events of Kingdom Hearts II. While organizing the records in his journal from his travels with Sora and his friends, Jiminy Cricket's curiosity about the line "thank Naminé" results in him finding a message that he did not write: "Their hurting will be mended when you return to end it." To investigate this message, King Mickey digitizes the contents of the journal and goes into the simulated world to investigate, awakening a virtual Sora on Destiny Islands to carry out the contents of the journal to uncover the identity of "them". However, the virtual Sora encounters "bugs", which take the form of red and black blocks. The plot takes Data-Sora through seven worlds from previous games.
The game was later remade for the Nintendo DS as Kingdom Hearts Re:coded, using the same engine as Kingdom Hearts: 358/2 Days, released in Japan shortly after the original game's completion in 2010, and given an international release in 2011. Re:coded adds a new multiplayer mode called the Avatar Menu that allows some communication between games, implements aspects of the Command Deck system from Kingdom Hearts: Birth by Sleep for combat, and a new system called the Clock Program that gives temporary buffs as the player fills up the Clock gauge by dealing damage.
Like 358/2 Days before it, Re:coded received an HD cutscene Compilation Movie for the Compilation Rerelease Kingdom Hearts HD II.5 ReMIX in 2014. Once again in lieu of gameplay, cutscenes are rendered for all the major story events with text recaps filling in some minor gameplay-related details, and a new secret ending leading into the events of Dream Drop Distance is added. A novelization was released in 2019.
---
This game provide examples of:
---