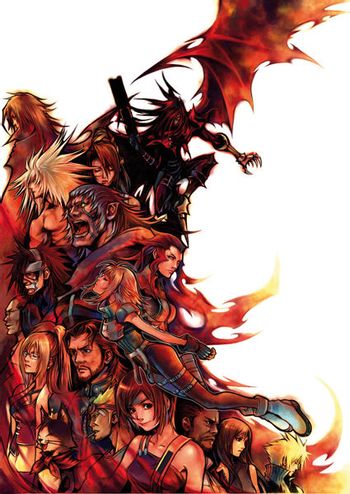 Dirge of Cerberus: Final Fantasy VII is a sequel and spinoff of the whiplash-inducingly popular Final Fantasy VII, and was released for the Sony PlayStation 2. Unlike other games in the series, Dirge is a Third-Person Shooter with RPG Elements, starring broody ally Vincent Valentine as he fights to come to terms with his past. Although nearly all of the Final Fantasy VII characters make some appearance, focus is off the main characters and onto ones who didn't get much screentime in the original. It includes a Cutting Off the Branches of a scene late in the game which assumed that Vincent and Yuffie, who were optional Secret Characters, were not in your party.
Generally considered the weakest of the Compilation of Final Fantasy VII, and has been criticized for camera, control and targeting issues and lack of difficulty. Its story has garnered mixed reviews.
DOC takes place one year after Advent Children and infamously creates a tie-in with Crisis Core, released afterwards but canonically taking place before the original game. Said tie-in involves J-Pop star Gackt in a rare (for video games) live-action cameo.
---
This game contains examples of:
---