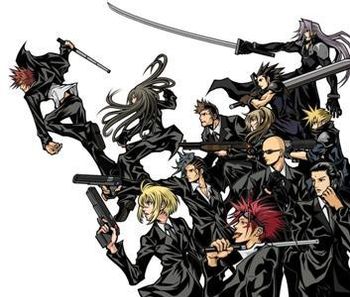 Before Crisis: Final Fantasy VII
is an entry in the
orgasm-inducingly popular
Final Fantasy
series, and a prequel to the most well-known entry in the series,
Final Fantasy VII
. It is part of the
Compilation of Final Fantasy VII
.
Before Crisis follows the Turks, who in this game are a larger and more competent organization compared to the Goldfish Poop Gang the players are likely to remember from Final Fantasy VII, and are commanded by a different leader, Veld. The Turks battle the forces of AVALANCHE, the anti-Shinra resistance group led by the young swords-woman Elfé. Contrary to the group of the same name led by Barret years later, this incarnation of AVALANCHE is larger, more violent, more organized, and pose a larger threat to the company. Eventually, the Turks find out the AVALANCHE scientist Fuhito is seeking the four support Materia needs to use the ultimate Summon Materia that calls the ultimate monster Zirconiade, "The World Burner," to do exactly that.
The game functions as an RPG but with a simpler system. Materia returned but with a slightly different function, and players could level up and equip armor. Completing certain episodes increased their Turk rank which gave access to stronger equipment and Materia.
Before Crisis is currently a Japan-only release, being released in an episodic format on mobile phones. Square Enix announced plans to release an English version of the game back in 2006, but this never materialized due to the West's comparatively inferior smartphone network at the time. Director Hajime Tabata said he'd like to remake it for the 3DS, but that also didn't come to pass. Thus, Before Crisis was the only Final Fantasy VII spin-off to not see an English localization, and thanks to its platform of release is one of the most obscure titles in the series. The announcement of Ever Crisis, which will cover material from all Compilation titles, will be the first time audiences outside of Japan can experience the game (though to what extent is yet unclear).
An unofficial RPGMaker English port
, with Shotgun (Female) as the sole protagonist (and inconsistent Fan Translation), has been released in March 2019.
---
This game contains examples of:
---